Feature
What it is really like to be a truck driver, featuring Becky Giles
With the driver shortage being such a hot topic in 2021, we explore the ups and downs of being a truck driver with internet sensation Becky Giles.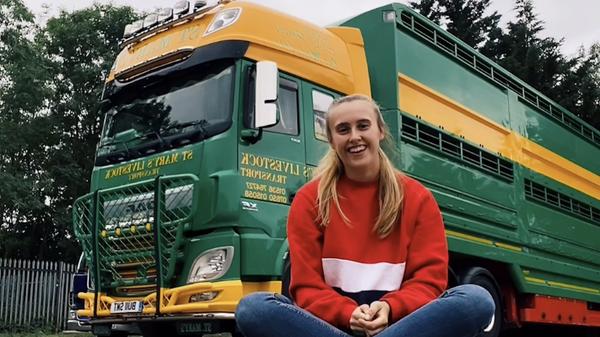 Getting into the industry
We spoke to Becky about what led her into the transport industry. She explained "the reason I became a truck driver was because of my dad. I've grown up with it my whole life, going out in the lorry in my high chair when I was just a little dot."
As a way of life for her since such an early age, it is no surprise she ended up becoming a driver herself. Before Becky chose to be a truck driver, she wanted to sell trucks. She did a week of work experience at Ford and Slater (who are based in Leicester). While she was there she set up a quote for a brand new lorry, which is the one she drives now!
Truck driver training
Even if you have a lot of passion for the industry, becoming a truck driver is not something which just happens overnight.
Before you can think about tests and training to be an HGV driver, there are some basic requirements that you must meet first:
Be 18 years, or over
Hold a valid UK car licence
Apply for a provisional lorry licence
You must then:
Pass a medical
Obtain your CPC (by completing 4 modules).
Becky explained to us that her "training was quite good." She did however say that although you usually do your training in pairs, she was alone and the experience would have been made better if she had "another person with me so I could have learnt from their driving".
Her crash course was shortened down to 3 days driving, with the test taking place on her 4th day. She said she "found training quite easy as I sort of knew what I was doing, watching dad drive and everything. It was just the car drivers and the cyclists you had to be aware of."
Getting a job
The day after Becky passed her test, she was fortunate enough to get a job. She has said "it was very easy for me, as it's a family run business I drive for. I actually own it now, so I have been very lucky."
Becky drives for a company called St Mary's Livestock Transport LTD, which she co-owns with her parents.
Choosing a truck
Becky didn't buy her own truck as it belongs to the business, she is lucky enough to have a lot of say in what the company buys.
If Becky could buy any lorry, "it would be an F16 Globetrotter tag" which she would buy for her dad, "as every time we walk round a show, he has a good look around them."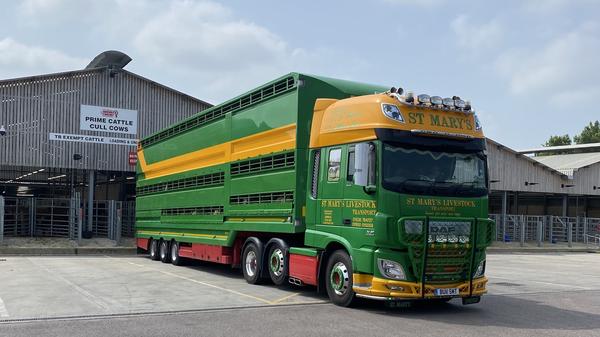 Best bits of being a truck driver
Becky's favourite part of being a truck driver "is meeting so many new people and going to different places where I probably wouldn't have gone to, if I had an office job."
The downsides of being a truck driver
Becky stated "the worst part of being a truck driver is the traffic." She also said she doesn't like "the way people can treat you because you're a truck driver, the rules and regulations you have to follow." She said that although lockdown was hard for many people, when she has spoken to fellow lorry drivers they think this was "the best time for driving they have ever had."
Improving the driver shortage
As regularly reported, the UK has a huge number of open vacancies for truck drivers. The RHA have found that the UK needs around 100,000 truck drivers to improve the situation.
It is important we listen to truck drivers to find out how to improve the shortage. When we discussed how to improve things for truck drivers with Becky, she told us "we need to get rid of the CPC (or reduce it)." Although she is relatively young for the industry, when she has discussed it with her peers she found that they felt that, despite having lots of experience driving, they were "having to sit in a classroom, to be told how to drive." Another improvement she suggested would be for the general public to be nicer to lorry drivers. She said "we get so much hate and abuse that it's hard to do the job." Furthermore, she asked insurers to look into their policies for younger people, as they are currently "sky high for new drivers, and companies can't afford to pay it to employ them."
We hope you found this piece gave you an insight into what it is like to be a truck driver.
We loved catching up with Becky Giles. If you would like to see what she is up to, you can find her on
TikTok here
and
Instagram here
.