Best Of
Our top 10 favourite Eddie Stobart names
Eddie Stobart is one of the UK's most renowned supply chain companies, operating over 2,700 vehicles throughout the UK and Europe. However, the logistics giant is perhaps even better known for providing each and every one of their trucks with a name. Here we dive into 10 of our favourite Eddie Stobart names, and why we like them so much.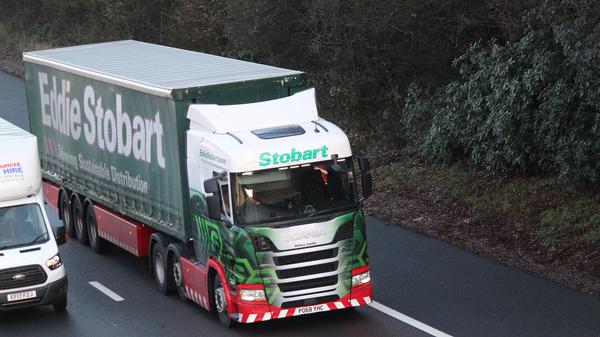 This naming tradition came from Stobart himself, who gave his first four trucks the names "Twiggy", named after the iconic 60s model, "Tammy" named after singer Tammy Wynette, "Dolly" after Dolly Parton and "Suzi" named after Suzi Quatro. For a long time Eddie Stobart continued the tradition of naming all of their trucks after females, but today the names are chosen due to their connections to the drivers or to commemorate their longest-serving employees. As the Stobart fleet expanded, it became harder to choose names, leading to a range of unique and sometimes comical names that it can be fun to spot on the road.
1. Tammy
One of the original four Eddie Stobart trucks responsible for the company's tradition of naming their trucks after women. "Tammy" was of course named after the US country singer superstar Tammy Wynette. Wynette was often referred to as the "first lady of country music", and released decades of chart-topping hits on the topics of difficult relationships, divorce and more. Stobart clearly had a personal liking for the 60s and 70s singer in order for him to choose her as one of the four ladies he wanted to pay homage to with his first trucks.
2. Saorise Erin
This beautiful name is one of the additions made in more recent years, and demonstrative of how the Stobart fleet expanded so much that the names began to take on quite a random quality. No doubt, if you've seen a Stobart truck on the road, it probably had a seemingly random name like this one. This particular name is Irish, and translates to mean "Free Ireland". Stobart's motives behind adding such a name to his fleet are unclear, as is his connection to Ireland. However, it could be the case that this name was a personal choice of one of the Stobart drivers.
3. Gladys Duchess of Overton
This is certainly one of the more comical names amongst the Eddie Stobart fleet, and one of the names that the inspiration behind will remain a mystery! It is not clear who Gladys Duchess of Overton really is, but it is likely that she is not in fact a real Duchess. This is likely to be one of the names that was chosen by a Stobart driver, possibly paying homage to a woman in his life – be it his significant other, his mother or his gran. This name is in fact, the longest recorded name on an Eddie Stobart truck, and features on a Scania R 420.
4. Tuula Karina
This name is another example of how the names given to Stobart trucks began to take on a somewhat rare and uncommon quality as the fleet rapidly expanded. This particular name is notable due to its exotic origins, as "Tuula Karina" is in fact a Finnish name. Why a Finnish name was chosen, as with most Stobart truck names, will remain a mystery.
5. Valentino
This was a particularly special truck naming for Eddie Stobart and is a notable departure from the company's tradition to name their fleet after women. This truck is named after the legendary Italian motorcycle racer Valentino Rossi, and the name was given to a Volvo FH12. This particular christening actually happened on air, featuring on the television series "Eddie Stobart: Trucks and Trailers".
6. Karen Elizabeth
This may seem like an ordinary name with little significance, and its true importance is not clear. However, this truck name from 2013 represents Eddie Stobart's choice to allow the general public to name an Eddie Stobart truck after a loved one. On their website, you can apply to have a name of your choice printed onto a truck, which they say is a fantastic present for a loved one!
7. Optimus Prime
Although not a truck name, this name is notable due to its deviation from the female name tradition and its foray into cinematic characters. This was the name given to a Stobart MAN tractor in 2005, and it was a celebration of 20 years of the Transformers.
8. Nia
Another Eddie Stobart name that leaves us wondering how it came to be, who chose it and who it is named after. This name makes it onto this list as it is, in fact, the shortest name to be written on an Eddie Stobart truck.
9. Eddie the Engine
This is another vehicle that is not a truck, it is actually the name of the Stobart Rail locomotive. We couldn't help but add it to this list as after all the decades of naming his trucks after women, it was inevitable that Eddie Stobart would eventually have to name something after himself!
10. Lee Rigby
This is an incredibly special addition to the Stobart fleet in 2017, commemorating the heroic fusilier Lee Rigby. This honorary truck is a static Volvo FH that remains at Stobart's Crick depot.