Feature
From Trauma Surgeon to Trucker
Omar Husainov's life was once geared toward becoming a doctor, with a degree obtained and training laid before him to become a trauma surgeon. In 1991, all of that changed dramatically with the civil war beginning.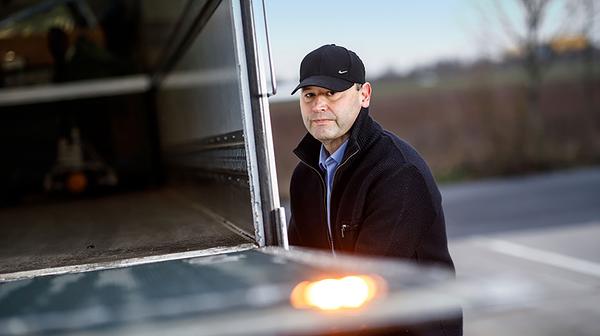 Omar's first wife had German roots, so that's where they spent some time while deciding what to do next. First, he worked for a cousin's cleaning firm. When the business was not going so well, Omar considered returning to medicine. Unfortunately, his Tajik degree was not recognised - a huge blow for someone who has spent time working toward a difficult career path. An internship at a hospital in Mainz confirmed his suspicions.
Omar decided to change career and become a truck driver. He said "I wanted a secure job and I don't like office work. I like travelling and I like driving." Although working as a doctor and driving a truck could not be more different – he's never regretted his choice of profession "Better to be a good truck driver than a bad doctor." He adores being a trucker with a three-pointed star, and is very proud of his dark-blue Actros 1845 and the fact he delivers to Mercedes-Benz showrooms. After working for Helmrath freight company for seven years, he moved to driving for Kühne + Nagel in September 2017. Omar is on the road from Monday to Friday from 5 pm - 2am in the morning and claims it "suits me well, I'm not an early riser." While he's driving, he plays Pink Floyd from his speakers, his "biggest dream is to see them live at a concert some time." Omar likes always doing the same route as he says "that way I can sleep in my own bed at home every night and run the treadmill three times a week." Omar is the proud owner of a C-Class Mercedes which he had converted to gas power, he uses this every summer to take his family to Lake Garda. He very passionate about Mercedes-Benz Trucks and being on the road, valuing the freedom he gets on the road and the ability his job gives him to spend time with his family no matter what. The operating theatre was a dream and the plan, but Omar is proof that plans change and the future doesn't always pan out the way that you plan.