Advice
10 Tips for Safe Winter Truck Driving
The roads can be rough during the winter. You don't need to put your truck away but there are some smart things you can do to stay safe while you're driving. Auto Trader Trucks has gathered some tips to help you stay safe this winter...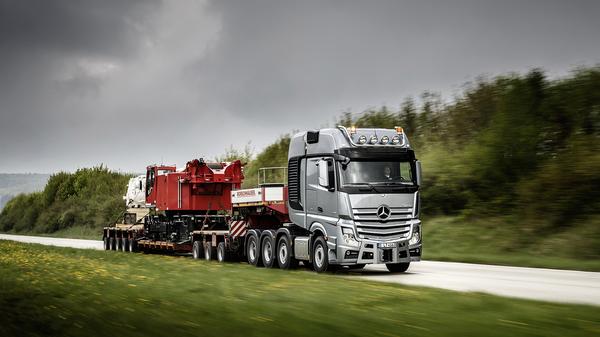 Words by: Auto Trader
Published on 21 November 2019 | 0 min read
1. Keep your truck in good condition
Before embarking on a trip, check that your truck is in good condition so you're safe and ready to go. Remove snow and ice, plus perform a visual inspection of your tyres, lights and wiper blades to check it's all working.

2. Pack a winter driving kit
It's a great idea to have a safety kit in your truck that you can use if anything happens. You can pack items like a flashlight, first aid kit, blanket, food and drink, and other handy things.

3. Slow down
When the road is wet or icy, it takes longer to brake. Slowing down will keep you much safer, so try to do everything a bit more slowly and carefully.

4. Avoid sudden stops
Having to stop suddenly on winter roads isn't ideal, and starting suddenly isn't great either. If you want to stay safe, take your time when accelerating and braking so that you can stay in control.

5. Leave more space
It's always important to leave space between your truck and other vehicles, but it becomes even more important on wet or icy roads. Leaving extra space in front and behind you will make it easier to drive safely.

6. Take evasive action
Putting the brakes on isn't always the best choice when faced with a hazard on the road. Steering around obstacles and gently decelerating can be the safer option because it requires less space.

7. Keep a grip on the wheel
Always make sure you have a firm grip on the steering wheel to stay steady on the road. You will be able to keep better control even when driving over snow and ice, so you can be precise in your steering.

8. Be careful of black ice
Black ice is difficult to spot, and may even just look like water. It can be dangerous if you drive over it without knowing what it is, so it's always important to be aware that it could be there.

9. Drive carefully in the mountains
Planning a trip through the mountains? The weather can be even worse than elsewhere and change quickly. Be sure not to stop in avalanche zones if possible, and check if you need tire chains or winter tyres.

10. Know what to do if you skid
Even when you're driving safely, you can still end up skidding. If it happens, depress the clutch quickly, and steer and counter steer as fast as you can to get back in control.
Follow these tips to stay safe when driving your truck in the winter. If you don't feel confident, it's better not to drive at all than to be unsafe.