Review Swift Eccles 645 Review
It's been 100 years since the launch of the Eccles caravan and this special edition fuses the traditional with technology – but who is it aimed at?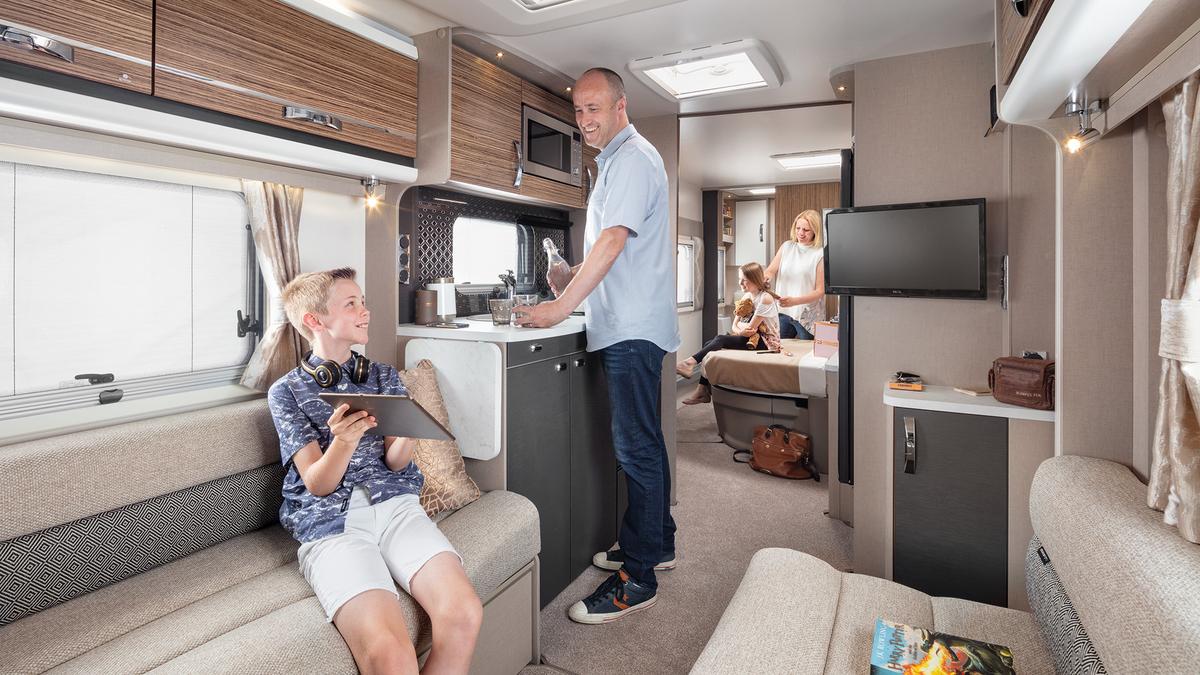 View gallery
The Auto Trader expert verdict: ★★★★★

★★★★★
4.2
The first Eccles caravan was built in Birmingham in 1919 and since then, it's gone through many incarnations to become the caravan it is today. Naturally, this is an anniversary worth shouting about and Swift who now own the Eccles brand, have most certainly done that.

The exterior of this van sports a special commemorative badge while inside is a riot of pattern with the splashback taking centre stage. It is a bold move to take a splashback, ordinarily such an incidental bit of kit and completely transform it with a snazzy graphic pattern. Fair play to them.

There's eight caravans in the Eccles range from a 2 berth right up to a 6 berth for those with bigger families. The Eccles 645 is a 4 berth with fixed bed and rear washroom and it's got an RRP of £24,590. It's worth noting that this is a twin-axle model so it's a big beast and won't be suitable for everyone. If you like this range and are seeking a similar layout in a single-axle caravan, try the Eccles 580.
Reasons to buy
Trusted brand

Great build quality

Lots of kit
Design
This is a super-sized van and while it is on the chunky side, it still retains an aerodynamic profile. From a practical point of view – the black panelling to the front of the caravan will be welcome when towing in the rain as caravans with an all-white frontage tend to fall foul of mud-splattering on country roads. This is a special edition and of that, we are in no doubt – the gold graphics and 'Eccles 100 Years Anniversary Edition' badge on the exterior are a bit of a giveaway. It's heartening how proud Swift are of this caravan and rightly so. This is a caravan that has stood the test of time and is sure to appeal to the experienced caravanner and perhaps entice a few newbies as well.
Living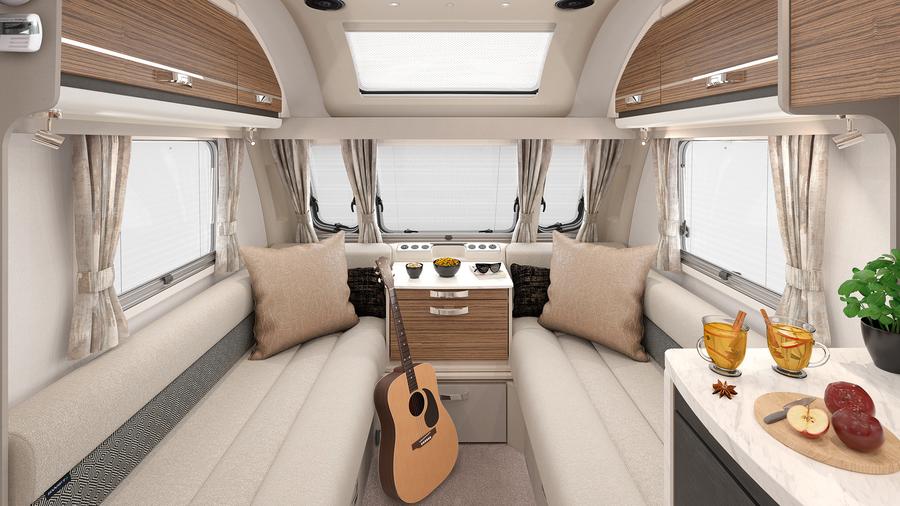 This is luxe living and the decor wouldn't look out of place in a archetypal bachelor pad – there's neutrals in every shade imaginable, and patterns too. Plenty of patterns. This isn't a criticism necessarily, but you can have too much of a good thing. I've already mentioned the splashback's pattern and the panels on the seating in the lounge area mirror this. Cushions are textured too – with charcoal and sandy-coloured tones but it's the curtains that are really plush – velvety and heavy, they will definitely keep the heat in and the cold, out.

Storage in plentiful with large cupboards and overhead 'lockers' suitable for stowing away all the essentials you'll want to take plus a whole lot more. Swift have clearly spent time considering the needs of a family with plenty of sockets and USB ports in the living area. LED spotlights are in abundance so you can happily read while your other half sleeps.

The kit in this caravan is really high spec. The touch screen Swift Command control system makes managing the caravan's systems including heating, lighting and power really easy. You can also use the Swift Command app to control the functions from your mobile if you're not in the caravan. Out walking in the rain? Switch the heating on so it's toasty when you get back. Hungry? Sorry, it can't cook dinner for you. Yet.
Dining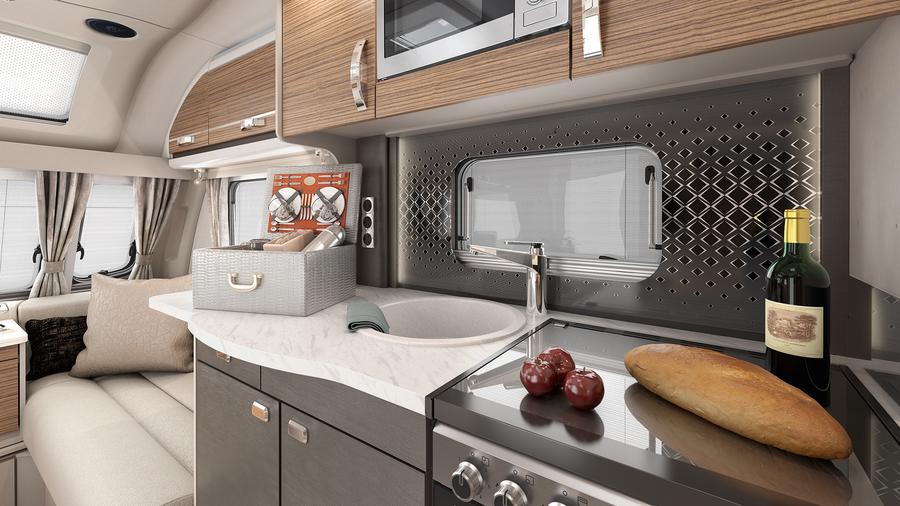 When it comes to preparing meals, you'll welcome the space in the kitchen area. The sink is granite-effect and the surrounding worktop reminiscent of white marble so it looks stylish but is practical to boot. The hob is a decent four-burner affair with tinted glass cover. I would have liked to see a cover that's more in line with the rest of the decor and perhaps used as a chopping board when the hob isn't in use. The cupboards in the kitchen are charcoal-coloured give this area its own identity separating it from the rest of the living areas.

There are sockets in the right place for your kettle and another low-voltage appliance such as a slow cooker. The tap is a little awkwardly placed for when you want to reach and pull down the blind above the sink but that's a small price to pay for a kitchen that is kitted out as nicely as this.

When you want to sit down for a light meal, make use of the slide-out table in the wide chest at the front of the caravan (also white marble effect) or employ the full-size table which is neatly stowed away when not in use.
Sleeping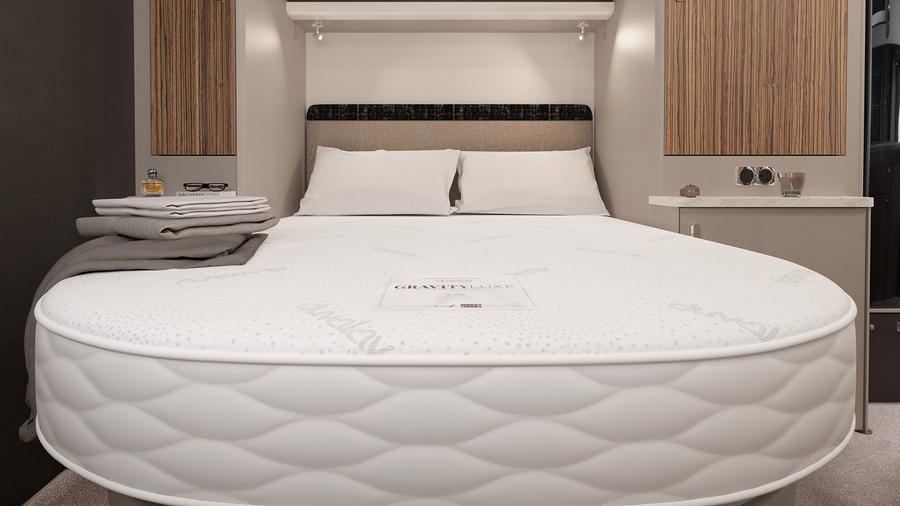 The fixed bed benefits from loads of under bed storage for spare bedding or even towels. You'll be wanting a good night's sleep after all your adventuring and if you've bagged the fixed bed, enjoy sinking into the Duvaly Duvalite Apollo Luxe mattress – it's not something you'll find in every caravan so make the most of it. There's lights at either side for reading at night but I'd welcome some USB ports here because despite the advice, we all like to check Facebook when we wake up.

The front two single beds convert easily into a double and it's comfortable too, thanks to the Swift AirWave cushioning. This fancy foam promotes better airflow so you'll stay at the perfect temperature.
Washroom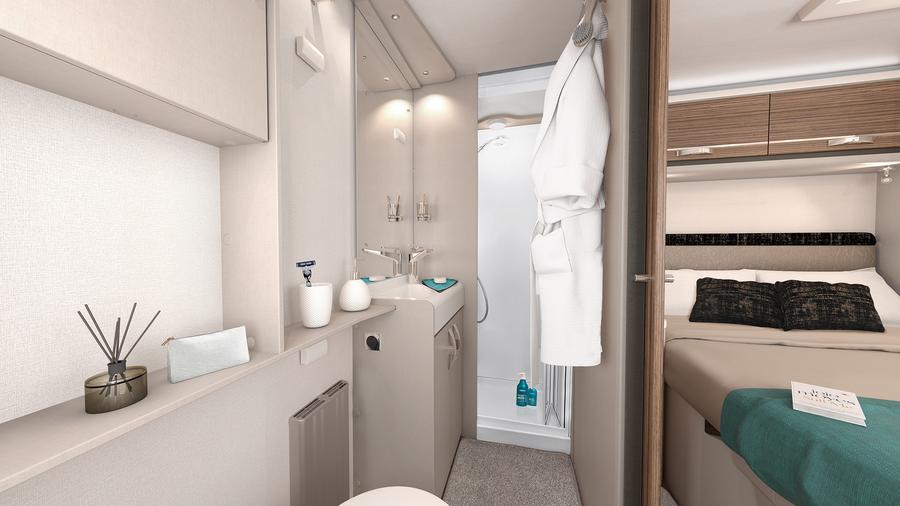 Running the entire length of the caravan, this washroom is tastefully decked out so it feels more like a domestic bathroom than that of a caravan. The subtle lighting won't give you a shock when you look in the mirror after a night on the wine, either. Cupboard space has been given plenty of thought – you'd easily fit the whole family's toiletries in here but I have to admit that it's a bit tight when it comes to opening the under-sink cupboard.
Value for money
This is a caravan you'll happily own for years and while not all the soft furnishings will be up your street, there's no denying that it's pretty luxurious with top quality tech and kit.

There's a few little things I'd like to change but I maintain that this is a really good price for the size of the caravan and considering its pedigree
Why buy?
If you're looking for a stylish van with some luxe touches including the latest technology, the Eccles won't disappoint. Perfect for couples or a small family, you'll happily have this van for years.

Reviewed on site at:
Pioneer Caravan, Thorney Road, Eye, Peterborough, Cambridgeshire PE6 7UB
01733 222 244 pioneercaravans.co.uk