Review Swift Corniche 19/6 2016 Review
This six-berth Swift is a great choice for big families with kids of all ages.
First published: 16th August 2019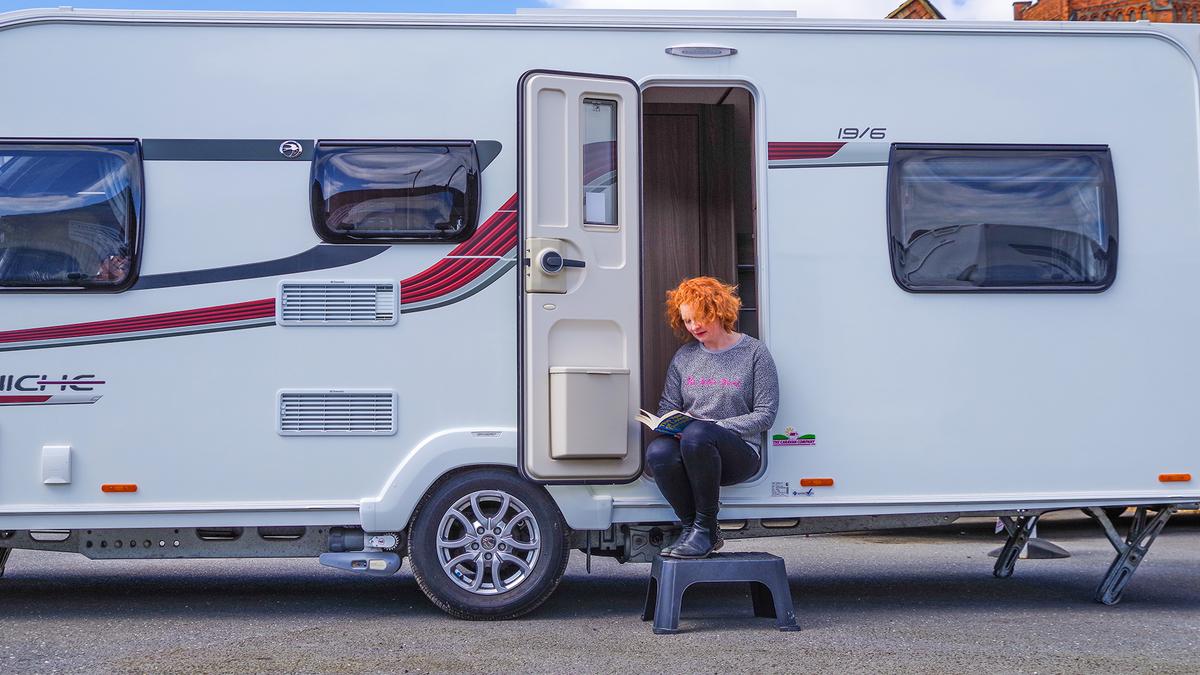 View gallery
The Auto Trader expert verdict: ★★★★★

★★★★★
4.0
Swift have been making caravans since the 1960s and are still a family business so when it comes to taking the whole tribe on tour, they've been there, done that and got the tee shirt to prove it.

Camping holidays should be fun and the Corniche, with its dedicated zones make it a caravan that all the family will love – not just the grown-ups! Toddlers will enjoy being tucked up in the bunk beds and teenagers will be delighted to have their own lounge area to mess about on their mobiles and avoid their annoying parents.

Unlike many caravans on the market, the interiors have been kept simple so if you're someone who is swayed by good quality soft furnishings, you'll be happy. Living and sleeping space takes priority so you can forgive this caravan for not having a generous washroom. If you're staying on a campsite with good facilities, this won't bother you a jot.
Reasons to buy
Single axle but sleeps six

Easy to create separate 'zones' for kids and adults
Design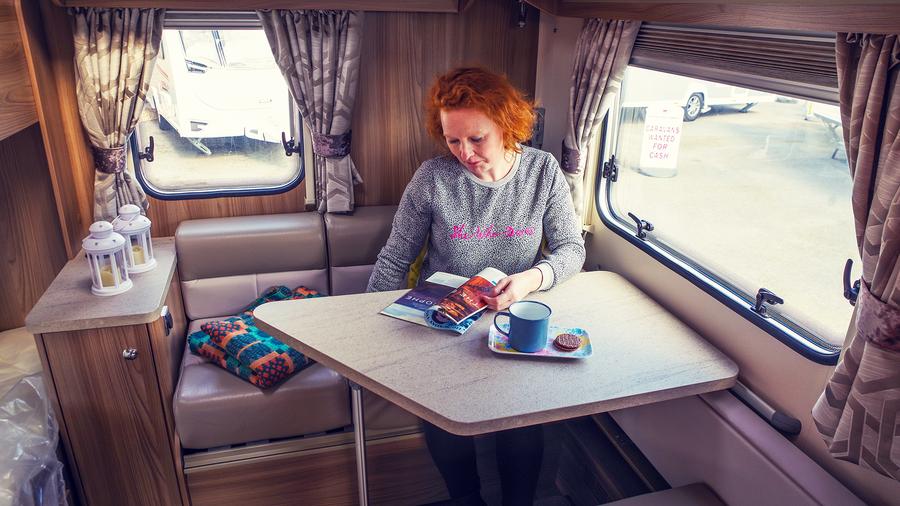 Let's start with the best bit – Swift clearly understand the importance of maximising natural light because the Corniche has it in abundance. There's windows, skylights, rooflights and even a generous window in the main door. We know it can quickly become overcast on a caravan holiday but even when it's dull outside, this is a bright and airy space.

There's a lot going on with the graphics on the exterior of this caravan but the same can be said for a lot of caravans. In general, it is what's on the inside that counts!

Upholstery and soft furnishings here are pale and there's minimal pattern (except on the curtains) which is ideal for those who like a blank canvas to personalise. It gives you a great excuse to go shopping for accessories.

The layout makes absolute sense with a clear division of areas – it's a bit tight in some places, given but you can't fault the flow of this design.
Living
We love how everyone can have their own space – the front area of the caravan can be utilised as a TV lounge and a place to play board games if your family haven't grown out of them. If the kids aren't with you and you've taken some mates instead, you've got room to sit back and enjoy a glass of wine.

We can imagine children will love having their own little lounge area in the back with comfy seating and a table. In the old days, this is where they'd sit, read a book and occasionally gaze out of the window at a joyful, bucolic scene. But let's be realistic, they are going to be sat here playing with today's equivalent of a Game Boy or an iPad.

Good storage is a must-have in your palace on wheels and the Corniche offers plenty of high-shine overhead cupboards to store everything from gadgets to clothes. Why not give the kids their own 'locker' to stop arguments?
Dining
We know there's plenty of space to eat your meals but what about preparing them? It's not a caravan for preparing a ten-course tasting menu but if you want to make simple meals, this is more than enough room and on a nice day, you can always chop your veg outside.

The Thetford Aspire 2 oven/grill has three gas rings and a hotplate so you can have a few pans going at once if need be. The microwave in sensibly placed above the sink so while the kitchen is compact, you have everything you need to make good family-sized meals at your fingertips.

Outside you'll find a BBQ point so on a sunny day, dining al fresco is much more enjoyable than getting hot in the kitchen.
Sleeping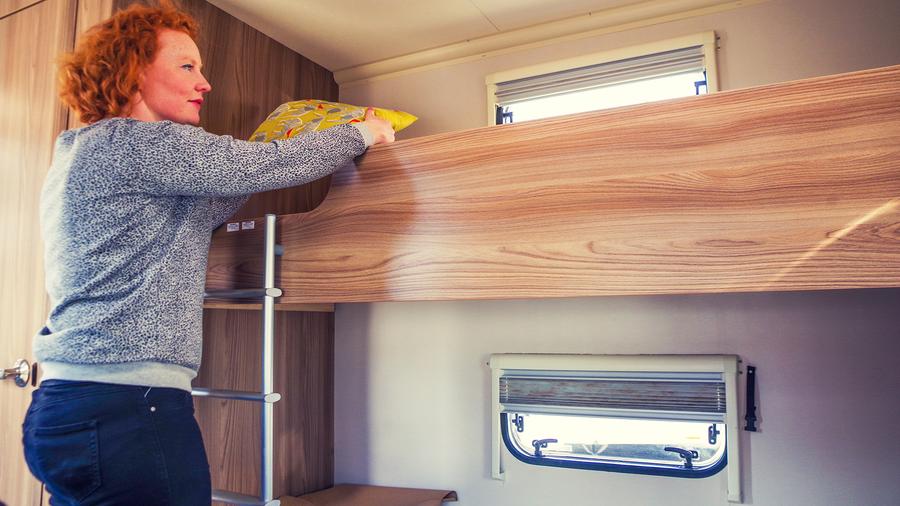 Families come first with this caravan so you won't find a double fixed bed. You do get fixed bunk beds at the rear which will be a godsend for those with toddlers. Swift have included some cute little 'touch' lights so if your little ones are prone to waking up in the night or scared of the dark, they can safely switch on the lights for themselves and then shout to you because they need the toilet, a drink or have had a nightmare.

The rear dinette area facing the bunks can also sleep two, either as two singles or a double so any additional children are well catered for in the sleep department. This kids 'zone' can also be closed off from the rest of the caravan via a pull-across screen so you can carry on watching TV without disturbing little dreamers.

Grown-ups will likely want to sleep at the front of the caravan by converting the seating area into a double bed – it's comfortable and spacious enough but after a long day you might wish you could flop into a bunk rather than make your own bed.
Washroom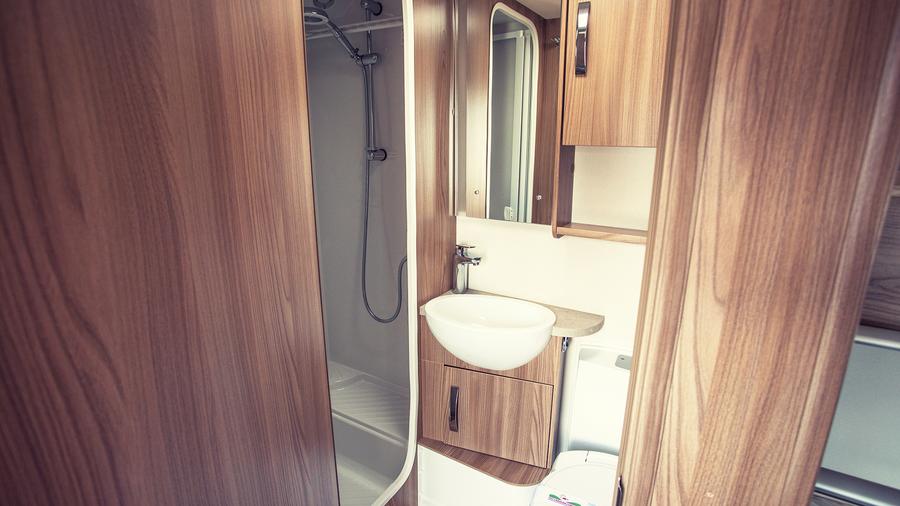 You're going to have to be really organised with the bedtime brushing/washing routine if you've filled this caravan with four children because the washroom isn't very big. That's because the space has been sacrificed to make way for the bunks which is a fair trade, we think.

Yes, it is small but it's stylish with oak-effect panelling and wood-look flooring of such a high quality, it wouldn't look out of place in your own home.

Cupboard space is limited but with plenty of storage elsewhere in the caravan, this shouldn't trouble you too much. The shower takes up most of the room and doesn't leave a lot legroom if you need to use the loo!
Value for money
Going on holiday as a family of six and staying in hotels costs an absolute fortune but if you're willing to spend around £16K on a caravan like this and keep it for a few years, we're pretty confident you'll end up shelling out less – but getting back a lot more.
Why buy?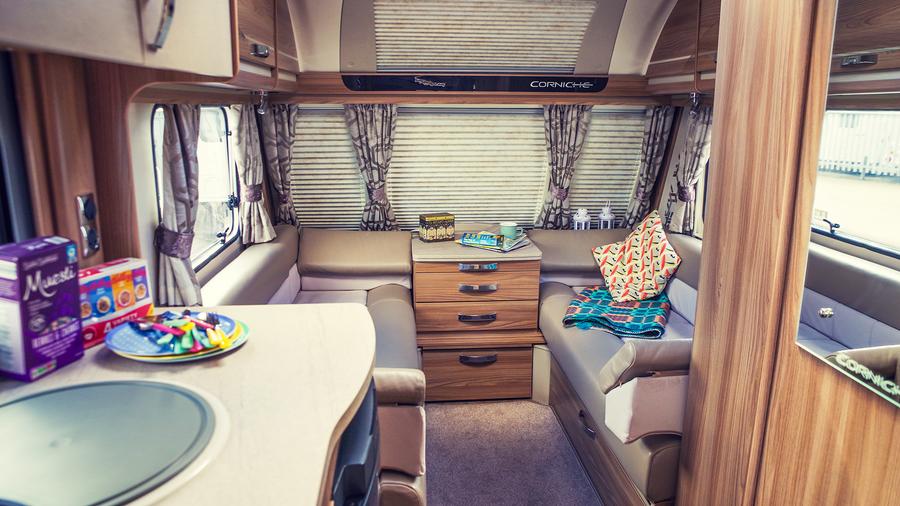 This is a caravan that is big enough to give all family members their own space.


Reviewed on site at:
The Caravan Company Northampton, Finedon NN9 5EJ Thecaravancompany.com