Expert Review
Swift Challenger 565 review
Sleeping and lounging sorted in a caravan of convenience that's ready for anyone.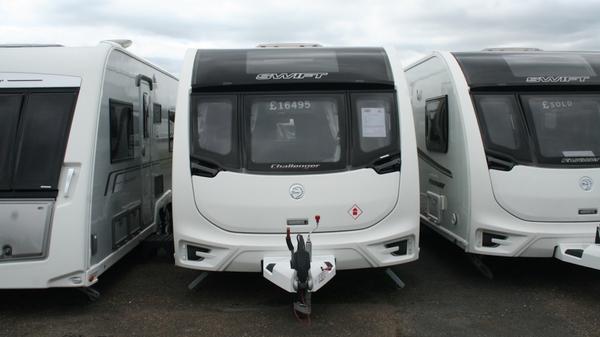 Words by: Ben Hackney-Williams
Published on 29 January 2021 | 0 min read
The Auto Trader expert verdict:
Layouts are an 'each to their own' thing when it comes to any caravan for sale. This Challenger 565 genuinely puts that approach into practice, with separate spaces that give anyone privacy and the perfect place to relax. The caravan in this review was provided by Marquis South Yorkshire.
Reasons to buy:
Spacious layouts with plenty of choice
Comes equipped with tech including solar panel and motor mover
Sofas and twin beds make for four 'rooms'
Design
Finding single-axle family caravans for sale can start to get expensive, especially when looking for something with this versatility in layout, but the second-hand Swift Challenger 565 offers so much in the way of sleeping options and practicality that it's a steal in good condition. This model is solar-panel equipped to solve any power concerns, while the sleeping arrangements offer plenty of space for a family or absolutely luxury for any couple.
Expert rating: 4/5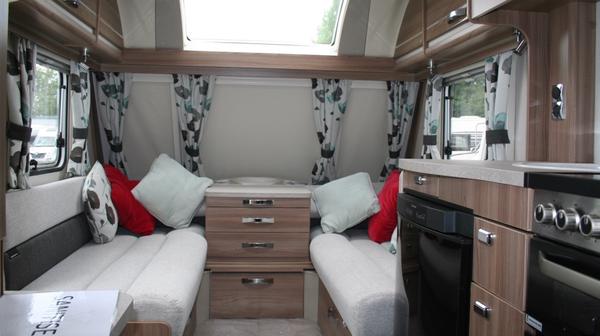 Living
Light an airy feel thanks to an abundance of windows and the large skylight up front, this Challenger also features fresh upholstery and finishes that add to the spacious feel. One of the best things about twin single bed layouts is that, during the day, there's plenty of options for spreading out. In the case of the 565, the living and sleeping area can also be separated by a partition screen, giving privacy and peace at any time on-pitch.
Expert rating: 5/5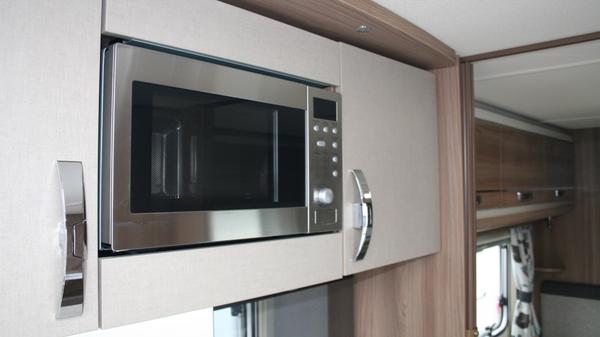 Dining
The Swift Challenger's kitchen features a large Dometic fridge that's easily keep stock of everything you need for a gastronomic getaway. The Thetford Aspire 2 separate oven/grill, three burner hob and hot plate will let you cook up a caravan storm while you're on site, too. Or you can save a bit of time and kick your feet up after a quick microwave blast. There's also a fold-up serving table for convenience.The only real downside in the dining space comes in the form of storage. The height of the 565's fitted plate and mug storage could be a stretch for some caravanners.
Expert rating: 4/5
Sleeping
This is one of my favourite layouts for sleeping options. In all honesty, a fixed double bed is better for levels of luxury, but twin singles front and back, or a pull-out double at the front, is a set-up that offers everything. Again, it's more than just about sleeping. While the choices for couples, friends kids and any family combination will solve any night time set-up, don't forget how important space is during the day for kicking back and relating. The split nature of the Challenger's layout creates an almost bedroom-like layout, meaning that there's as much of a divide for different activities in all four corners of the caravan. Reading, gaming, snoozing, watching... Sorted.
Expert rating: 5/5
Washroom
This caravan's space compromise comes in the washroom, but it's still no disappointment. A separate shower cubicle adds a little luxury, while there's good shelf space and big cupboard. The cupboard embraces space efficiency as much as possible, with angled shelving inside that means you won't be fiddling around with items bumping off smaller storage place. For a little element of caravanity, there's a huge mirror here, too.
Expert rating: 3/5
Value for money
With over a £16k price tag for the 2016 model, this felt a little expensive at first. Then you look at the spec list and it's kitted out with motor mover, solar panel, remote alarm, Truma Combi heating and digital control panel. Combine that with the practical layout and you can't go wrong.
Expert rating: 4/5
Why buy?
Find a 565 that's been shown love while in use and it's a lot of caravan on a single-axle that offers a lot of holiday options for anyone. Add in some outdoor furniture on a sunny day with a BBQ set up and you've got everything you need on-pitch at a time when caravan is only going to get more popular for the touring masses.
Expert rating: 5/5