Advice
How to store your caravan safely
Where's the best place to store your caravan when you're not having a lovely holiday in it? Here's all your options, along with the pros and cons..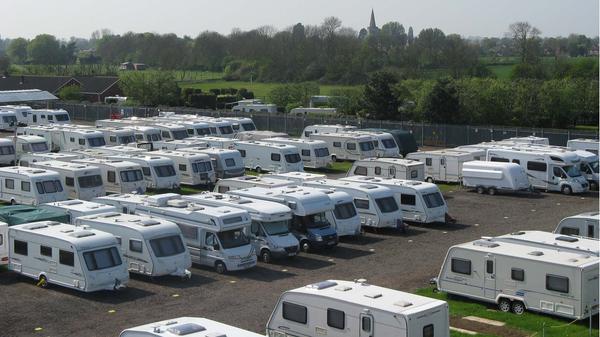 Where's the best place to store your caravan when you're not having a lovely holiday in it? Well, there's really two main options: at home or away, usually in a storage compound or maybe a seasonal pitch. All have their pros and cons. The only other possibility, which is not recommended or very practical, would be leaving it on a public road, but there are several regulations to comply with, such as it needs to be lit at night, and must not be causing an obstruction, etc, plus there's likely to be insurance policy restrictions to adhere to as well, hence this not a very viable (or safe) alternative.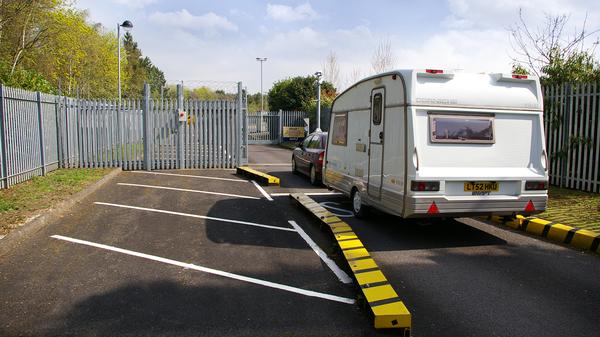 1. Keeping your caravan at home
Advantages
If you have the space, keeping your caravan at home does have some great advantages, but, of course, there may be some disadvantages, too.
The most obvious benefit of keeping it at home is not having to pay storage fees, and the convenience of being able to keep an eye on it 24/7 to check there's no leaks or weather or criminal damage. Depending on where it is on your property, you may be able to use it as a spare room for guests, a home-office, or maybe somewhere to retreat for some peace. Having it at home also makes it easier to pack or cool the fridge before going on a trip, rather than transferring everything to your car and then to the caravan at wherever it's stored. Plus, if it's there all the time, there's no excuse for not doing all the regular maintenance checks, such as checking tyres, etc.
See our 'Don't just hitch-up and go' pre-trip maintenance tips here.
The last advantage is that you won't have any storage compound opening times to adhere to, giving you complete freedom to leave and get home at any hour you want.
Disadvantages
So, what are the downsides of keeping your caravan at home?
Well, first of all, you need to check you can legally keep it on your property as there may be covenants on your deeds preventing you from doing so, particularly in front of the property. The second problem is that you may get complaints from neighbours. While we all find caravans attractive, but not everyone does, so even if there's no legal reason why you can't store it at home, don't give caravanners a bad name, and have some consideration for others. Most modern houses barely have enough space for two cars, so make sure it is practical to keep your caravan at home. If you live on a busy or narrow road, think how easy it is (or isn't) going to be getting the caravan to and from your drive. Finally, there are important security issues to consider if keeping your caravan at home. Your insurance company may consider your caravan is more secure and less likely to be vandalised or stolen if it is kept at an approved storage compound. A storage site could have a higher level of security (such as CCTV) than you're likely to have at home, but you will still need as many security devices fitted to your caravan wherever it is stored. The security risk to your caravan when it's kept at home is likely to depend on how visible it is to prying eyes, and how easy their exit with it would be. Confident and determined thieves steal caravans in broad daylight, so be prepared to fit as many deterrents as possible and make sure it is insured. If your caravan is visible at home, some folks worry that when you go away, observant people may notice its absence, which makes it more obvious that you are not at home. However, empty houses are often easy to spot wherever you store your caravan, so do take extra precautions to make it look lived-in while you're away. And if you bring it home from storage prior to going away, always fit security devices, even if it's only for one night (or hour!).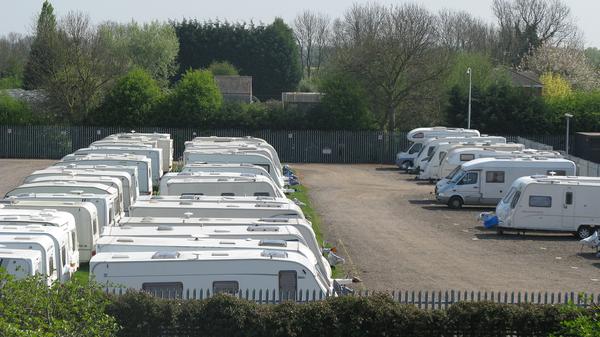 2. Keeping your caravan on a storage site
Advantages
A lot of people don't have room to keep their caravan at home, or just don't want it there all the time, so find somewhere else to keep it.
The advantage of a storage site is that there may also offer mobile servicing or maintenance checks for you, and your insurance company may offer a discount on your premium as good storage sites (with high levels of security) are often considered safer places to store your caravan than at home. It's best to do some research on local storage options before you buy a caravan (or your house), in case the nearest, or best, option is miles away, or for security reasons, may only allow you to access your caravan at certain times. The further away it is, the more time and effort you're going to need, which could end up being a hassle that deters you from using your pride and joy as often as you would like.
Disadvantages
Storage sites can vary enormously, from an area at a campsite or farm, to dedicated storage compounds, with an equally wide level of security provided.
There's obviously going to be an annual cost for using a storage compound. These charges vary depending on what is provided, how professional it is and the level of security in place. Security is an extremely important criteria to check when choosing where to store your caravan. As we've already mentioned, your insurance company will definitely want to know this, and so do you. Cheaper storage options, such as space at a local farm, are more likely to have less security, and may not be closely managed, so any theft or damage (from storms or vandalism) may not be noticed for several days, or weeks. While determined thieves still seem to manage to defeat even the highest levels of security, at least if your caravan storage site is run on a more professional basis, you're more likely to be notified of any problems immediately so you can take action, plus there may be CCTV footage available, too. If this all sounds a bit negative, then there is help at hand. The Caravan Storage Site Owners' Association (CaSSOA) works with a large number of approved storage sites across the UK, all of which it has independently assessed for security features, access and amenities to make sure they provide superior levels of protection from theft. It then gives them bronze, silver or gold levels of accreditation.
You can find its recommended storage sites via a search function here.
3. Keeping your caravan on a 'seasonal pitch'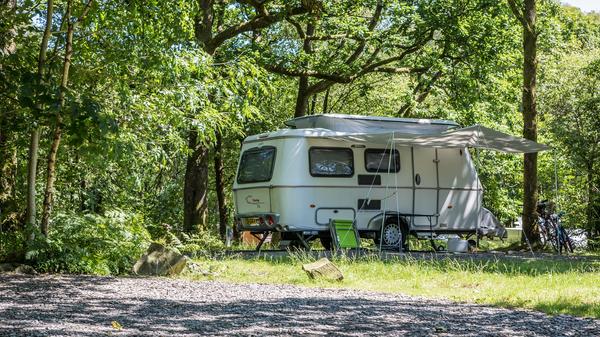 Advantages
Finally, as a 'curve-ball' option, how about considering a seasonal pitch at a campsite? These are pitches where you leave your caravan for an agreed period of time, usually a few months or a particular season, or all year.
The idea of a seasonal pitch is that you pay to leave the caravan at the site, and then you can go to it as often as you like without having to tow it – just turn up and relax straight away. It really is like having a second home always ready and waiting for you. This is particularly on the continent. Campsites will leave your caravan on an agreed pitch in a particular area, or keep it in storage and put it on to a pitch for you in advance of your arrival.
Disadvantages
Seasonal pitches are great if you are happy to go to the same place all the time, as you're not usually allowed to take the caravan away from the site during the agreed period.
This isn't the cheapest way to store your caravan, so if you've paid for your pitch for an extended period, use it, or it's just not cost effective. You also need to inform your insurance company. Some caravanners feel seasonal pitches with caravans not being used are unsightly and leave less pitches available. You may be able to leave an awning erected, but there is the risk of damage during storms if you are not there to check it is still in one-piece.
Looking to buy a caravan?
Looking to sell a caravan?