Advice
Essential accessories for touring caravans
It's a good idea to create a checklist of all the essential items and caravan accessories you need for any holiday or weekend away. But what should be on that list?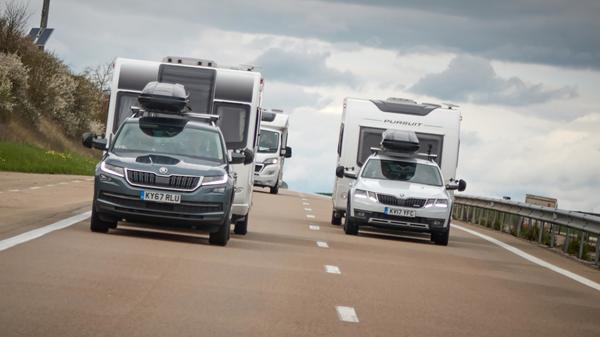 One look around a caravan show or a dealer's accessory shop will soon show you that caravanners love gadgets and accessories. Over time, it's quite easy to build-up quite a collection of stuff (some of which might not truly be essential) for your home from home.
A list of essentials might vary for newbies and experienced caravanners, so let's consider what might, or should, be on each list.
Accessories for newbies
If you buy your caravan from a private seller, they may include some accessories in the deal. A used caravan at a dealer may include a leisure battery or the previous owner's awning, and might have a motor mover device already fitted, but new ones won't have anything. If you're a newbie, you're going to need to know what you can't set off without, so here are our top 10 essential accessories:
1. Leisure battery
Every caravan needs a battery, even if you are only going to use campsites with an electric hook-up. And it needs to be a specific leisure battery as they're different to car batteries. There are different classifications and types of leisure batteries (and prices) to choose from depending if you're going to be going off-grid a lot or using high-powered accessories like motor movers.
2. Towing mirrors
Police spot checks pull over way too many caravanners without towing mirrors. With a caravan in tow, your car's existing door mirrors cannot give you a good enough view of the road behind you, so invest in a decent pair of towing mirrors to attach to them. They really do make a big difference.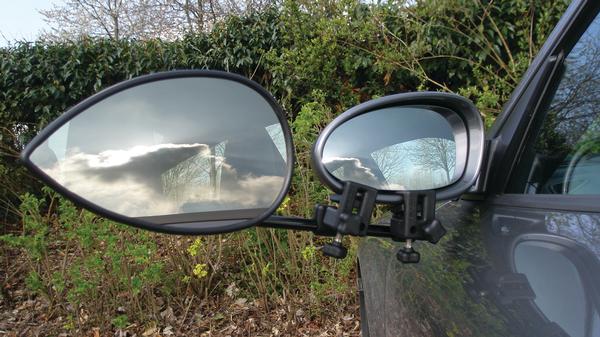 3. Security devices
Sadly, as a minimum, a hitchlock and wheelclamp are essential to protect your caravan from theft. Many insurance companies insist these are fitted whenever the caravan is left unattended. You can also install a Tracker device or alarm, and if you store your caravan at home, a security post. Determined thieves will still manage to overcome most security devices if they really want your caravan, but it's still best to have as many deterrents as possible.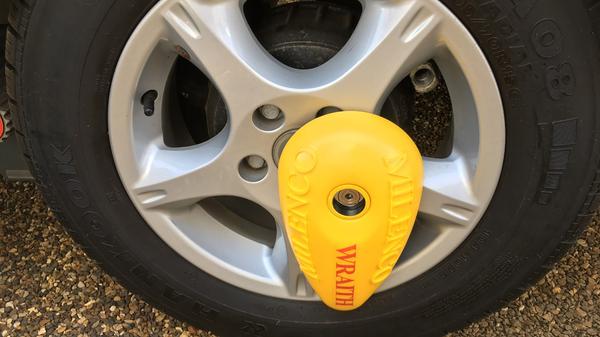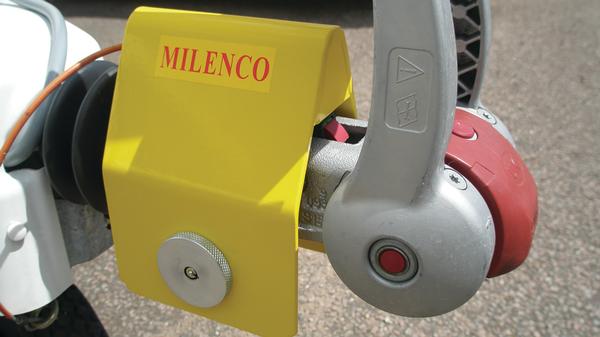 4. Water carriers
Unless you can guarantee you will always be able to use a 'super pitch' with fresh and waste water connections straight to your caravan, you will need a portable fresh and waste water carriers. A water pump should be supplied with the caravan to get your fresh water in to the caravan and then, of course, a waste water carrier for the water you've used (washing up, showering, etc.) to go in to. Most carriers are wheeled to make your life much easier.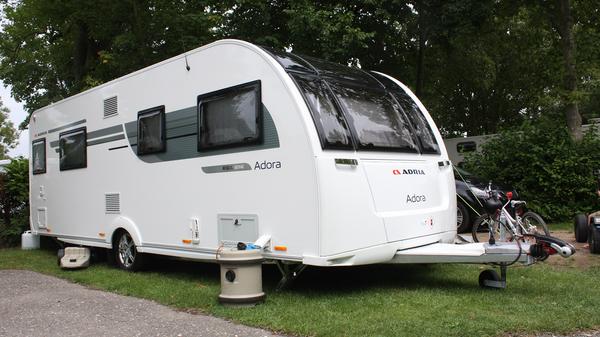 5. Levelling ramps
Many campsites are not perfectly level, so to make live more comfortable inside the caravan, you'll need to take some levelling chocks or ramps. These are placed under the caravan wheel to help level it from side to side.
6. Toilet chemicals
There are special chemical solutions available for the water for the toilet's flush system and the holding tank. If you have a new caravan, check if the warranty says any specific brand (e.g. Thetford or Dometic) should be used. There is also special toilet paper available that dissolves more efficiently than the domestic type.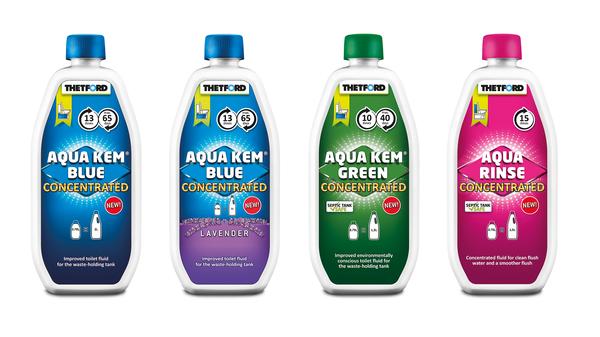 7. Noseweight gauge
Hopefully, you've read the
caravan buyers guide
so won't be phased by jargon like 'noseweight', or the fact that you need to measure it. The easiest way to do this is to buy a noseweight gauge so you know you're not exceeding your car's towbar's weight limit.
8. Spare wheel
This is fairly self-explanatory, but it is worth noting that if you don't have a spare tyre, replacing a caravan tyre may not be as quick and easy as a car's as they are usually a smaller size and specifically for trailers.
9. Insurance
Well, you could go without insuring your caravan, but if it is stolen or damaged, you could be severely out of pocket. Like any vehicle, a caravan, whether it is new or old, being used or not, is an investment of your money, so it should be insured. It's heart-breaking to hear of (too many) cases of caravans being stolen and their owners losing out.
10. Smoke/carbon monoxide detector
Newer caravans will have smoke detectors, and the newest ones will have a carbon monoxide detector as well. If you're buying a used one, if these aren't fitted, get them fitted. It's a small investment that could save your life. That makes them an essential 'essential'!
This list assumes that your caravan already has a mains hook-up lead, a 'winder' to raise and lower the corner steadies, and a step to help when you're going in or out.
All that could be added to the list of essentials is lightweight and durable plates, cutlery and saucepans. You don't have to have sleeping bags as many people go for the bulkier option of taking their duvets from home.
Accessories for more experienced caravanners
More experienced caravanners would also say it's essential to take a tool kit and road atlas, if you don't already have one in your car. Gloves and hand wipes or antibacterial gel are also useful 'essentials' for keeping hands clean while hitching or unhitching the caravan.
Once you've got the essentials covered, pretty soon, you're going to want some of the other desirable caravan equipment available. Experienced caravanners might consider some of these as 'essential':
BBQ
Gas ones seem to be the most popular on campsites these days. Cooking outside is all part of the caravanning experience. Never BBQ in an enclosed space like an awning though as the carbon monoxide could kill you.
Camping chairs and table
You'll want to sit outside and enjoy the fresh air, sunshine and grass beneath your feet while you're away on holiday, so you'll need something to sit on, and table to eat from. Lounger style deckchairs are particularly popular. Get the best quality you can afford, and make sure they're as light as possible, and you have somewhere to pack them while travelling.
Motor mover
Motor movers make manoeuvring a caravan a doddle. They've made caravanning almost effortless. There's no need to expose your reversing skills either. Just unhitch when you arrive on site and let the motor mover get the caravan to exactly where you want it, just by touching a button on a remote control. They're not cheap though, but well worth it.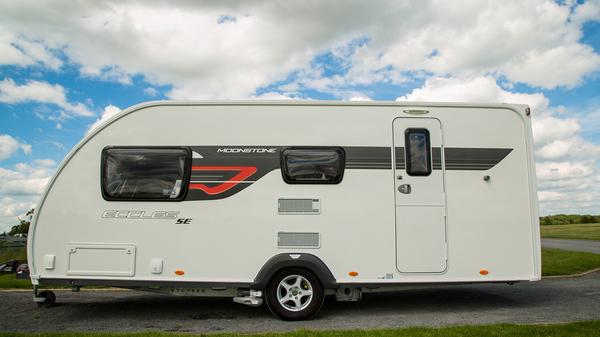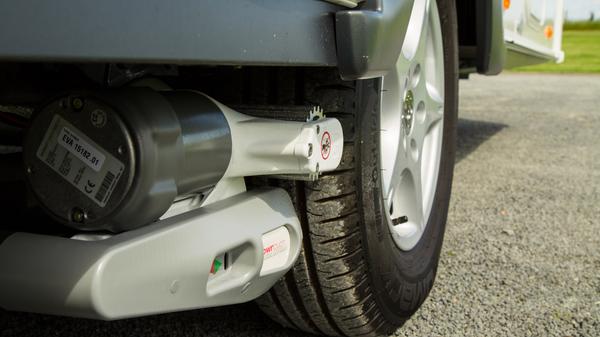 Tyre sensors
There are kits available which enable you to monitor the tyre pressures on the caravan while you are travelling. This can alert you to a drop in tyre pressure ahead of it becoming a safety issue. It's also worth getting Tyron safety bands fitted to your caravan tyres to help you maintain control of the caravan in the event of a blowout.
Caravan cover
There are two types of caravan covers that have become increasingly popular. One is the full caravan cover, which not only protects it from the elements while it's not being used, but also camouflages it to make it less conspicuous. The other type is a towing cover for the front of the caravan to protect it from road debris (to avoid windows being cracked by stones) and helps to keep it clean and cooler when travelling in hot weather.
Awning(s)
Over time, caravanners often build-up a collection of awnings of different sizes to use depending on how many nights they're away for and the time of year. Awnings are great for creating extra living space. Get an awning carpet to make them cosier (and the dust/grass out of the caravan) and you'll spend more time outside than inside. But for short stays, many caravanners just use a smaller or 'porch' type awning which are more manageable, quicker to put up and take down, and need less space to stow. Choosing the best awning is another subject we could discuss at length as there's a huge variety available.
TV
Some like to go away in the caravan to get away from their usual routines, like watching TV, but with many caravans having TV aerials fitted as standard, it shows than even more like to relax and still watch their favourite programmes while they're away; or, if you choose a TV with a built-in DVD player, or a Smart, internet-enabled version, then you've got the chance to chill with a film, box set or catch-up TV. Your caravan may already have a TV mounting bracket fitted, but if not, a dealer should be able to fit one for you.
Wi-Fi
Although most campsites provide wi-fi, the quality and cost can vary considerably, so portable wi-fi units are going to become more and more popular as everyone takes more gadgets with them.
Automatic levelling
Imagine being able to pitch and level your caravan automatically at the push of a button. Well, you can. Automatic levelling systems are still relatively rare, and have only been found on top-of-the-range models due to their cost and weight penalties, but with more aftermarket options being launched, such as the AL-KO HY4 system, it could be the next time and hassle saving 'essential' to make caravanning even easier.