Advice
Caravan buyers' guide
Buying a caravan is a great way to get more out of your leisure time, have more holidays and weekends away, and create great memories that you'll never forget, so it is important to make sure you buy the right one.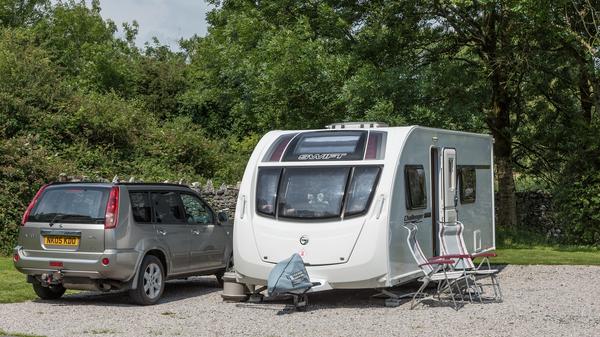 It doesn't matter if it's the first or 21st caravan you're buying, there's a few key points to consider (or remember) to help you make the best choice, avoid any classic mistakes, and be stress-free, legal and safe.
View thousands of caravans for sale on AutoTrader
Weight
This is really important: before you buy any caravan, you must know the weight of the caravan and your car.
Why? Because for safety and legal reasons, your choice of caravan will be dictated by its weight for two reasons:
The caravan needs to be a sensible match for the weight of the car, or the car manufacturer's towing limit (as it may be lower than the car's weight)
Your driving licence may restrict you to towing a car and caravan with a combined maximum weight of 3,500kg.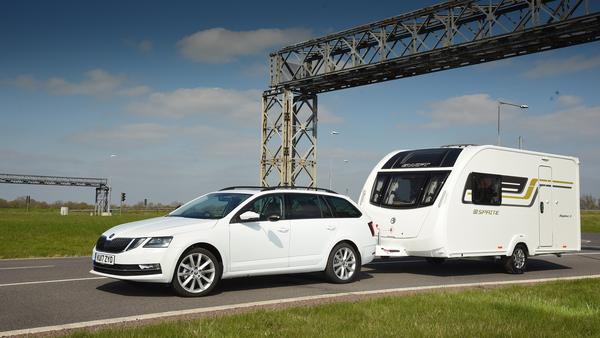 We'll try to explain this as simply and as jargon-free as possible, but please take a look at our section on jargon to explain some of the terms relating to weights that you'll encounter and need to know.
To make towing as comfortable and enjoyable as possible, the sensible recommended guideline is that the weight of the caravan when it's loaded should ideally no more than 85 per cent of the car's kerbweight (sorry, couldn't avoid that bit of jargon!); however, in some cases the manufacturer's maximum towing limit for the car may be lower. If you think about it, that's good advice, otherwise you can get into a situation best described as "the tail wagging the dog" – see what it means? There has been a lot of discussion about the 85 per cent guideline, as it is 'only' a guideline, and with stability devices now more common, many more experienced caravanners feel comfortable towing up to 100 per cent of their car's kerbweight. You want the car to feel in control with a weight advantage over the caravan; otherwise any movement of the caravan caused by gusts of wind, buffeting from lorries or instability will affect the car more noticeably – or in the worst case scenario, could end in disaster. And don't be fooled by car manufacturers' claims that the car can pull vastly more than the weight of the caravan you're looking at; yes, it may have the power to do that, but it's the balance and dynamics of towing on the road that's critical, and if your caravan weighed more than the car, you could soon end up in big trouble. Always check the manufacturer's towing limit for your car as sometimes this is less than its kerbweight. The manufacturer will also give a maximum permitted combined weight for the car plus any trailer.
When did you pass your UK driving test? The critical date is 1 January 1997 as the entitlements to what you can drive or tow are different before and after that date. Critically, if the test was after 1 January 1997, it is restricted to towing a maximum combined weight of the car and caravan of 3,500kg. However, it is possible to take an additional test to give the same, full 'B+E' entitlement of licences from tests taken on or before 1 January 1997.
And finally, just in case you're setting your heart on as big a caravan as possible, it might be worth knowing the maximum weight and size for any caravan towed by a vehicle with a maximum gross vehicle weight of no more than 3,500kg is: a maximum laden weight not exceeding 3,500kg, no wider than 2.55m and a maximum body length of 7m (not including the hitch and drawbar). Anything larger than this needs vehicle weighing more than 3,500kg, (which will probably be a commercial vehicle) to tow it. Sorry, if we've gone on about weight for too long, but this is SO important. Finally, you should also consider how much 'payload' there is for all the stuff you will be tempted to pack in to the caravan as an overloaded caravan is dangerous and could get you in trouble with the law. Sorry, if we've gone on about weight for too long, but this is SO important. Finally, you should also consider how much 'payload' there is for all the stuff you will be tempted to pack in to the caravan as an overloaded caravan is dangerous and could get you in trouble with the law.
Size
There's a huge range of caravans in all different sizes. Some people prefer to tow small, compact caravans, while other people want, or need, as much living space as possible; ultimately, your choice will depend on the weight of the caravan (see 'weight' section above) as, obviously, the bigger the caravan the more it will weigh, and also where you are going to take it or store it.
If you like travelling abroad or island hopping in Scotland, you'll pay more for a bigger caravan as ferry companies usually charge by the length of the trailer (and yes, they do check). A full-size awning will obviously cost more for a larger caravan too, and while there's more, wider caravans now available (up to 8ft wide is the latest trend), once you're off the main roads or motorways, consider how small some rural roads can be. Finally, if you want to store it at home, or bring it home for loading or unloading, do you have enough space for it?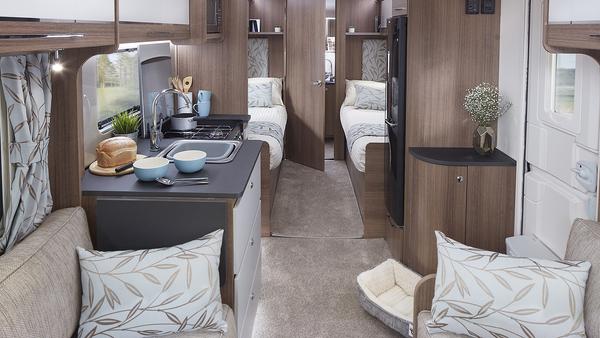 Layout
There's lots of different interior layouts to choose from, depending on how many people will need to sleep in the caravan. Like Marmite, people often have their distinct preferences and love or hate some of them. Sometimes, you won't know what you prefer until you've tried them.
For example, fixed beds have become very popular for those who like the convenience of not having to convert the seating area into a bed at night – however, there's also lots of people who feel that a fixed bed takes up too much space and they'd prefer more living space. To add to the debate, fixed beds come in a variety of styles – there's twin single beds (very popular), transverse doubles, the 'French bed' with the double bed to one side of the interior, and some doubles at the rear of the caravan with a washroom between them and the front section of the interior. Washrooms are another talking point. Some people like to shower in their caravan, while others prefer to use the site's facilities. Separate showers are more common these days, and if you don't want to use them, they're always useful for drying clothes or for extra storage. Large 'end' washrooms at the rear of the caravan, sometimes with the wardrobe in them, provide a very civilised amount of space and privacy to wash and dress, but others consider that an extravagant use of space (and not an ideal place to have the weight of a wardrobe full of clothes while travelling). The alternatives are a washroom in the rear corner of the caravan, in the centre of the caravan (so you have to pass through it to get from the rear bedroom/lounge), or to one side in the centre, but that can make the area in the centre of the caravan feel a bit narrow or congested. If you have children, they a seating area at separate ends of the caravan can provide useful separation, especially if younger ones are going to bed early. There's lots of models with fixed bunks for children.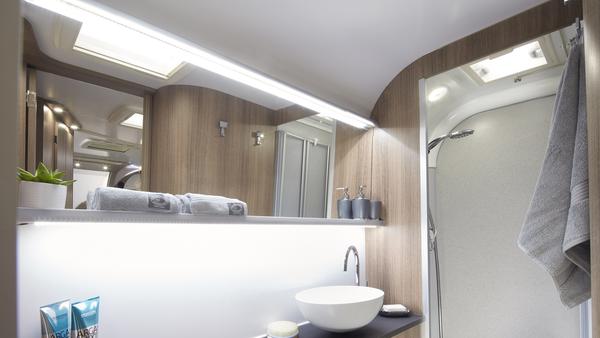 Essential checks
In addition to checking for any obvious signs of wear and tear or any damage on the exterior of the caravan, we'd recommend four essential things to check before buying it:
Is it stolen? Check the seller has any receipts from buying it and servicing it. Are there any obvious signs of damage from tampering with the hitch, door locks, windows, VIN (Vehicle Identification Number) or weight plate? Check its CRiS (Caravan Registration & Identifications Scheme) registration details and history (or outstanding finance) for caravans made from 1992: www.cris.co.uk.
Is it damp? Water ingress is the curse of any caravan – and can be expensive to repair. Caravans sit around in hot sunshine and cold frosts, then flex a bit as they're towed about, so it's a challenge for any caravan to stay watertight over time. Take a damp meter or get the caravan checked/serviced professionally before you part with any money. The most likely places to find water ingress is around the front windows, rooflights, TV aerials, and the front and rear corners. Don't rely on thinking
Tyres: Caravan tyres don't usually cover a high mileage, so although the tyre treads look OK, always check how old they are as after a few years of being in the sun and the weight of the caravan on them, the side walls can crack which could lead to a dangerous blowout while travelling. Caravan tyres need changing every 4-5 years even if they've got plenty of tread left.
When was it serviced? An annual service is recommended for all caravans, and will be an essential requirement for any warranty to remain valid. Things like gas pipes, electrics, heating, brakes, wheels, tyres and the hitch all need servicing, and a service should usually check for any signs of damp as well. There's a lot of equipment in a caravan these days, so for your own safety, an annual service is extremely important.
Jargon
MTPLM – Maximum Technically Permissible Laden Mass – the maximum weight that the caravan must not exceed. These details will be found on the caravan's weight plate usually found by the entrance door.
MRO – Mass in Running Order – the weight of the caravan in standard specification and without any personal items loaded (formerly known as the 'ex-works weight')
Payload – the difference between the MRO and the MTPLM. This is the maximum weight of items you can load in to the caravan
Noseweight – this is not a term you're likely to have come across before buying a caravan! It is the amount of downforce from the caravan's hitch on the car's towball. There will be a noseweight limit for your car quoted by the manufacturer which should not be exceeded. Noseweight gauges are available to measure this, or alternatively, try bathroom scales and a bit of wood under the caravan's hitch. It's best to have the caravan level while measuring this. Too little noseweight could adversely a
Kerbweight – or MRO – the actual weight of the car when it's empty. This normally includes an allowance for fuel, engine fluids and, usually, a driver.
GVW – Gross Vehicle Weight – or MAM – Maximum Authorised Mass – the maximum permissible weight of the vehicle when loaded. This must not be exceeded.
GTW – Gross Train Weight – the car manufacturer's maximum combined weight of the car and any trailer/caravan. This must not be exceeded.
True or false?
Lots of people turn to social media to find answers to their caravanning questions, which can be useful, but sometimes wrong information or beliefs are circulated, so be careful. For professional advice, you can join the Caravan and Motorhome Club, or the Camping and Caravanning Club; both have huge resources of information available. If you're at all nervous about caravanning, both organisations and lots of owners clubs organise weekend events, where you'll find lots of supportive and helpful people.
Twin axles: are they more stable?
Yes, a twin-axle caravan has more wheels and rubber on the road, so in theory it should be more stable; however, any caravan will be unstable if it is not loaded sensibly or driven too fast; also, twin-axles are usually used for heavier, bigger caravans and their larger side area will make them more susceptible to buffeting from side winds or passing lorries which might make them feel less stable at times (temporarily, hopefully). Note that a twin-axle caravan also costs more to service, and you've got double the amount of tyres to look after.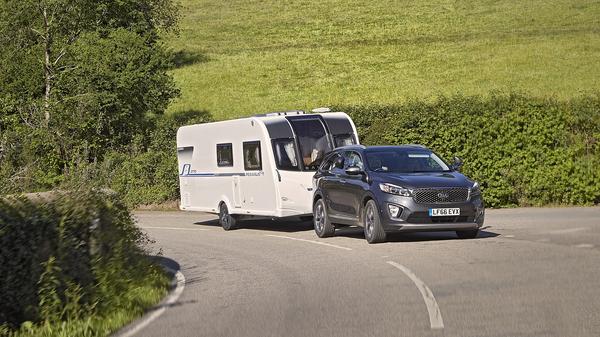 Is an automatic car better than a manual for towing?
This question usually dates back to times when automatic transmissions were less sophisticated or clever as those available today, and didn't always cope with towing so well. Times have changed, so there's no right or wrong answer to this. Some people prefer the extra control a manual gives them, although modern automatic transmissions usually provide this as well. Some car manufacturers still recommend fitting an extra oil cooler for the automatic transmission if towing.
Snaking
A well loaded caravan (with heavy items positioned low down and as near the axle as possible) matched to a suitable car and driven carefully will be safe and enjoyable to tow without any issues of snaking or swaying (moving from side to side). These days, a lot of caravans are fitted, either as standard or retro-fitted by a dealer, with stabilisers to help control any movement of the caravan while towing. If any instability is detected, the best advice is to gently slow down to bring the caravan back under control. Occasionally, you still hear people saying it is possible to accelerate to pull the caravan out of any snaking, but that is extremely dangerous and will only makes the problem worse.
Storage and security
Unfortunately, caravan theft is a problem, so like any valuable asset, your caravan needs to be insured in case of theft or damage, including when you're not using it. Damage from storms, accidents or theft, can happen at any time, anywhere.
Your insurance will usually insist that your caravan is fitted with some security devices, such as a hitch lock and wheel clamp whenever it is parked and left anywhere unattended, including stops at motorway services, at home, etc. Additional door locks, tracker devices and a host of other security accessories are also a sensible investment and can lead to discounts in insurance premiums. Key to the security of your caravan is also where it is stored when not in use – which your insurance company will want to know. If you're using a local storage site, it must have as much security as possible and, preferably, be CaSSOA (the Caravan Storage Site Owners' Association: http://www.cassoa.co.uk/) registered. If you want to keep it at home, check for any restrictions in the deeds of your house against storing caravans. It's better to keep it out of sight, if possible, so not to tempt any suspicious characters – or annoy the neighbours. Wherever it is, check it regularly as any storm damage or obvious leaks will need to be reported or actioned upon immediately.
Equipment
The vast majority of caravans are equipped to keep you comfortable with a minimum of: mains hook-up (electricity), heating, hot water, grill/oven, fridge, shower and toilet. Variations in trim levels will bring dual-fuel hobs with an electric ring as well as three gas ones, larger fridges, full ovens instead of combination grill/ovens and plusher upholstery and fixtures and fittings.
Other, more expensive features include front sunroofs and upgraded heating systems with mini-radiators like at home. Check how many plus sockets there are and where they are located to check if you can comfortably use a hair dryer, TV or phone charger. USB charging points are relatively new, but can be retro-fitted. All UK-produced caravans, and a small selection of imported ones, will have the door on the nearside (or passenger side) to make it safer getting in and out of the caravan in lay-bys and service areas. Accessories you will need, which the seller may be including with the caravan, are awnings – for an extra room on the side of the caravan, fresh and waste water carriers, entry steps, crockery and levelling chocks. Various brands of 'motor movers' have become very popular (and expensive) accessory which you're likely to find on a lot of used caravans. They make it easy to unhitch the caravan, engage the mover to the caravan's wheels, and use a hand-held remote control to move the caravan to exactly where you want it. They're brilliant and make setting up the caravan so much easier.
Find your perfect caravan