Review
Compass Camino 550 Review
This single-axle caravan packs a lot in and one of its major selling points is its reinvention of the washroom.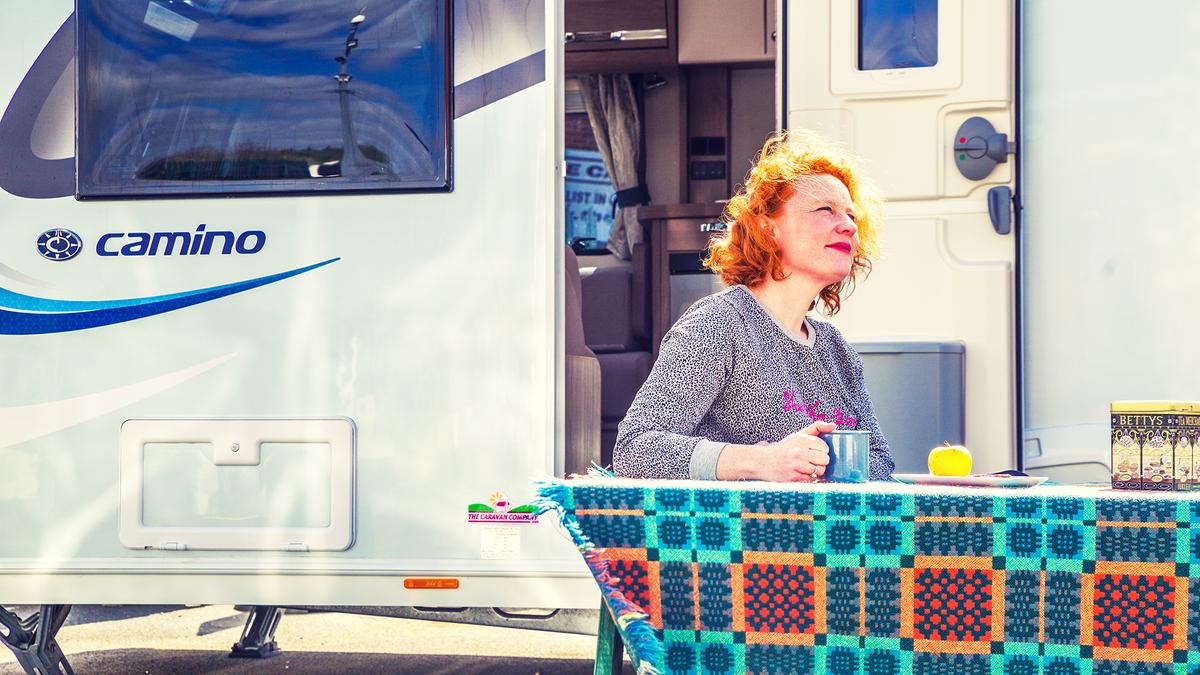 View gallery
The Auto Trader expert verdict: ★★★★★

★★★★★
4.0
You're likely reading this because you're looking for your first caravan. Maybe you've had enough of camping in the rain or you've decided that now you've got children, you want to get away more often but shell out less on hotels. There's lots of reasons you might want to consider the Compass Camino 500 but you'll need to make sure the layout works for you – to us, that's one of its biggest selling points.

The Compass portfolio is part of the Elddis group who have developed a technology called SoLiD Construction which allows its leisure vehicles to be built fully-bonded making them, as the name suggests, more solid and less likely to be affected by water ingress. Given, this is the practical stuff but when you're shelling out a large wad of cash, you want to make sure that it's a solid investment. And, if you've missed those subtle references there, please read it again.

Elddis started life in 1964 – a time when Milton Keynes was just a twinkle in the town planners' eyes – so you'd be forgiven for thinking that you're going to be getting a really traditional caravan. Compass caravans however, have plenty to endear them to younger caravanners.
Pros
Tasteful, easy-care upholstery

Separate shower and loo but…

Retractable bed
Cons
...the shower isn't one-size-fits-all

The kitchen area feels quite small
Interested in buying a Compass ?
Design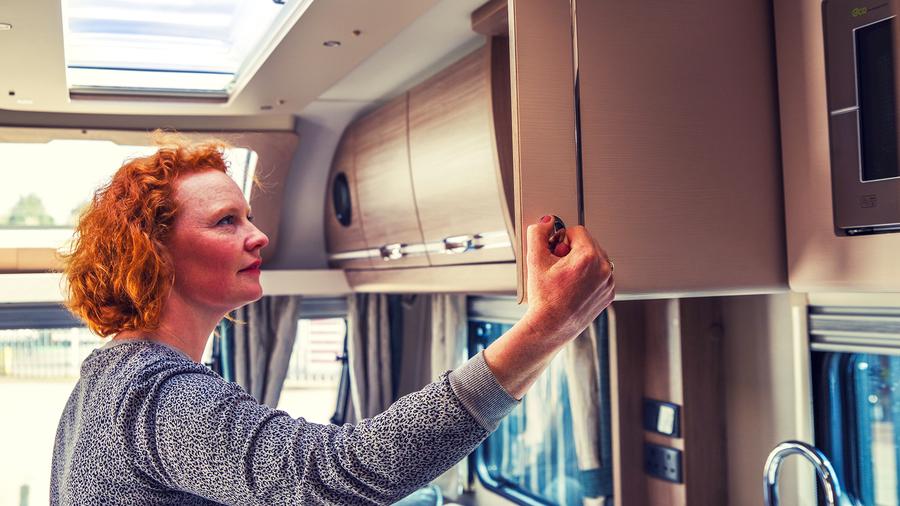 When it comes to the exterior of a caravan, in the nicest possible way, it's hard to make a splash. Ripples, however, can be made and the Camino with its azure blue graphics certain does that. It makes spotting your caravan on the campsite that little bit easier!

With a sleek, aerodynamic look, it's tasteful and will appeal to those who like simple, unfussy design. The 'SkyScape' panoramic sunroof allows for maximum light to filter into the caravan and the rear panel is as, as you'd expect is one panel, nicely curved with chrome grab handles and stylish high-level LED brake light.

From the outside then, you've given an indication that this is a tasteful caravan well-suited to those who for years have said, "we're just not caravan people." That's not to say that this wouldn't appeal to existing caravanners but it's definitely a vehicle that has the potential to be a challenge the outdated stereotypes of caravanning and introduce new people to the beauty of a home on wheels.
Living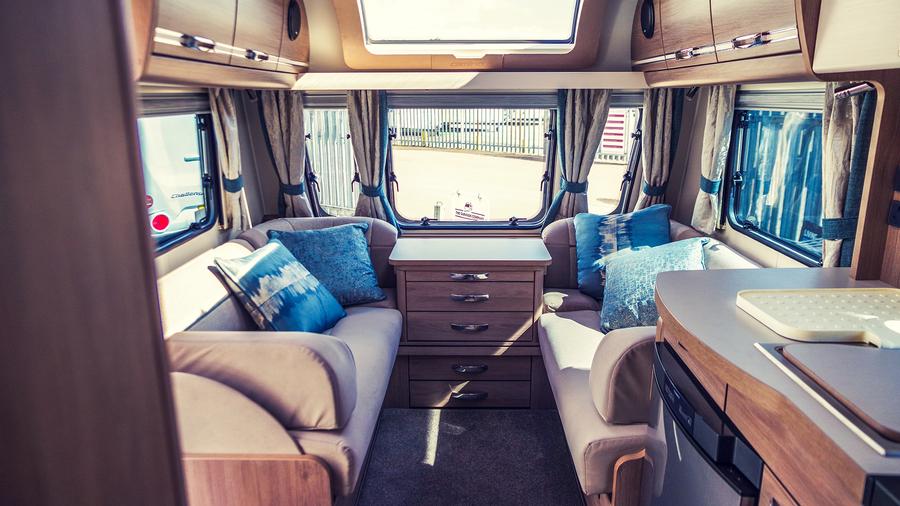 The lounge isn't the best part of the caravan but that doesn't mean you should overlook it. The upholstery is simple and tasteful which cannot be said of all caravans, believe me! Comfort is important and so the seating incorporates Ozio – a foam that's lighter than standard foam by around 30 per cent. This might not seem like much but in caravans, weight is an essential consideration so every little really does help. Crucially, Ozio is super comfortable so if you're making up the bed here, you can be sure of a good night's sleep.

Pale fabric might not be ideal for those with little ones but it certainly keeps the van light and bright and creates a relaxing vibe, perfect for sitting back and taking in the view.

Talking of which, this caravan is big on natural which streams in thanks to the Heiki Luxe Stargazer rooflight (that's a big window to you and I) and a panoramic Sky-Scape sunroof (again, another big window) which allows you to see the view above too – lovely if you're waking up in a forest.

Over the past decade or so, many manufacturers have started to introduce bigger and better windows but as you'll see, they rarely call them windows opting instead to give them clever, romantic names.

To further seduce you, this caravan features a curved illuminated cocktail cabinet with room for a bottle and some crystal glasses. Years ago, this was a regular feature in high-end caravans but now, it's perhaps a little unnecessary and maybe this space could be better used.
Dining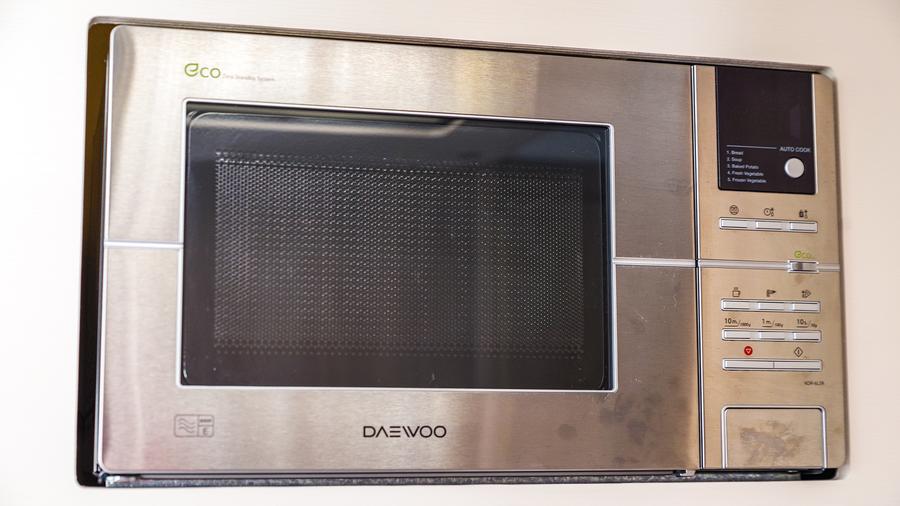 The kitchen area of the van makes the most of the available space and does it well with everything you need to prepare a meal close at hand. The microwave is built in and is located directly above the oven grill and hob which is fine but if you've got both going at the same time, you might knock the pans off when you lean up to get your food out of the microwave but maybe that's just me because I'm clumsy. Would the positioning of the microwave make or break this deal for me? No.

The central console slides out to reveal a small table and if there's just the two of you, that's likely all you'll need but there's the option of a bigger table too but if the weather allows, you'd probably be more comfortable sitting outside. Unless you get along really well.
Sleeping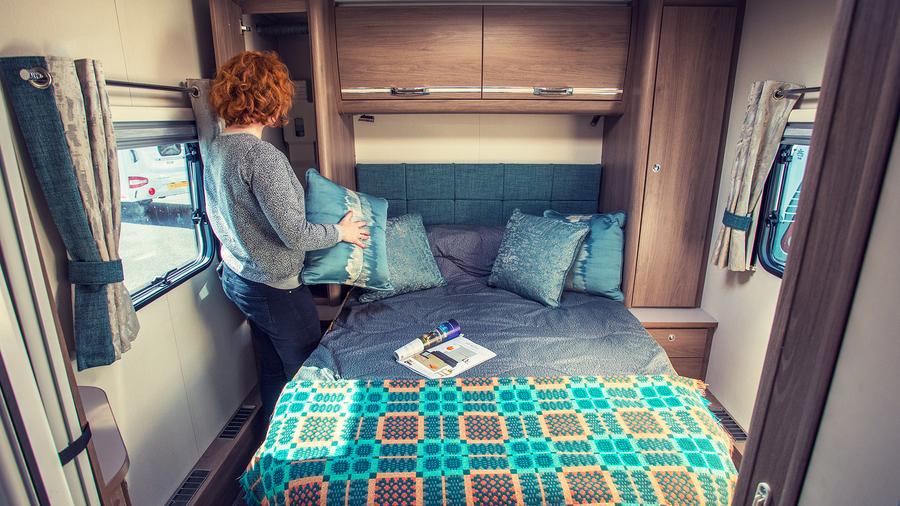 I'm a fan of the fixed bed. I've alluded to the fact that I'm a bit lazy already so this will come as no surprise but not matter how easy it is to make up the front bed, I always struggle. The fixed bed has a nice curve to it but if does mean that your standard fitted sheets...won't fit and sometimes the duvet slides off because it's an awkward shape.

The mattress is comfortable and once again incorporates Ozio technology and anti-allergy and anti-bacterial properties to keep you as fresh as possible. Some people love the Ozio mattresses and others say it's too firm but at the end of the day, it's personal choice and personally speaking, I liked it. The headboard too is more like what you'd find in a nice little boutique hotel and once you're in bed you could imagine you're somewhere else entirely.

I also love that the bed is retractable so during the day, you've got enough floor space there for a mini disco. Just. The rear of the caravan is by far, the best bit and the little touches here really appeal to my 'playing house' sensibilities.

Separate the sleeping quarters in the evening with the slide-out partition to make it extra cosy.
Washroom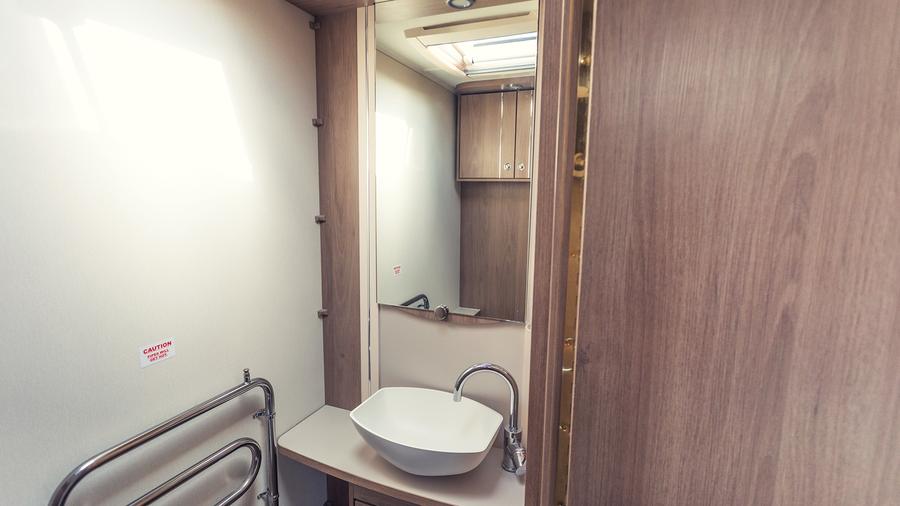 Saving the best until last, let's talk about the washroom or rather more, the washroom and the shower because they are separate and that's what makes them so great! It doesn't matter how close you are, no one wants someone needing the loo banging on the door while they are enjoying a shower. This solves that.

The only downfall is that this is a really narrow shower and once I stepped inside it, I felt pretty claustrophobic and size-wise, I'm pretty average so if you're a little taller or a little more rotund, this is not a comfortable place for you. The curved cubicle is cool though and nicely designed and the onboard water tank has allows for a continuous supply of 80 litres so that's plenty of time to wash the shampoo out of your hair.

In the main washroom, you'll find the sink and loo and plenty of space to put your makeup on or have a quick wash in the sink. It's not remarkable but it's perfectly tasteful.
Value for money
These caravans hold their value pretty well and you can expect to pay around £25,000 for a brand new one and around the £20K mark for one that's a couple of years old. For couples and a small family, it's a great buy but once your kids grow up, it's going to feel a bit tight on space!
Why buy?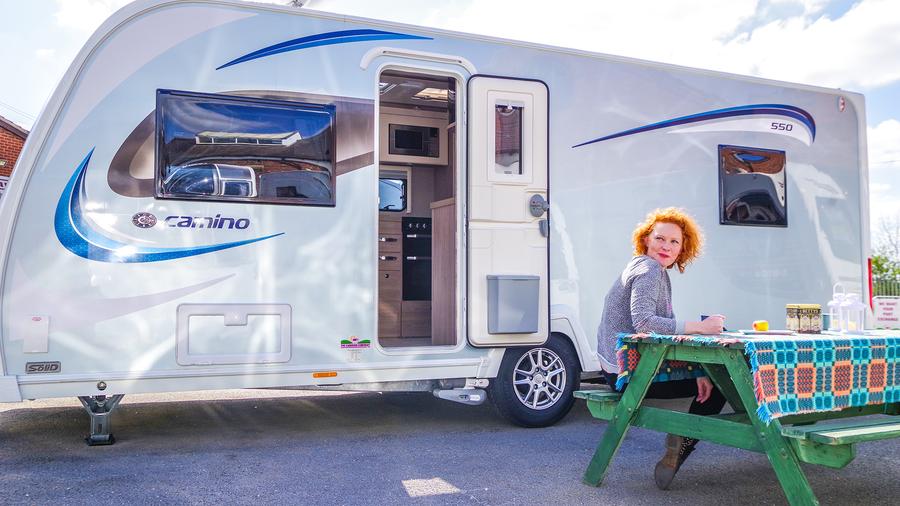 You like fancy hotels but you've had to say goodbye to them since you had children who like to wake up seven times in the night.

Reviewed on site at:

Find Morfa The Caravan Company, Northampton, Finedon NN9 5EJ

Images courtesy of Matty Graham.
Interested in buying a Compass ?