Expert Review
Coachman Laser 620/4 Review
The super-luxe Coachman Laser is more than a caravan, it's a well-appointed home from home.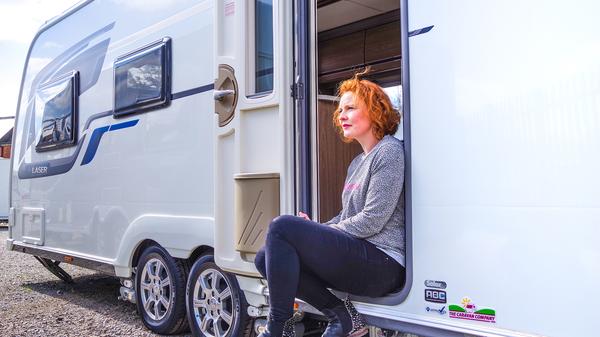 The Auto Trader expert verdict:
I'm not going to use the word 'posh' but there's something about a Coachman that makes it really classy. These are luxurious, well-designed caravans that put comfort above all else. The Laser range is premium (from new you're looking at a starting price of £31k) and they are all twin-axles so for those who aren't mad on towing or whose licences don't allow them to tow such a beast, this isn't the van for you. If you can tow this van, however, you're going to find towing stable (something that can't always be said for single-axle models). Coachman, like many other caravan manufacturers are based up north in Hull, a city that has a fine history of manufacturing and engineering. In 1981, the Queen, resplendent in sherbert yellow officially opened the Humber Bridge. Four years later, just down the road, Coachman hand crafted its first caravan, the eponymous Coachman. Despite its appearance, this Laser only sleeps four and with that in mind, it's going to be a great van for seasonal tourers – couples who spend nine months of the year away from home or families that like to pitch their van at one site for the whole of the summer. This model was on the market for £19,995 and still looked brand-spanking new.
Reasons to buy:
Spacious
Keeps its value relatively well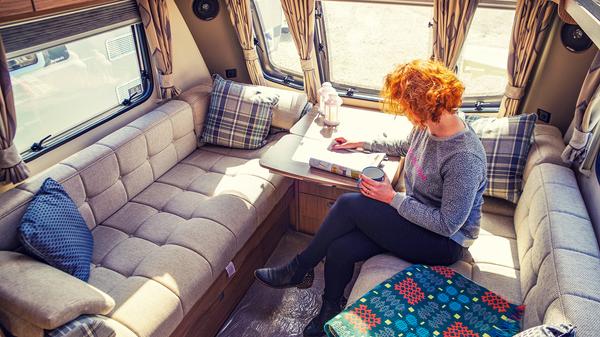 Design
The exterior of this caravan is elegant and pared-down. The graphics are simple – I like the colour pallette of royal blue and raincloud grey and believe me I've seen a lot of colour combinations. I have no idea why manufacturers use brown in their livery – is it wrong to want a caravan that coordinates with my car? I mean, how many brown cars do you see on the road these days? Trivial matters aside, inside the van, there's plenty of white which makes it feel light and airy – something you'll appreciate when the weather is less than perfect. Good lighting is important here and you'll find it in abundance streaming through the large windows during the day and in the evening, the LED lighting scheme produces a soft white glow. This is a caravan that is more than just a place to sleep, it's a place to live.
Expert rating: 4/5
Living
Everything in the living areas feels really long – the sofas being a perfect example. The cushions are neutral – an oatmeal shade so can personalise this caravan with your own cushions and throws if you wish. This is a space in which you can properly relax and let the upholstery cocoon you. After all, afternoon naps on holiday are essential. There's a cabinet to store magazines and books and the large shelf is a good place to put your TV should you rather watch the box than the couple on the next pitch struggling with the awning. I can easily imagine sitting here after a day's walking, stretching out with a book and a nice glass of wine. But let's not get carried away. We haven't made dinner yet…
Expert rating: 5/5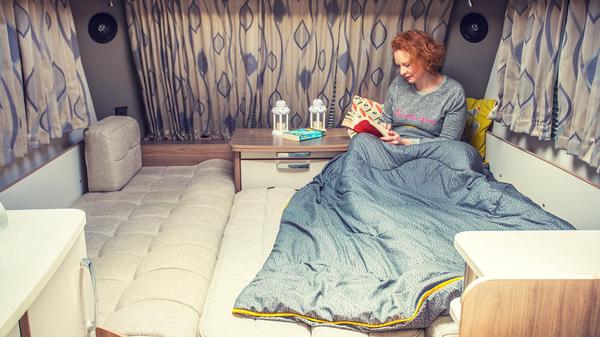 Dining
Continuing into the kitchen area, storage is abundant so if you want to take everything with you then you can. And that includes pots, pans and the like plus enough boxes of cereal to keep everyone happy. It might not seem like a big deal having all this space but when you're away for a fortnight, having space to properly prepare a meal is really important. There's no need to pull the sink cover down to get more worktop space either as there's already plenty so if you washing and chopping veg, it's just like being at home. When you're in a caravan, comfort is priority number one and when you're on holiday, no one wants to spend time faffing about in a tiny kitchen. Coachman are once again making it nice and easy for us to feel relaxed. Behind the sink is a stylish splashback making it easier to wipe up any mess. Again, this is a practical consideration but helps keep the clean and looking new! The hob has four burners and there's an oven and grill plus the microwave is neatly tucked away. A functional kitchen is always welcome while touring but this is more than that, it's refined. I made use of the side dinette area at mealtimes but if there's more than two of you, the freestanding table might be a better option.
Expert rating: 3/5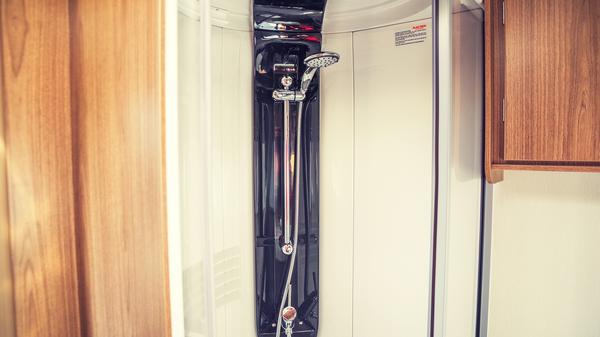 Sleeping
There's no fixed bed in this model because you've lost the space to the washroom which, in our book, is a fair swap. However, that does mean you'll have to make the beds up every night unless you're going for the twin singles option to the front (and using the side dinette bed for children). I always find making up the main bed a bit annoying if I'm entirely honest, but it's just a matter of being a bit lazy and preferring a fixed bed. This one is simple enough and as the cushions are firm, they squish down next to each other quite snugly. Once in place, you're going to be getting a good night's sleep.
Expert rating: 3/5
Washroom
It wouldn't be exaggerating to say that this washroom is bigger than some people's bathrooms and takes up the entire width of the caravan. With a stylish shower curved cubicle and large sink, there's plenty of space for those who like to get ready at leisure. And when you're drying off, you're not going to be bashing your elbows on anything – for privacy, pull down the roman-style blind. It's like one you'd have in a nice B&B. The wardrobe inside the washroom is sizeable and allows you to store away all your clothes and is tall enough to keep them crease free (I don't own anything that needs ironing). You could also use it store bedding and if you're a walking, your boots or other wet weather gear. I used the big drawer below it for towels. Whether you're buying a house or a caravan, storage is definitely a consideration and that's because we all have too much stuff. I'm not that high-maintenance but I like to have space for toiletries and the little cupboard above the loo is the right size for shampoo and make-up.
Expert rating: 4/5
Value for money
It's luxe, lavish and under £20k. We think this is a pretty good buy!
Expert rating: 4/5
Why buy?
You want a really homely caravan that's got plenty of storage options. Reviewed on site at: The Caravan Company Northampton, Finedon NN9 5EJ Thecaravancompany.com
Expert rating: 4/5