Expert Review
Bailey Phoenix 440
British caravan manufacturer Bailey launched its entry-level Phoenix range in time for 2019. Competitively-priced, there's seven models to choose from with the 440 being one of the smallest. So what do you get – and what don't you get – for the money?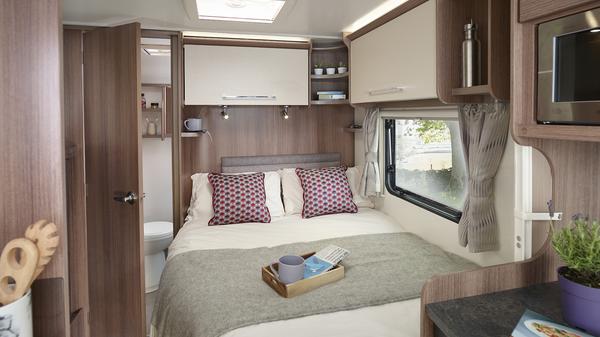 Words by: Clare Kelly
Published on 18 April 2019 | 0 min read
The Auto Trader expert verdict:
Go to any campsite in the UK or beyond and you'll see a Bailey caravan. There's good reason for this – Bailey have been making caravans for around seventy years and worked hard to retain its position as one of the country's leading caravan manufacturers. Bailey make caravans that appeal to the mass market and typically, buyers of a certain age who have a fair bit of cash to splash, but being seen as traditional has its downsides – it can be harder to attract a new audience. When it comes to the new Phoenix range, it's clear that the company has gone to great lengths to entice a younger crowd who are saying goodbye to the soggy tents of their twenties and hello to glamourvanning in Instagrammable locations. The 440 is going to appeal to small families and couples who take regular mini breaks in the UK and spend summers here or mainland Europe. With an RRP of £17,999, you're certainly getting a lot of caravan for your money and considering how much an average family holiday costs, it won't take long before it really pays for itself.
Reasons to buy:
Aerodynamic design
Good value for a brand new caravan
Light and bright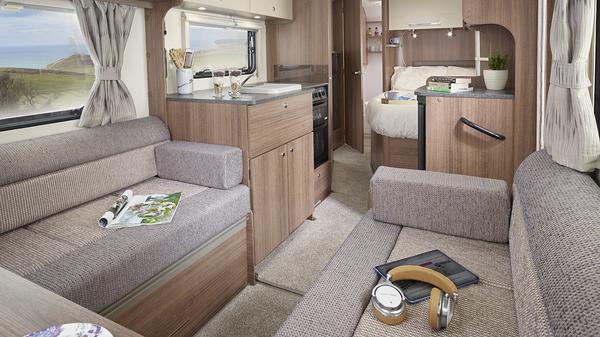 Bailey Phoenix 440 Reviewed
Design
Aesthetically, this is a nice-looking, unfussy sort of van that won't put the frighteners on anyone new to caravanning. The purple graphics are understated and the curves are plentiful which is a far cry from the boxy caravans our grandparents owned. The profile has an aerodynamic feel and the grab handles to the front and rear of the caravan are integrated – something you'll be glad if you ever have to manually chivvy your caravan onto its pitch. The bumpers are flush-fit too, so there's no unsightly protruding edges plus both are impact-resistant. Looking at the caravan head on, you'll notice that's there's plenty of windows – the large central one being referred to by Bailey as the 'vertical skylight' – this will maximise your view if you're staying somewhere picturesque but more crucially, lets plenty of light in. The manufacturer introduced this feature a few years back and it's become something that really sets these caravans apart from the rest. All the windows are double-glazed polyplastic which should also lessen the impact of noisy pitch neighbours. There's more curves too, this time, on the LED awning light above the door – it's just a small touch but it's a nice one nevertheless. First impressions of this caravan are good – curves in all the right places and clutter-free.
Expert rating: 4/5
Living
Caravanning is not the pursuit for minimalists. You need a lot of kit with you to really make it a home-from-home including bedding, pots, pans, crockery and plenty of changes of clothes for when it rains… Storage is plentiful with walnut effect units and champagne coloured cupboards – once again, it's a soft and inoffensive choice for those who want to make this space their own. Drawers are full size and soft-closing so anything you put in them is staying put, even when you're towing. You'll not really notice the oatmeal-coloured carpet but if you do, you'll see it's loose fitting making it easier to remove and wash if you need to while the front lounge area is a similar shade of oatmeal. Neutral? Maybe. Boring? Perhaps. With that in mind, it's no wonder that Bailey offer a 'dressing pack' comprising scatter cushions, bolsters, pure wool throws and washroom carpet but that will set you back over £200. If I were you, I'd probably just buy some cushions and a couple of throws yourself to add a little of your own personality. There's a couple of USB sockets in the light fittings above the front seating because if your phone runs out of juice, how will anyone know where you are and how much fun you're having? Now, this will really show my age but I have one question – where is the bin? They can normally be found on the inside of the door but all there is here is a pocket (and a really low down one at that). I opened up the cupboards and no, I couldn't find one there either.
Expert rating: 4/5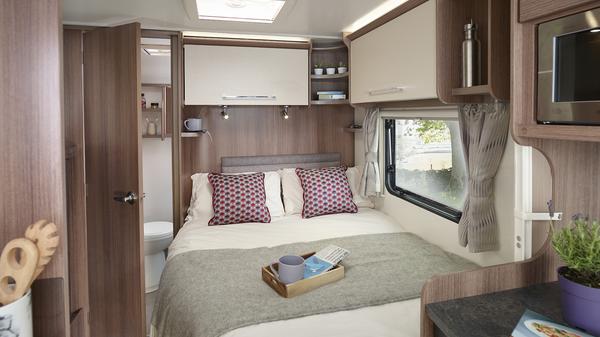 Bailey Phoenix 440 Reviewed
Dining
With plenty of work surface to play around with, you could effectively cook a three-course meal in this caravan but why would you want to? You're on holiday! The hob cover matches the granite effect worktops giving the impression of even more space. The Thetford combined oven, grill and hob with four burners is a caravan staple as is the Dometic fridge plus there's a microwave. The kitchen isn't going to blow you away but it's safe and simple with the microwave at shoulder height (mine, at least) minimising accidents. If there's just the two of you, make use of the slide out table in the front central console or erect the main dining table. The caravan sleeps four but there's room for six to dine if some unexpected guests appear.
Expert rating: 3/5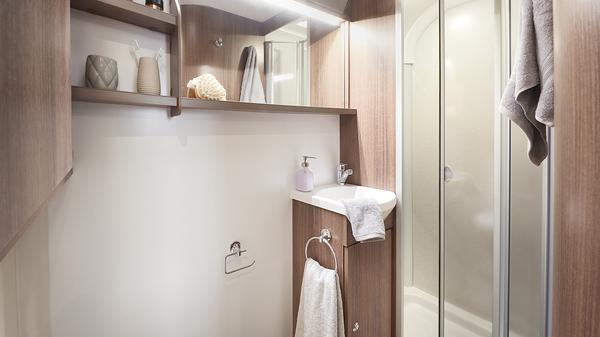 Bailey Phoenix 440 Reviewed
Sleeping
Fixed beds divide opinion with some loving the convenience and others feeling they take up too much space. Personally, I like a fixed bed and the fact you can create a partition between the bedroom and the living area makes you feel less like you're in a caravan, and more like you're in a hotel. The Ozio foam mattress is firm – a bit like memory-foam. If it's too firm for you, you'll want to get a topper. There's a headboard too which seems a bit redundant as it's more decorative than practical. If two of you lent back on it, your heads would be touching which is fine in the early stages of a relationship but less so when you are both trying to turn pages of your book. To the front of the van, you've got the option of two single bed or make it up into a double. It's straightforward to do, you'll just need to rearrange the cushions.
Expert rating: 4/5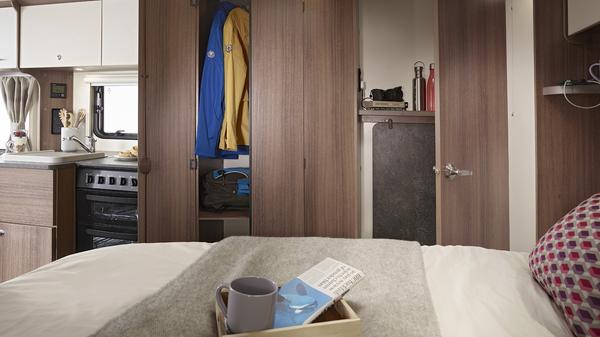 Bailey Phoenix 440 Reviewed
Washroom
The washroom runs the full width of the van – which at 7ft 3in is pretty sizeable. The mirror is massive so if you're always fighting for space when you're getting ready, you'll be happy. There's not much to say about the loo, there's a lot of legroom which, if you've been in as many caravans as I have, you'll appreciate. Cupboard space is plentiful and the granite-effect shower cubicle is generous – some of the interior feels a bit plasticky but keeping things lightweight is essential when you're towing a caravan. The overall appearance of the washroom is definitely inspired by a hip hotel and if you haven't been in a caravan for some time, you'll be seriously surprised.
Expert rating: 5/5
Value for money
The Phoenix range comprises seven models starting off at £16,699 RRP to £19,999 RRP so whichever one you go for, you're going to get (some) change from £20K. The 440 comes in at under £18K. It's not the cheapest caravan in its class but the simple, pared-down interior means it won't date quickly and you'll be happy to holiday in it for years.
Expert rating: 4/5
Why buy?
Bailey Caravans are a brand that constantly innovate and offer some of the best after-sales care you could wish for. The Phoenix is a timeless design and once you've bought a Bailey, you'll be joining a loyal bunch of caravanners who will never buy anything other than a Bailey! Reviewed onsite at: Pioneer Caravan, Thorney Road, Eye, Peterborough, Cambridgeshire PE6 7UB 01733 222 244 Pioneercaravans.co.uk
Expert rating: 4/5