Feature
Meet the Renault Trucks apprentice, who has worked there over half his life!
At the ripe age of 30, Ryan Thorne has celebrated a significant career milestone as he has now worked for Renault Trucks South West, for more than half his life.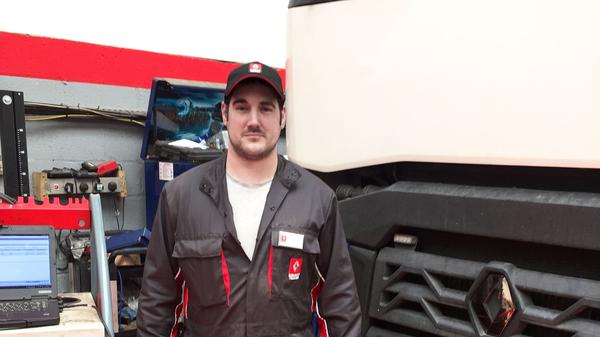 Words by: Auto Trader
Published on 31 October 2018 | 0 min read
Ryan started working dealership at aged 14, spending one day a week there as work experience. Since his first job, he has risen through the ranks and become a workshop shift supervisor.
Exeter born and bred, Ryan has always had an interest in everything automotive. He was first introduced to a Motor Vehicle Course, whilst still at school, which lead him to discover Renault Trucks. He explains: "My Grandad was friends with the workshop foreman at the time and mentioned that there was an opportunity to do work experience at Renault Trucks in Exeter. I started there one day a week whilst still at school and moved on to the 3-year Renault Trucks Apprenticeship scheme when I left school at 16." Renault Trucks started their apprentice programme in a bid to address the industry-wide skills gap and to attract young, fresh and motivated talent to the brand. The programme has been very successful with lots of graduates moving into senior management positions within technical service, parts management and vehicle sales. After finishing his apprenticeship, Ryan progressed to become a fitter and is currently employed as a workshop shift supervisor. He is now set to progress even further, as he is starting on the Master Technician Programme (awarded by the Institute of Motor Industry) where they aim to create future senior industry talent. Ryan says the secret to success with to his long career at Renault Trucks has been having the right training and people around him. He explained "all of my managers have inspired me to be the best I possibly could be and Renault Trucks has given me the skills I needed to become fully qualified. The Apprentice scheme has been a fantastic stepping stone for my career and being given the go-ahead to start the Master Tech programme is an absolute honour." Ryan also said he has "been given so many opportunities including training courses, car, forklift and HGV licence, and ultimately my ambition is to progress to working on the technical side of the business." Dealer Principal, David Pearce says: "I'd like to congratulate Ryan on this amazing achievement and to thank him for his many years of hard work and loyalty to our dealership. Being a Renault Trucks employee means working for a brand with a huge range of highly developed products and services for an extremely demanding and varied customer base. Our industry is changing at a rapid pace and we need highly skilled and committed employees such as Ryan in our teams." Well done Ryan, we wish you all the best in the future and hope your fantastic story inspires other to enter our amazing industry.