News
Introducing: The Actros Edition 1 by Mercedes-Benz
It's an exciting year! Mercedes-Benz Trucks will be celebrating the start of production of the new Actros with the "Edition 1" – a special model, limited to 400 vehicles worldwide, of which at least 35 will come to the UK.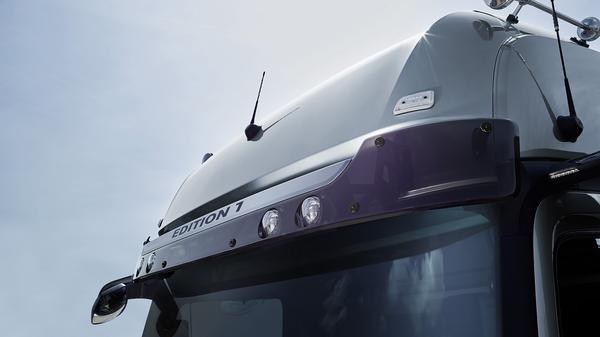 Words by: Auto Trader
Published on 23 October 2018 | 0 min read
Aside from being equipped with the impressive innovations that come as standard in the new Actros, the "Edition 1" adds numerous special equipment items geared to the driver. This includes various packages, making the Edition 1 instantly recognisable:
1. Safety Package
With active brake assist 5 and driver's airbag.
2. Proximity Control Assist Driving Package
With electric roller sun visor and leather steering wheel.
3. Comfort Package
With night & day ambience lighting, shaving mirror and Refrigerator.
4. Media Package
With a sound system, notebook bracket and an extra 12V socket.
5. Stowage Package
With a table, shelving system and a drawer under the instrument panel.
6. Sight Package
With; bi-xenon headlamps, LED tail lamps, extra Line with LED position lamps, LED indicators and a welcome light inside and out.
What features does the Edition 1 Actros have?
Mercedes-Benz Trucks have ensured there extensive (optional) features, both inside and out to give the truck a competitive edge in the marketplace. These include:
"Edition 1" logo - visible in the sun visor and below the model plate
Sun visor with four additional LED main-beam headlamps, with an exclusive paint finish on the front panels
All-important illuminated Mercedes-Benz star with black surround and six additions to the grille trim, while the headlamp surround is also darkened
MirrorCam arms are finished in chrome
On tractor units, there are also stainless steel wheel nut caps on each axle
Drivers access the cab via the stainless steel steps
Inside are leather door handles with contrasting top stitching, a leather steering wheel, and the cockpit trimmed with black leather
Exclusive floor mats and an "Edition 1" plaque on the passenger-side dash in polished and brushed aluminium, highlighting the fact that these vehicles are limited to just 400 worldwide
Eight colours of ambient lighting on the roof hatch
A bed that measures an industry-leading 900 mm wide, which comes with a duvet cover
A wrap-around curtain – almond beige on the inside, black on the outside to provide privacy in stylish fashion