News
David G Davies & Sons marks first IVECO order with fuel-efficient New Stralis XP tractor units
Derbyshire-based haulier David G Davies & Sons has become one of the first operators in the UK to take delivery of IVECO's new flagship heavy truck – adding a pair of New Stralis XP tractor units to its fleet, equipped with the range-topping 570hp Cursor 13 engine.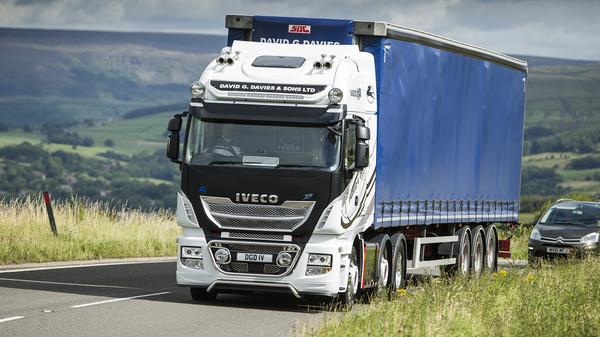 Their arrival sees the customer combine the performance of IVECO's most powerful truck to-date, with advanced features introduced with the New Stralis XP launch to provide best-in-class fuel efficiency, sustainability and Total Cost of Ownership (TCO). In addition to a new driveline, New Stralis XP models benefit from new electrical systems and electronic architecture, and incorporate the latest GPS-based predictive driving functions.
Supplied by Manchester-based Northern Commercials, the two 6x2 mid-lift tractors (AS440S57TX/P) are additions to a 16-strong fleet previously dominated by a rival marque. They represent the firm's first ever IVECO vehicles and will be based at the company's main site in Glossop, and used to transport polystyrene packaging throughout the northwest and across the UK. Chris Davies, Director at David G Davies & Sons, says: "From our initial enquiry, Paul Rankine at Northern Commercials has really looked after us. Paul ran simulations to demonstrate just how fuel-efficient the New Stralis XP would be, and when the time came to expand the fleet, IVECO was top of our shopping list. "On paper, New Stralis XP is a fantastic spec truck, but the full package IVECO is putting behind it – including the uptime guarantee – takes the aftersales support to a new level." IVECO's exclusive uptime guarantee has been introduced with the launch of the New Stralis XP and NP models. It means that in the event of one of these vehicles suffering downtime, a Truck Station or a service point within the IVECO dealer network will guarantee to have the vehicle back on the road within 24 hours of it arriving in the workshop. In the unlikely event this is not feasible, financial compensation will be offered for any downtime exceeding 24 hours.