Feature
Who invented JCB?
JCB is a well know brand-name across the world, it is so widely known, there is actually a dictionary definition for the word "JCB" synonymous with the diggers that they produce. While most people know what a JCB is, many are unaware of the founder Joseph Bamford whose name is on machines on construction sites around the world.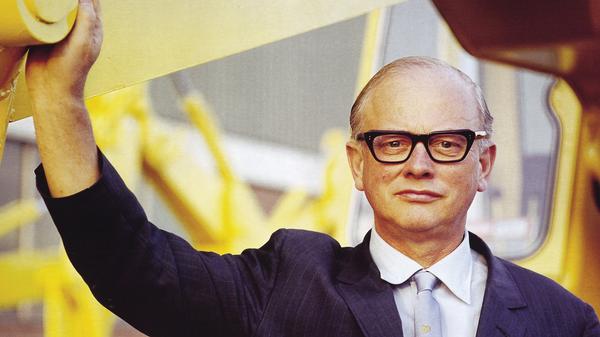 Joseph Bamford, also known as Mr. JCB began his business after the end of the second world war, developing agricultural trailers. He followed in the footsteps of his great-grandfather, founder of Bamfords Ltd. He worked with his Uncle Henry at Bamfords Ltd, only to be let go when Henry thought he had "little future ahead of him."
Rather than giving up back in 1945, on the day his son Anthony was born, Bamford opened a business building his own trailers in a garage he rented for 30 shillings a week. The first three years of business proved a great success and provided the capital he needed to develop hydraulics. In 1948 Joseph Bamford developed Europe's first hydraulic loader, a machine that fueled the postwar agricultural mechanisation boom. After that JCB's first backhoe, a term coined by Bamford and used by manufacturers ever since, became their first major commercial hit in 1953. Joseph Bamford led the company from strength to strength, fuelled by principals that saw him never borrowing money, investing profits back into research and new products, and creating a healthy working environment that rewarded hard work. Mr JCB retired in 1975, leaving the company in the hands of his son Anthony Bamford, who is now a Lord. Joseph enjoyed his retirement in Switzerland, designing yachts and landscapes, his passion for creativity persisted until his death at the age of 84, on the 5th March 2001. His legacy is felt in construction sites across the world to this day, with his initials dotting millions of machines painted in JCB yellow.