Guide
What's a demolition operative and how do I be one?
If you're looking to get into the UK construction sector - an industry worth more than £64.7 billion - then becoming a demolition operative is an excellent choice. As a demolition operative, you'll work alongside other construction professionals and have many opportunities to advance your career.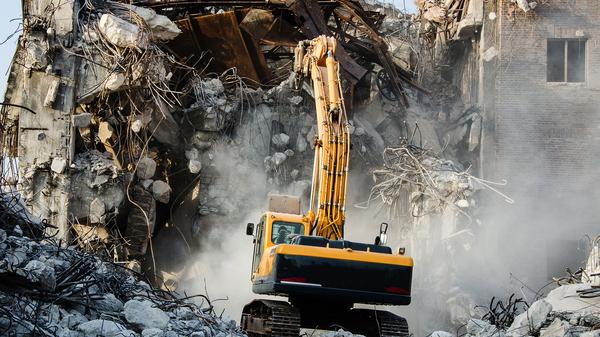 This article is part of Auto Trader Plant's Getting Into Construction series, where we discuss how you can get exciting roles in the sector.
What Is A Demolition Operative?
Every year, thousands of old or dangerous structures require demolition. It's the job of demolition operatives prepare sites and take down buildings safely.
The role of a demolition operative includes the following:
Following health and safety guidance
Demolishing buildings is dangerous work, both for the people on site, and other members of the community. Demolition operatives need to understand and apply the latest health and safety regulation in all demolition projects.
Operating demolition equipment
Demolition operatives need to know how to operate demolition equipment such as hammer drills, and oxyacetylene cutting equipment.
Managing sub-contractors
Demolition operatives often have to work with a variety of sub-contractors who assist with demolition projects.
Planning demolition projects
Effective, controlled demolition requires extensive planning and oversight. Demolition operatives need to know how to prepare for demolition and conduct thorough reviews once work is complete.

Providing advice
Demolition operatives may be asked to give advice about demolition work currently underway and offer their expertise.

Looking after contracts
As a demolition operative, you may be called upon to administer contracts and ensure work is carried out to specification.

Demolition work can be enjoyable and interesting. However, conditions can be dusty and dirty due to the nature of the job. Employers may also require you to work long hours in the summer months, as conditions are often better for demolition tasks than in the winter.
How Do You Become A Demolition Operative?
There are several routes into becoming a demolition operative.
The most common route is by working on a construction site as a general operative: a popular entry-level position that allows you to gain site experience before you specialise. After several months as a general operative, you may want to approach your site manager and ask them about a more focused role in demolition. You could also look at online job portals to see whether any other companies are currently advertising a position as a demolition operative. Another route to becoming a demolition operative is to do an apprenticeship in a construction firm in your local area. If you do an apprenticeship, you can get training on the job while at the same time, getting paid. Once you're qualified as a demolition operative, you can expect to earn £17,000 to £20,000 per year. More experienced operatives can earn between £20,000 and £30,000. And if you gain substantial expertise and a senior position, you can make £30,000 to £40,000 per year.
Conclusion
You do not need any formal education to become a demolition operating, making it an ideal career choice for those wanting to get into the construction sector quickly. Demolition operatives can be promoted to occupational supervisor or team leader.