Guide
Our Guide to Getting a Construction Apprenticeship
A construction apprenticeship is a job in the construction industry with training. An employer takes you on at less than the market rate and, in exchange, provides you with the skills you need to perform tasks while on the job. Read more about what one is and how to get one here...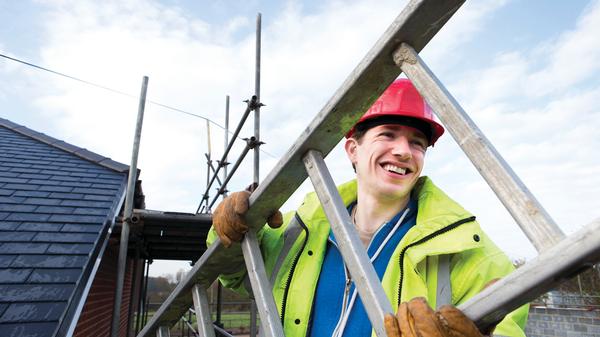 You can think of an apprenticeship as a kind of on-the-job education: you work for less money than you would if you were fully qualified, but get the skills you need from your employer in return. It's a win-win where both the employer and the apprentice benefit from the relationship.
Apprenticeships have all kinds of advantages. Construction apprentices do not have to spend money on expensive educational courses or wait until they can start earning: with an apprenticeship, you can get cash in your account immediately. Apprenticeships also teach you skills directly related to construction - an industry you want to be in. You spend all your time learning relevant skills to become part of a £64.7 billion industry employing over 2.2 million people. So how do you get a construction apprenticeship? Let's take a look.
Begin Your Search For A Construction Employer
The first thing you need to do is find an employer in the construction sector who offers apprenticeships.
There are many ways to find somebody to take you on. You can search online for apprenticeships locally, or visit a specialist recruiter who can match you to work in your chosen field. You can also contact local construction companies by sending out your CV with a covering letter telling them that you're interested in being a part of their apprenticeship scheme. Construction professionals want people with a proactive attitude. It can pay, therefore, to approach construction managers on-site with your CV: enabling them to put a face to a name can help your cause. Don't forget to tell potential employers that they may be able to reclaim up to £12,000 per year to cover the costs of employing you, thanks to government grants and money from the Construction Industry Training Board.
Prepare For The Interview
Most construction companies will want to check that you're a suitable candidate for working in their firm before taking you on as an apprentice, even if they can cover the costs with a grant. Usually, they will invite you to an interview where they'll ask a variety of questions about why you want to work in construction, what experience you have, and the training you've already done. Don't worry if you don't have much formal training in the sector: that's why you're doing an apprenticeship in the first place. Just make it clear to the hiring manager that you have a positive attitude to work and that you're interested in the industry as a whole.
Preparing for the interview mainly involves presenting yourself in a positive light so that your employer can be confident that you'll turn up to work on time, be diligent while on-site, and respect other team members. Do the following before your interview:
Wear smart clothes: avoid baseball caps, tank tops, and hot pants.
Be polite: saying please and thank you can go a long way in an interview.
Sit down when invited: try to follow the employer's lead. Sit down when they ask you to. Give them every reason to believe that you are willing to slot into their management structure
Practice interview questions: interview questions can be challenging because they force you to think about things that you might not have considered before. Before going into an interview, practice questions with friends or family so that you already have an idea for what you might say. You can find common interview questions online.
Arrive early: being late for an interview is a bad idea, it will make your employer worry that you might turn up for work late in the future. Set off early and arrive at least fifteen minutes beforehand, to be safe.
Be Enthusiastic
Your first day as an apprentice will be challenging. There's a steep learning curve. Not only do you have to learn about construction best-practices, but also things like site safety and, sometimes, how to use software tools.
The key to a successful apprenticeship is a great attitude. Remember, you're there primarily to learn, and so other people on the site should be willing to help you gain the skills you need. Every day you spend as an apprentice is a step closer to learning the trade you want to have in the future.
Conclusion
Don't expect to be paid an enormous amount to start. However, once the apprenticeship is complete, you'll increase your earnings. If you want to see apprentice minimum wage rates, visit
here
gov.uk.