News
JCB's destined for Diggerland
JCB is getting ready to make its grand appearance at Diggerland, a host of construction themed theme parks throughout Kent, Devon, Durham, and Yorkshire. With them, they're bringing 24 JCB 134 skid steer loaders to open up a new test-driving experience for all the park's attendants.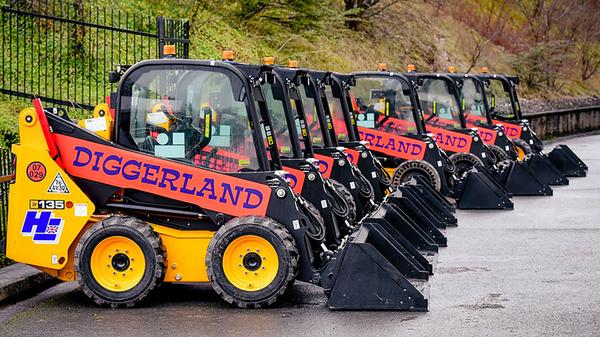 The skid steers are joining fellow iconic attractions, which allow children to drive the JCB 3CX backhoe loader, soar 18m in the air with the JCB 540-180, and a ride in the 15-seated JCB 540-140, known in theme park as the "Groundshuttle."
Diggerland and H.E. SERVICES (Plant Hire) Limited founder Hugh Edeleanu said: "The Diggerland theme parks have gone from strength to strength over the past two decades. Visitors young and old continue to be thrilled by the opportunity to operate or ride in JCB machines, whether it is driving the JCB 135 skid steer or digging with a JCB 3CX Backhoe Loader." JCB Group Managing Director Global Key Accounts Yvette Henshall-Bell said: "JCB machines can be found on every continent across the globe but being the star attraction at a theme park has to be one of the most entertaining uses we know of. Showcasing JCBs at Diggerland brings the construction world within the reach of operators of the future, which can only be good news for our industry." The new rides are part of a £650,000 deal between Greenshields JCB and Diggerland, which also includes JCB 135 skid steer and 3CX backhoe loader racing activities for adults. It's but the latest in a long partnership with Diggerland, stretching back to 2000. Founder, Hugh Edeleanu, has had a particularly long history with JCB, starting H.E. Services in 1972 with but one JCB backhoe loader. Now, he runs the UK's largest specialist excavator hire company with a fleet of over 3,500 machines.