Expert Review
JCB JS130 Tracked Excavator review
Following a long legacy of expert tracked excavator designs, the JCB JS130 LC includes technological and performance improvements, that the manufacturer has been perfecting for 48 years. This excavator has been designed and tested to offer improvements to productivity, without compromise. We take a closer look at the JCB JS130 LC, to see what JCB has learned over the past five decades, and how they've implemented it in their latest machine.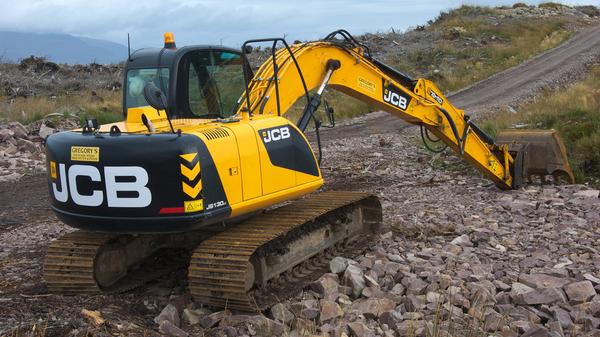 The Auto Trader expert verdict:
This 13-tonne tracked excavator comes with a bucket capacity of 0.85 meters cubed, a maximum engine power of 81kW, and a solid 13,183 maximum operating weight. It's powered by an EcoMAX T4F engine, which has won several industry awards for its performance, power, and safety, meeting Stage IV/Tier 44 legislation without a need for a DPF. This excavator offers sheer raw power and high torque even at low revs, with the help of advanced hydraulic technology throughout, while saving around 10% on your fuel costs compared to JCB's previous model.
An operator's perspective
The main benefits of the JS130 include comfort, accessibility and versatility. It offers great visibility thanks to a 70/30 front screen split and an excellent clear view over the front right track, which ensures safer, more comfortable manoeuvring and digging. The cabin is comfortable thanks to the electronic and hydraulic slew and slew braking systems, which offer isolation from vibrations outside the cab, helped by the 6 viscous rubber mounts. All in all, the cab of the JS130 offers a quiet, comfortable working environment. But it's also an environment that's more practical, thanks to the 3.5" colour multifunction display, offering an easy-to-read view of the all the essential operational information, and home screens that can be further customised to your needs.
Reliability and serviceability
New graphite impregnated bronze brushes increase boom and dipper greasing intervals to 1,000 hours. The EcoMAX engine has no diesel particulate filter, both of these features save you some costs on servicing. Thanks to the in-cab monitor's continual tracking of engine oil levels, coolant, and system errors, it's easy to monitor the condition and servicing needs of JCB's latest tracked excavator. As soon as there are any issues, you get an alert, to remind you to keep it in top condition.
Safety
JCB continue their long-standing legacy of creating safe machines, with specifications available for rollover protection structure and fall objects protection structure. The isolation of the hydraulic functions are a key safety feature as they prevent unintentional machine movements. A 'Safety Level Lock' comes as standard and the 'New Start' function ensures the excavator can't be started unless its in a safe locked position. Visibility improves safety and the cab on this excavator has a large glass area, providing excellent visibility over a low bonnet line. The excavator's bonnet opens front-to-rear, making engine service access simple. There's no need to climb into the cab to check oil levels, as it has been designed so servicing can be carried out from the ground level, which is a nice touch.
Is it worth buying the JCB JS130 LC tracked excavator?
This excavator comes with a range of additional attachments (including a bladed bucket, selector grabs, screening buckets and much more) which means you can customise the machine to the functionality you need on your site. Improved engine performance and power, greater manoeuvrability and a key focus on safety, user friendliness, serviceability, all make the JCB JS130 LC tracked excavator a hard deal to ignore. JCB have nearly five decades of experience manufacturing tracked excavators and this one lives up to their name, making it a worthy addition to any site.