News
Comprehensive range of loading and materials handling machines from JCB on show at LAMMA
JCB will be exhibiting a diverse choice of machines to suit a range of loading and materials handling solutions at LAMMA which takes place at the NEC in Birmingham in January 2019.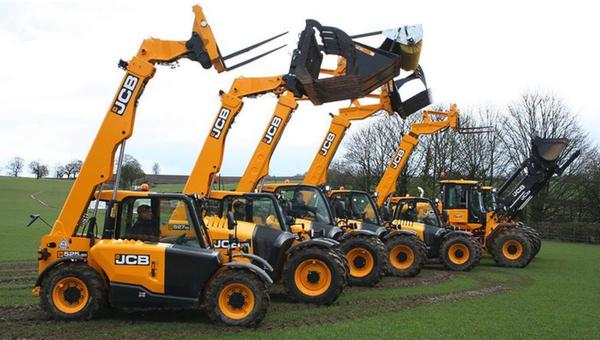 Also on show will be machines from the company's Loadall telescopic handler range. This will include wheeled loaders from both ends of the performance spectrum, telescopic wheeled loaders, skid-steer loaders, with fixed length and unique telescopic mono booms, the Teletruk hard-surface telescopic forklift and a compact excavator.
The JCB telescopic handler range is designed to offer a machine for every farm size and working situation, from the ultra-compact 516-40 AGRI with its 1600kg lift capacity, 4 metre lift height and 47hp engine to the 560-80 AGRI bulk handling machine with 6 tonnes lift capacity to 8 metres. In addition to four-speed and six-speed powershift transmissions, JCB AGRI Pro versions of all 6 metre to 9.5 metre Loadall handlers are available with the unique DualTech VT hydro-mechanical transmission, which offers best of both Worlds performance in terms of low-speed control and driving ease and fuel-efficient sustained towing ability on the road. The JCB wheeled loader range spans the newly-developed ultra-compact 403 AGRI with 36hp and hydrostatic drive to the 258hp 457 AGRI bulk store re-handling and loading machine. In between there are a further 10 models catering for contractors, livestock and arable farms, and feed and fertiliser processing plants, including the 230hp JCB 435S AGRI providing an excellent power-to-weight ratio for efficient silage clamp and muck heap operations. Five machines with the added versatility of a telescopic boom start with the 62hp TM180 with 1800kg lift capacity to 4.5 metres and peak with the new range-leading JCB TM420 with 145hp and 4.1 tonne lift capacity to 5.4 metres. JCB's skid –steer loaders are designed to cope with the toughest working situation. The fixed-length mono boom models providing operating capacities from 700kg to 1500kg on wheels and 840kg to 1450kg on rubber tracks. The line-up now includes the Teleskid versions that has a telescopic boom and side door cab access. The three-model JCB Teletruk range with lift capacities from 2.7 to 3.5 tonnes provides similar load placement and recovery versatility on hard surfaces in locations such as vegetable storage and processing plants. A growing range of compact 360-degree excavators available from JCB Agriculture dealers will be illustrated by the JCB 19C-1, a 1.94 tonne digger with a choice of three dipper lengths for digging depths to 2.81 metres and surface reach of 4.22 metres. The line-up begins with the micro-size 8008 CTS weighing in at 850kg. These machines are ideal for work where a 'mechanical spade' gets the job done fast such as farm drainage and water pipe installation. The JCB Fastrac, meanwhile, continues to lead the way in operator comfort, safe and legal high speed road travel and efficient field work. The Fastrac 175-348hp range will be represented by the Fastrac 4220 and 8330, with a demount sprayer and a 'utility' version equipped for non-agricultural applications highlighting the productivity-boosting rear, front and deck-mounting flexibility of the design.