News
CLAAS Scorpion telehandlers raise the bar
Scorpion telehandlers have been raising the bar in terms of telehandler technology for many years and CLAAS has unveiled a completely new Scorpion series, which has been developed in cooperation with Liebherr.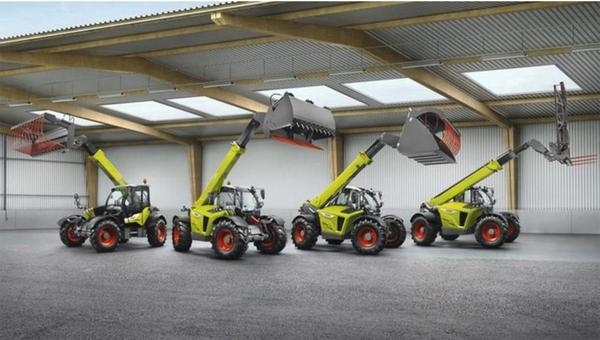 The new models offer greater handling performance, increased lifting capacity and new advanced driver-assistance systems to improve driver comfort and efficiency, along with improved safety and reliability.
There are also a range of new features, such as Dynamic Power for engine management, the new Smart Loading driver-assistance system for control of the working hydraulics and overload protection, a fully automatic parking brake, controlled crab steering as a fourth steering option and an all-new cab configuration. This new Scorpion range boasts improved working hydraulics and increased lifting capacity of 3.2 to 5.6 t, enabling optimal handling performance and productivity, thanks to quick cycle times. From December 2018, an additional Scorpion model will be available to meet the highest handling performance demands, with a 6.0 t lifting capacity and 9.0 m lifting height. Another major improvement in the new series is the high-performance drive, which guarantees particularly convenient and precise manoeuvring. The proven hydrostatic VARIPOWER or VARIPOWER PLUS transmission has three speeds, which are easy to control using the joystick. Safety and driver comfort are guaranteed, thanks to an electrohydraulic parking brake which is automatically activated if the driver leaves the seat, the machine stops or the engine is switched off. When the driver puts a foot on the accelerator to travel in a set direction, the parking brake is automatically deactivated. As in the previous series, all models come with Deutz diesel engines, which develop up to 156 hp (115 kW) and meet Stage IV (Tier 4) emissions standards. CLAAS now has a machine for every application, having extended the product range to include the new Scorpion 741 and 1033 models. The Scorpion 741 is a compact, manoeuvrable all-rounder, boasting an above-average lifting capacity of over 4.0 t. The Scorpion 1033 has been developed for areas where a particularly long reach is needed. For example, with its lifting height of 9.75 m, bales can be easily stacked at greater heights, and dozing work can be carried out in grain stores. In addition to the standard front steering, all-wheel steering and crab-steering mode, the new Scorpion models all come with an additional fourth manual crab-steering mode, as standard. In contrast to the traditional crab-steering mode, in this mode, the front axle can still be controlled, which offers distinct advantages for certain applications, such as compacting the edges of clamps or moving along the walls of buildings. In addition, all new telehandlers are optionally available with Claas telematics. The 741 and 736 models can also be fitted with large 500 tyres, which offer improved stability and reduce ground pressure when working in the field. From May 2018, the 635, 732, 736, 741 and 1033 models will be available with Stage IIIA emissions standard engines for LRC.