Expert Review
Vicon RV 5216 review
Few round balers can match the Vicon RV5200-series for bale shape and density.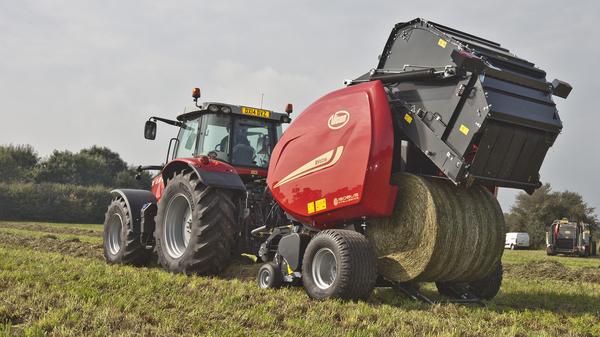 The Auto Trader expert verdict:
This RV 5200 series is available in two models - RV 5216 and RV 5220. They differ in overall bale size produced; 0.6-1.65m and 0.6-2.0m. All are equipped with a 2.2m pickup and SuperFeed crop intake rotor or 14-knife SuperCut crop chopping mechanism. The RV5216 is also available as a twin-axle baler-wrapper combination called FlexiWrap.
Reasons to buy:
Robust, reliable net system
Simple controls with Isobus compatibility
Preset bale densities and customisation
Vicon RV 5216 attachments
An adjustable height drawbar lets you tailor the RV 5200 to any height of tractor, and the pickup ring is big enough to be grabbed by a pickup hitch hook - you'll just need to check power take off (PTO) shaft length if you choose this method over a drawbar clevis. Typically, the baler will run with as little as 100hp and a 540rpm PTO, with hydraulic power requiring two double-acting spool valves. Baler weight is 2,990kg, and the transport width is 2.52m. Controls include Focus 3, Tellus iM GO or direct connection to any isobus compatible tractor.
Vicon RV 5216 set-up
A hydraulically raised and lowered 2.2m pickup feeds crop into the baler, a parallel action drop floor can take care of any blockages. Inside the bale chamber, five endless belts carry out bale formation, with density applied using Vicon's Intelligent Density 3D system. This lets you choose the three most popular densities to speed-up the change from different crop types (straw, hay and silage), though each density level can be customised on the move, from the control box, to suit changing crop conditions. Bale formation offers three density zones inside the bale - so you can apply maximum pressure in every zone for straw, or create a soft core in hay to allow the bale to breath, with density increasing progressively towards the outer layer. The clear, and well laid out operators manual provides guidance on these and all other adjustment functions.
Vicon RV 5216 operation
A prominent feature of the RV 5200-series is its automatic baling process from start to finish. Follow the on-screen graphics to see how the bale formation takes shape, and then activate the net tying and rear door functions to finish and eject the bale. Manual over-ride is available and is particularly useful for those operating on hilly terrain or slopes. Powerbind net system uses fewer components than before and eliminates the need for feed-in rollers. It has been cleverly engineered to avoid interference from external factors such as wind and crop. Net is injected directly into the bale chamber using the PowerBind arm, which maintains net tension at all times and delivers repeatable accuracy with consistent net injection. If the baler suffers a blockage, the drop-floor can be activated from the control box to resume the baling process. The integration of a compact, internal drive system for the pickup enables its guide wheels to remain in their working position during transport. Overall width of the baler's front end is contained within the 2.5m rear wheel track.
Vicon RV 5216 maintenance
Centralised grease points at four locations around the RV baler have simplified maintenance requirements. Greasable bearings are used for shuttle rollers and front drive rollers, further extending baler longevity. With greater durability in mind, steel hydraulic piping is used to provide tidy lines, reverting to short flexible hoses only where necessary. Common to both models is the use of heavy-duty 1.25in drive chains, with chain lubrication activated by a pump every time the rear door is closed. Tsubaki high quality Japanese roller chains are now used for main drive and pickup drive chains. For ongoing and end of season maintenance, we were pleased with the information provided in the operators manual, which details procedures for removing and sharpening the SuperCut blades.
Summary
The RV 5216 continues to be a big seller for Vicon. Its ease of use combined with the range of bale density adjustments will make this a worthy contender for many farmers and contractors looking to upgrade to high performance round baling.