Feature
Thumbs up from the Neill family for Massey Ferguson's MF7718 tractor
A new MF7718 Exclusive with Dyna-6 transmission has been supplied to farmer Robert Neill from Massey Ferguson dealer Ancroft Tractors' Kelso depot and it's proving a hit with all the family.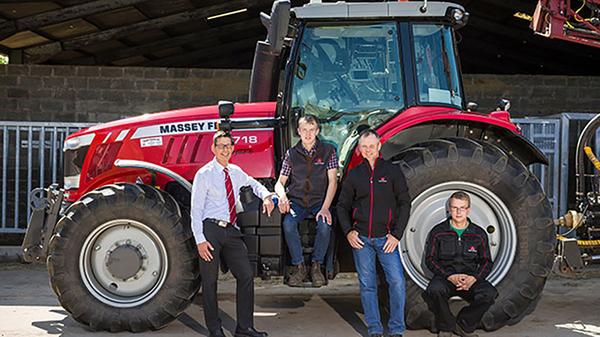 Robert farms 633ha with his wife Jacqueline near Jedburg in the Scottish borders. "Everyone on the farm likes our new MF7718 tractor especially my 15-year old son Harr," says Robert.
Robert took delivery of the MF7718 in December 2017 to replace his MF 6480. "We split the farm roughly half arable and half livestock," explains Robert. "We grow winter barley, winter wheat and spring barley and have 320 beef suckler cows, the majority being Limousin cross British Friesian." The beef and arable enterprises are complementary, with each providing a benefit to the other. The winter barley is mostly dried and kept in long-term storage to feed the beef herd. All of the straw from the cereal crops is baled and retained for feeding and bedding. The plentiful supply of manure goes straight back to the land. "Spraying is the main job for the MF 7718," says Robert. "It has the same axle dimensions as our old MF 6480 so this meant that we could use our existing narrow wheels which was a big bonus. We also fit it with dual wheels when using a roller or cultivating. Another key task for the tractor is to work with our diet feeder every day." "The MF 7718 has a lot of good features such as the clutchless braking which reduces driver effort," Robert remarks. "The Power Control lever also makes it easy to use. You just have to lift up the lever and the tractor stops and goes to neutral." This is an advantage when, for example, looking to the side or rear when in work as it means that the driver does not have to operate the clutch to come to a halt. Robert has also become quite famous in the region. He won the title 'Mixed Farmer of the Year 2017' and overall 'Farmer of the Year 2017' and has recently starred in the Channel 5 TV's 'Springtime on the Farm' which aired in mid-April. In 2013, he received a Nuffield Farming Scholarship Award to study Electronic Identification in cattle.