Review Samson PG II tanker review
If you are looking for a top spec trailed slurry tanker, from an established, proven international manufacturer with a long history of offering excellent machines, look no further.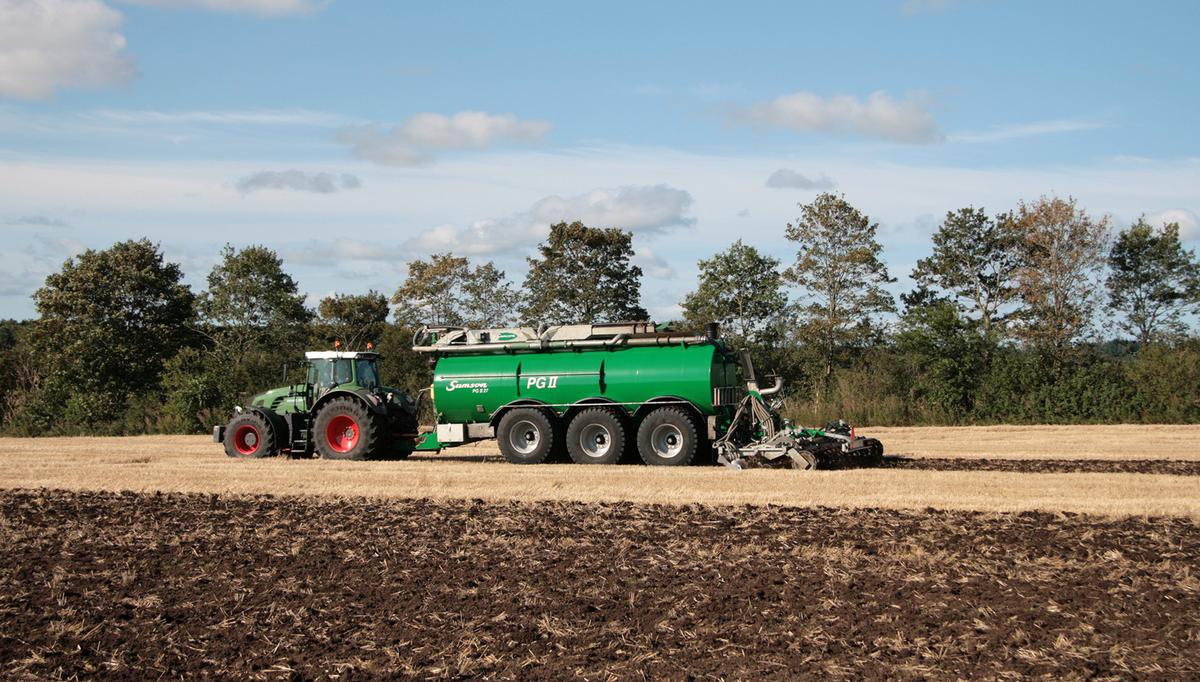 View gallery
The Auto Trader expert verdict: ★★★★★

★★★★★
4.0
The Samson PG II is a very high output unit with lots of options makes for a versatile spreading solution.

The range starts with tandem axle models going from 16 at 16 cubic metres going upto 20 at 20 cubic metres. Their tri axle units right top the range with a tanker of 35 at 34.5 cubic metres, meaning there really is a tanker on offer for all serious operators.
Reasons to buy
Very high output

Lots of options for application technology including the new 36m boom and the stubble incorporator
How easy is the tanker to operate?
Considerable thought has gone into the design of these machines.

Anti-surge partitions internally, keep the tanker stable in all conditions. Side positioned wheels lower the centre of gravity, meaning with full length chassis construction, all units can carry different heavy / wide application units with ease. This is really handy if you need to use drip hose booms or soil incorporators.

All units come with BPW axles, stronger brakes, electronic wheel steering, LED lights, a rotating beacon. The added feature of an LED working light at the rear, helps keep people safe while you're operating the tanker.
Maintaining a Samson PG II
The centrifugal pump has standard components, so is easy to replace if needed.


The 'bolt-on' galvanised unloading pipe can easily be modified or replaced if required.
The Danfoss PVG 32 valve block is a standard item.
What's the control technology like?
Units are available with three grades of controls. These are:

SlurryMaster 3000 - The entry level simple system, all functions are controlled in a traditional manner with switches, wires and relays without a computer. This is a simple to understand and operate system.

SlurryMaster 6000 - Specifically designed for Samsons tankers, this is a highoy advanced tool with a number of automatic functions. This uses a CANBUS system to communicate between the computer in the cab and the tanker.

SlurryMaster 8000 - This is the top spec touch screen control system, with an easily operated system with a user friendly interface, this is the next step on from the SlurryMaster 6000.
What different options are available?
These tankers can be fitted with an automatic tyre pressure regulation system, which will allow different tyre pressures to be selected. An example includes the ability to change from road use, to field use. You can also adjust the pressure of the tanker to to reflect the soil and crop type.

The compressor on the Samson PG II has a 3300 litres per minute capacity and the two circuit system has a shut off valve on each wheel.

There is an optional 9 tonne lift capacity rear linkage, welded to tanker chassis, this can apply downward pressure up to 5 tonnes if you need to. An improved lifting height ensures the best clearance between your implement, and the ground in the field or on the road.

The tankers can be fitted with 12m, 24m or 36m drip hose booms for controlled traffic, farming applications or stubble incorporators for direct application in one swift pass. All incorporators either fold or telescopically reduce to 3m or less, to make it easier to transport them by road.
Conclusion
This machine is really easy to operate, and the units are really towable.

There is a wide range of uses for this machine, including; loading, unloading, traditional spreading and even more novel application technologies. It is also suitable for loads of implemetns e.g drip hose booms, grass disc injectors and soil incorporators.

This top spec tanker, might be a big budget machine but it certainly does the job.