Advice
TER check proved lightning can strike twice
A while ago, I bought a 6 month old Ifor Williams horsebox from a reputable dealer. He had purchased it at just a few weeks old and it was only for sale because he'd bought a new horse lorry. I decided to do a check on The Equipment Register, the results took me by suprise!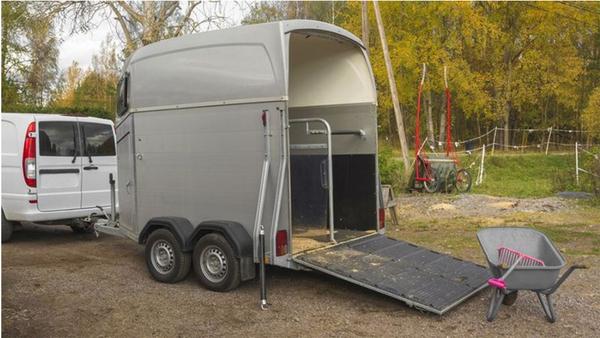 Six months later, we moved and in doing all the paperwork for our vehicles, I realised the trailer wasn't registered in my name with Ifor Williams. I proceeded to register my ownership and Ifor Williams rang me back a bit later to advise that they were having trouble reconciling the serial number and asked me to check it.
That I did and sadly, Ifor Williams notified us that the serial number related to a different colour and different model horsebox which was approximately 8 years old. This was clearly not the trailer parked in our yard. It was a bit disconcerting that there was no laser-etched security number on the drawbar which we now know is present on most modern Ifor Williams trailers. A plant investigator from The Equipment Register (TER) visited us a couple of days later and explained that the trailer clearly wasn't what it should be and asked to remove the trailer back to his workshop as he had other ways to confirm its identity. The next day came the phone call I was dreading - "I've found the real identity of the trailer and it was stolen last year. I'll be in touch tomorrow when I've done a bit more investigation". The next day, the plant investigator was on our drive with the trailer. Fortunately the trailer had been insured by its original owners and the insurers had paid out which meant they were happy to settle on the payout. TER had spoken to the car dealer we had bought it from (the trailer had gone through the books and therefore wasn't treated as a private sale) and he had agreed he would settle with the insurance company and sort it out himself down the chain. That meant that the trailer was no longer deemed to be stolen and title reverted back to us as the legal owners. The trailer also got a new VIN plate and had its original identity restored. Ifor Williams also updated their records to show that we were the owners. When we then sold it about five years later we encouraged the new owners to look at the provenance of the trailer on TER's website (www.ter-europe.org) and we checked several of the trailers we have bought subsequently with both TER and Ifor Williams. Unfortunately, the story isn't over - fast forward when the TER eNewsletter offered the free registration of up to five items of equipment. I took up the offer, registering both our current Ifor Williams Horsebox and flatbed trailer, two quad bikes and our Polaris Ranger Utility Terrain Vehicle - all of which had either been recorded with Ifor Williams or bought from main dealers. I was shocked when TER rang to say the Polaris was registered as stolen! The dealer from which we bought it was also surprised. This is still under investigation but both TER and the dealer say that it will be resolved in a manner that will mean I won't be out of pocket. These incidents show that no matter the size, shape or purpose of your plant and equipment and whether it is purchased from a main dealer or privately, it is always worth checking out before buying. It saves a lot of hassle in the long run!