Expert Review
McCormick X7 review
The McCormick X7 is an under-rated tractor; a test drive reveals its appealing qualities. Read more to find out what we thought about it...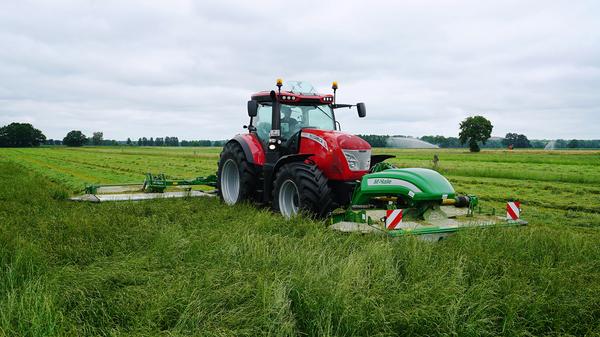 The Auto Trader expert verdict:
If you've any doubts as to whether a McCormick tractor can compete at the same level as any other, look at the kit and the specs, then climb into the cab of an X7 P6-Drive and give it a go – then feel those doubts evaporate.
Reasons to buy:
One of the best powertrains in the business
Spacious cab with good all-round view; we particularly like the fold-away 'training' seat
Noticeably comfortable ride
McCormick X7 range
Starting with four-cylinder models from 141hp, the McCormick X7 Series moves on to six-pot tractors with the engine mounted in a cast chassis that adds to the overall strength of the machines. Power tops out at 225hp (boosted for pto and transport applications) with the new X7.690 and there are CVT versions in the line-up too.
Climbing abord the McCormick X7
Haul yourself up to the air suspension seat using the hand grip and grab rails provided; did you notice the 'training' seat on the way? Thought not, it tucks neatly out of sight so there's no chance of catching your overalls or jacket as you pass. The wide windscreen extending down to the floor makes for a panoramic forwards view and although taller drivers may find rear three-quarters visibility comprised by the sturdy door hinge covers, the view all around is pretty good. In the Premium versions, there's a seat-mounted console without too many buttons and probably the optional touch-screen too – it's a 12in colour display, so you can't miss it! Efficient models get fewer gizmos and manual spool valves.
McCormick X7 power
No issues here, the 'Betapower' engine is produced by FPT Industrial, which some people still refer to it as 'Iveco' who certainly know how to get ponies out of an engine. It's a 4.5-litre block on the four-cylinder, 6.7-litres from the six-pot. Lots of low-down torque means you can dig deep into the rev range with higher gears to ease fuel consumption; and the emissions stuff is efficient too – with no DPF needing an occasional fuel-burning clean out. The new P6-Drive transmission, courtesy of those gear-engaging wizards at ZF, ups the ante over its Pro-Drive forerunner with six rather than four powershift steps and five ranges (giving 30 forward speeds in all) with smooth auto shifting throughout if you want it.
McCormick X7 attachments
A good lift linkage package carries 9300kg out back plus 3500kg out front as an option; both electrically operated, of course. Four-speed pto means you can go for max power or use the economy gearing on less demanding implements to save fuel whether you want 540 or 1000rpm at the shaft. If you like fingertip-operated spool valves with timer and flow control then go for the Premium spec, which places four proportional-response switches in a well-positioned location on the seat armrest console; a fifth is optional, plus another two if front linkage is installed. But if levers are more your thing, Efficient spec gives you three mechanical and one electric valve – either way, a 123-litre/min variable displacement pump serves up the oil, with a 160-litre/min version available with Premium spec and a simpler 88-litre/min gear pump is optional on Efficient versions to save a few pounds. In all cases, the tractors have a 44-litre/min pump dedicated to steering and ancillary clutches and the like.
Precision agriculture with the McCormick X7
McCormick is well up to speed on precision ag tech thanks to a partnership with Topcon; guidance-ready and ISOBUS wiring and other infrastructure can be installed at the factory and a choice of terminals with different levels of precision farming features plugged in via dealers and Topcon's experts in the UK and Ireland.
McCormick X7 overall Verdict
Operators repeatedly praise the ride comfort, further enhanced by semi-active cab suspension featured on the latest Tier 4 Final models. The Carraro independent front wheel suspension has quite a few grease nipples but they're accessible and the design delivers genuinely good front-end ride and traction assistance in the field Lots of torque and a smooth-shifting transmission on P6-Drive powershift models make this tractor a pleasure to operate.