News
Land Rover Defender sells for £400k
With production of Land Rover's Defender series set to end in the coming weeks, a one-of-a-kind version has sold at a charity auction for £400,000.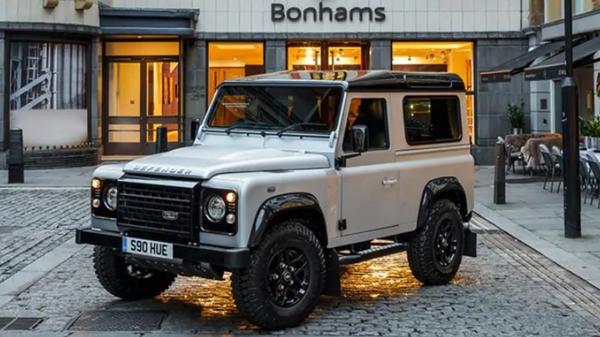 The vehicle was the two-millionth of the iconic Series Land Rover and Defender models to roll off the assembly line since production began at the company's Solihull plant in 1948.
It was built with help from a team of celebrities, including extreme adventurer Bear Grylls, and was snapped up by a telephone bidder from Qatar. Proceeds from the auction will be split between the International Federation of Red Cross and Red Crescent Societies and the Born Free Foundation. One of the final models to be produced at Solihull will be the new Land Rover Defender 110 Adventure. Part of the Defender Celebration Series, the Adventure looks to mark the role that Defender models have played in expeditions across the globe, from the Sahara desert to the Arctic Circle. Capable of taking on the roughest of terrain with ease, the Adventure comes equipped with underbody protection at the front and sides to help avoid damage to the sills and sump. There's also a set of Goodyear MT/R tyres that serve to increase the model's all-terrain capability. A sturdy roof rack and a rear access ladder add to the model's practical nature, while a raised air intake makes it simple to wade through deep water. Bespoke design fixtures ranging from front and rear mud flaps featuring the Heritage logo, to aluminium detailing and premium floor mats, also ensure the Adventure looks the part. More power is on offer with this special edition. Its 2.2-litre engine is capable of developing 150bhp, up from 122bhp. There's more torque available too, 400Nm rather than 360Nm, which will allow the Defender Adventure to make the most of its considerable 3,500kg towing capacity. There's extra refinement as well, in the form of Windsor leather-upholstered front seats.