News
Land Rover Classic built inside Selfridges Oxford Street
A one-off Land Rover Defender made a dramatic entrance into the famous department store Selfridges, by entering through a first-floor window.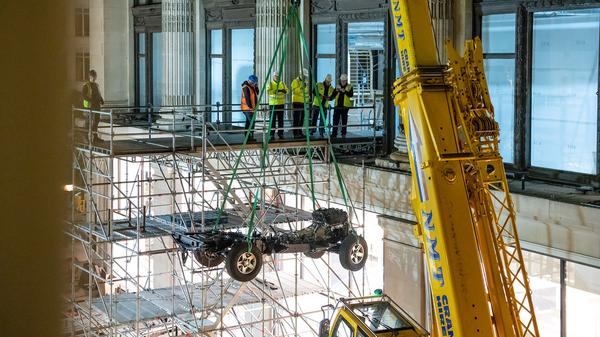 The unique Selfridges Edition Defender Works V8 has been produced as a centrepiece for their revamped Oxford Street store menswear department.
In order to fit through the first-floor window, the specially commissioned Defender was dismantled, a team of experts from Land Rover will rebuild the vehicle over just four days. In a bold move by Land Rover, the Defender Works V8 will be reassembled by technicians in full view of shoppers. Once complete, the one-off vehicle will be placed under a protective cover, ready for the official opening of the all-new menswear department ahead on the 29 October 2018. The Selfridges Edition Defender began life as a 2016 110 Pick Up but the Land Rover Classic team have adapted it into a 110 Soft Top, complete with a yellow branded hood to celebrate the Selfridges brand. Jaguar Land Rover Classic Director, Tim Hannig, said: "Our skilled engineers and craftsmen can tailor vehicles to meet any request, from applying unique paintwork or interior trim to delivering far-reaching mechanical enhancements. The Selfridges Edition shows what can be achieved and we can't wait to see it take pride of place in the famous department store." To see the exclusive Defender Works V8 in the flesh, visit Selfridges & Co, 400 Oxford Street, London, W1A 1AB from 29 October 2018.