Expert Review
Kverneland Exacta TL GEOSPREAD review
Few fertiliser spreaders can match the precision, accuracy and cost-saving ability of Kvernelands's GEOSPREAD...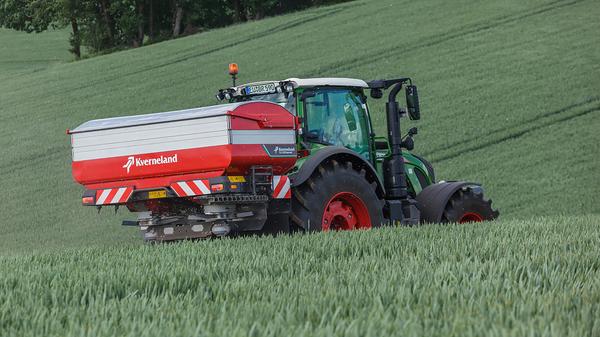 The Auto Trader expert verdict:
Exacta models include entry-level EL, then CL, HL and TL, with a high-flow TLX also available. The CL GEOSPREAD, TL GEOSPREAD and TLX GEOSPREAD versions assure ISOBUS and precision farming status. Spread widths are from 9m to 54m, and the eight-vane per disc spreading system uses a central feed point for smooth acceleration of fertiliser. Hopper extensions, AutoSet App and the Kverneland spreading charts site add to the convenience.
Reasons to buy:
High-accuracy application
Section control and reduced overlaps
AEF certified ISOBUS compatibility
Attachments
Three-point linkage mounted, the spreader is a breeze to couple/uncouple. A 1,000rpm pto shaft connection is standard, though a hydraulic drive kit can be specified. A set of optional parking wheels and a frame make it easier to manoeuvre the spreader on a concrete surface, and a trailed chassis can also be specified. Exacta TL is powered using an ISO11783 socket, and road lighting can also be connected. The overall width is 2.75m (TL 1500) or 2.9m (TL 1875).
Set-up
It is simple to operate the Exacta TL. After coupling up to the tractor, set the working height above the crop, then using the in-cab control box, enter the working width and your required application rate. Secondly, select the appropriate letter setting as directed by the spreader table using spreading charts.com or the Kv spreader app. At this point you could start spreading, and the machine will auto-calibrate as you drive. However, there is an optimisation setting behind the 'spanner' menu, which just helps the machine to reach the application rate much quicker, during the first phase of spreading. If you're using the AutoSet app, it's even simpler. Grade your fertiliser using the shaker box, weigh it to get a kg/litre, then select the fertiliser that's closest to your results, and press 'send' – the correct settings will be automatically applied to the spreader and you're ready to go. The weighing system is monitored twice per second, and auto calibrates during spreading, every 75kg or every 60 seconds – whichever comes first.
Operation
Just drive. Making the most of satellite guidance, the GEOSPREAD system manages overlaps and auto start/stop at headlands, saving you up to 10% on your fertiliser.
Precision Farming
GEOSPREAD uses GPS section control to manage the application rate across the full working width. With the ability to achieve one metre spreading sections, it offers huge scope for reducing overlaps and with it, a saving of fertiliser and improved yield potential by eliminating crop lodging. In tapered parts of the field, the spreader is optimising the spread width and application rate to ensure correct dosage at a single rate, when dealing with overlaps. Advances in software will be available in 2019 to create variable rate applications on both sides of the spreader, to handle higher resolution variable rate maps. Called, MULTIRATE application, this can provide up to eight sections of variable rate capability across the working width. MULTIRATE makes the most of spreading accuracy with tighter grid sampling and higher resolution maps, to deliver better distribution of fertiliser at the prescribed rate and moves spreading performance even further away from a single rate, blanket application.
Summary
Over 30% of Kverneland spreaders now sold are GEOSPREAD models, with the Exacta TL GEOSPREAD accounting for the lion's share. Its ease of use combined with ultra-high accuracy from its GEOSPREAD auto start/stop and section control is saving a lot of growers, a lot of money - typically, GEOSPREAD is returning a 5-10% reduction in fertiliser being applied, from reducing overlaps.