Expert Review
Kuhn Merge Maxx 950 belt merger rake review
A high output, versatile, yet gentle way to swath and prevent contamination when harvesting grass or other crops.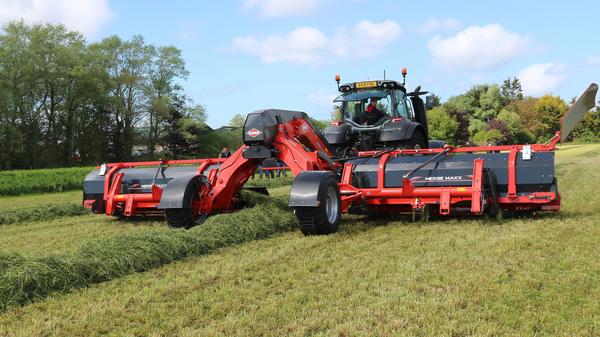 Words by: Auto Trader
Published on 2 December 2019 | 0 min read
The Auto Trader expert verdict:
Aimed at large-scale grassland farms and contractors, the Kuhn Merge Maxx 950 uses two adjustable, variable width and bi-directional merger belts to swath a maximum of 9.5m. The Merge Maxx is one of a new generation of high output machines specifically designed for the demands of professional users and it shows.
Reasons to buy:
Excellent ground contour following properties eliminate contamination of the swath
The twin belts can work in either direction enabling multiple windrow delivery options
Evenly presented swaths can increase output of following harvesters or balers by 2-3 km/h
At a glance:
Attachment
Just hook up to the lower links on the tractor, connect the PTO (having first switched off the engine of course) plug in the two double acting hydraulic connections, lift the unit off the ground, fold up the headstock stand and you are good to go. There's also a handy place to stow the hydraulic lines when not in use.
Transport
To a seasoned rake operator, who sucks through their teeth at the thought of a low bridge, and is used to routinely removing tine arms, The Merge Maxx 950 will appeal. With its folded height of just 3.6m, transport width of 3m and hydraulically braked wheels, it couldn't be easier to switch sites, without leaving the seat.
Versatility in use
The units twin belts are bi-directional and allow multiple windrow delivery options, either to a central swath, a single lateral swath (either to the right or left, collecting across the full width), two swaths (one each side) or a central and left or central and right windrow. Swath widths can be adjusted from the cab, between 1 and 1.5m for the lateral swaths, and up to 2.2m for the central windrow. The manufacturers claim an increased output of 30-100% compared to a conventional grass rake, with the greatest time savings in wet or heavier crops. The units onboard hydraulic drive (750 or 1000rpm PTO driven) ensures a low load on the towing tractors hydraulics and eliminates any oil contamination issues.