Expert Review
Krone BiG Pack 1290 HDP II baler review
High output, high spec baler, to cater for the most demanding users. With a good operator and a high horsepower tractor this baler is hard to beat.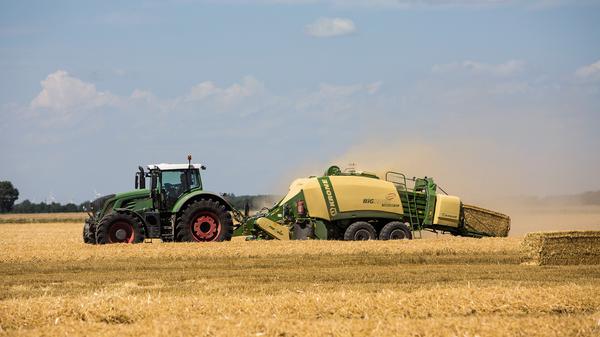 The Auto Trader expert verdict:
If you are looking for a baler to pack the maximum amount of straw into the most common large square bale size of 120cm x 90cm, then the Krone BiG Pack 1290 HDP II should be towards the top of your list. Intended for the high output professional straw contractor, this unit does not disappoint, with a phenomenal appetite for straw. Having been designed to pack the most straw into one bale possible, with the minimum of fuss and be the high output baler of choice.
Reasons to buy:
High density uniform bales
Exceptional output
All shaft drivelines for power transmission to handle high loads smoothly
Up front
Starting at the 2.3m wide pick up reel, this is no cam driven unit, but a powered crop feed roller designed to ease straw intake, with feed augers on each side, crop press roller with depth limit and pivoting wheels as standard. Next comes the X-Cut cutting system, a total of 26 knives in two banks with individual knife protection , these are hydraulically actuated in 0-13-13-26 configuration. With all 26 knifes in place the cut length is 44mm, with only one bank in this reduces to 88mm. Both the pickup and the X cut system are V belt powered to stop rapidly in case of a blockage.
Crop feed
Krones method of ensuring high density bales is their variable filling system (VFS) this consists of three packer arms compressing the incoming material inside the feed housing prior to the bale chamber. This pre-compressed material is then fed (in one movement) into the bale chamber before the system restarts pre-compressing in the feed housing.
Baling cycle
The unit has a 600kg plus flywheel with a hydraulic starting aid to get it up past 300 rpm before the tractors pto kicks in, this reduces component load, the manufacturers state. The plunger now packs the pre-compressed material in the bale chamber, the baler constantly monitoring the force applied by the plunger, baling pressure can be adjusted by altering the side and top of the bale chamber (by means of hydraulic cylinders). The 54 roll capacity twine storage chambers on each side, lower hydraulically to ease loading, and the manufacturers claim an 800 bale capacity (bale length dependent) between refills.
Maintenance
Krones systematic drive to replace chains and shear pins with drive shafts and gearboxes has paid off with a smooth running unit which is quiet and does not bounce like some other balers. This should pay off with reduced down time. Under the top hinged side panels are LED lights to aid night time maintenance and loading twine.
Overall verdict
• Phenomenal appetite for straw • Consistent, high density bales • All driveline powered to handle high powered tractors • Full ISOBUS compatibility • Full traceability available through CCI control system