Expert Review
John Deere 6250R review
A very capable first line machine for high output, with amazing down to earth technology...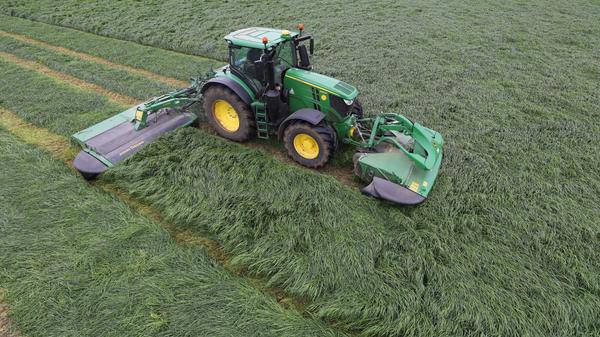 Words by: Auto Trader
Published on 1 May 2019 | 0 min read
The Auto Trader expert verdict:
We have decided to celebrate 1 year since the launch of John Deere's 6250R by taking the opportunity to reflect on what this top of the range tractor has to offer.
Reasons to buy:
Lots of functionality
Flexible power delivery and 300hp max via Intelligent Power Manager (IPM)
Sensible service intervals
The Range
John Deere's philosophy of 'good enough isn't good enough' is clear with their continual evolution of tractor designs. The 6250R has the highest engine output of 250 horse power covering the range of 5 tractors (6230R, 6215R, 6195R, and 6175R). 6175R, the lowest denominator delivers 175hp. ## Climbing around the John Deere 6250R The tractor's cab access allows drivers to easily switch from terra firma to seat. There a comfortable passenger seat, which folds up neatly. When in driving position, there is clear access to the new CommandPRO joystick. If you prefer some leg movement, you'll like the dual pedal and joystick control on this tractor. The joystick can incorporate ISOBus functions, which means you won't need an additional control device to operate equipment. The Autotrac controls can be pre-programmed to your preference via 11 simple buttons.
John Deere 6250R power
You can quickly extend the engines output to 300hp, using the intelligent power management (IPM) system, an integral part of their 6.8 litre PowerTech PSS engine. The two stage turbo charging system uses variable geometry (VGT) which multiplies pressure to maximise power. You can expect the engine to long and trouble free life, down to the cooled cylinder head and reinforced steel pistons. Operating costs are kept in check with the 750 hour pit stop for engine oil, fuel and filter changes. The application of dual clutch technology (which lines up the next gear), combined with the new self-levelling TLS Plus triple link suspension on the front axle, provides seamless transition up through the power range. This eliminates the traditional fore and aft sway, often experienced by drivers when changing speed with a heavy wind or load.
John Deere 6250R attachments
Operate multiple tillage at once using the Category IIIN linkages which hold up to 5000kg on the front hitch and 10400Kg on the back. Use power take off you have two options, the electro hydraulically engaged, oil cooled transmission (which delivers 540rpm, 1000rpm) or use the front power take off to stick with 1000rpm output. The 6250R powered hydraulic system provides for 6 Selective control valves on the rear and power beyond connections. This is down to the internal pump which delivers a flow rate of 160 litres per minute at 1500rpm. External coupling points are located conveniently allowing the operator a great view of the rear hitch when driving.
Precision Agriculture with the John Deere 6250R
John Deere recognises that drivers can waste time route mapping. The 6250R's Intelligent Ag Navigation & Fleet Logistics system provides the operator with invaluable information on the most efficient and safe route to enter fields. If you're wondering how it works, it's all down to tapping into signal outputs from high capacity combines and forage harvesters where efficiency of crop discharge to moving trailers needs to be maintained.
Summary
The simple to use transmission system with the new front axle suspension provides for a very comfortable driving experience. The range of options for integrating precision control of equipment is essential for farmers striving to improve efficiencies. In order to cover how they perform after clocking up 6000 hours under the bonnet, we'd need the opportunity for a follow up article (watch this space…)