Expert Review
John Deere 6125M review
The 6M is a step up from the 6030 range and perfectly matched to the range of loaders from John Deere for handling the biggest of tasks, with lots of power and hydraulic performance on tap as needed.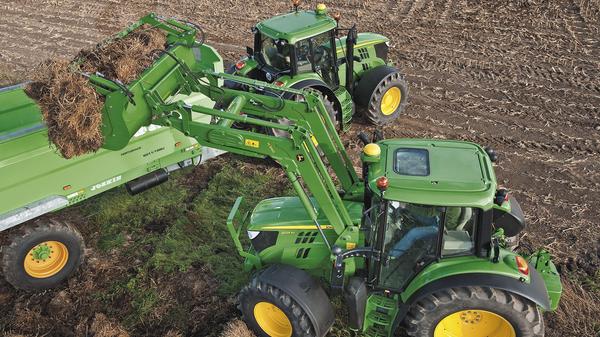 The Auto Trader expert verdict:
Kicking out 130hp from a four cylinder engine is a big step forward for tractors in the past few years. The 6130M from John Deere offers a full frame design which means it's built with two chassis rails that hold the engine and transmission firmly in place. This design makes it a really strong and stable little tractor with a lot of power when needed. With the M specification range you can expect the same wheelbase as its more premium R specification brother but with a different cab that operators will find intuitive and easy to use. Proven, reliable transmissions make yard or field work easy and offer years of trouble free service.
Reasons to buy:
An efficient engine in a compact and manoeuvrable package
John Deere's full frame design makes for a strong and stable loader tractor
Premium options make stepping up to more features easy and scaleable
Overall verdict
This machine is a very comfortable place to work with the power to perform a multitude of tasks on the farm or in the field. The proven PowerQuad and AutoQuad transmissions still need the operator to press the clutch pedal or move the lever to neutral to reduce fatigue, something a declutch button on the loader control could remove. Overall it is a flexible tractor with simple maintenance and a reliable design offering years of service and an efficient engine, saving time and fuel over its lifetime.
The range...
PowerTech PVX engines provide the power for the 6M range. The smaller frame models, 6115M, 6125M 6130M and 6140M are fitted with the punchy 4.5 litre four-cylinder engine and the larger 6170M and 6170M feature the six cylinder version. All models are rated at 2100rpm which helps keep fuel consumption down while a redesigned cooling system ensures long working days are efficient and trouble free. All models are fitted with the well-known variable geometry turbo charger and exhaust filter to bring them under Stage IIIB compliance for emission standards and provide the power for whatever you ask of this range. PowerQuad and AutoQuad Plus are the transmission choices for the 6M range allowing smooth gear changes on the move with a handy declutch button on the gear lever. Keeping fuel consumption and noise as low as possible the transmissions can operate in an EcoShift mode which automatically reduces the engine rpm when driving at high speeds. Whether the 6130M is the main workhorse or a yard tractor the hydraulic system is designed to handle the toughest of tasks with ease. Providing 114L/min of hydraulic power on the larger models and 80L/min on the four-cylinder models, they are perfectly suited for loader work while at the same time hauling the largest of trailers or handling seed drills. Installing a loader on the 6130M is quick and easy with single point hydraulic connections and a simple mounting system. The H340 Mechanical Self Levelling (MSL) loader offers 2 tonnes lift capacity (800mm from pivot @ full height) and up to 4 metres reach which means handling a couple of large square bales is no problem. To cover all customer demands the loader can be operated through the spool valve controls or a joystick. For smoother operation the operator can take advantage of the Memo system where the loader can be programmed to return to a desired angle helping make repetitive work easier and more efficient. Mounting to the frame design of the 6M offers great stability and durability for years of lifting and shifting. Additional options in the range include the iTEC Basic system helping to automate headland operations and reduce the operator input for field tasks. Optional GreenStar and ISOBUS ready wiring mean it's still possible to spec up to a premium offering. An Integrated immobiliser system and CESAR Datatag adds that bit of extra security keeping your mind at rest and your investment safe. We hope you find this review useful, good luck with finding your next item of farm machinery.