Expert Review
JCB Loadall with Command Plus cab review
JCB leapfrogs competitors with a telehandler cab that sets new standards...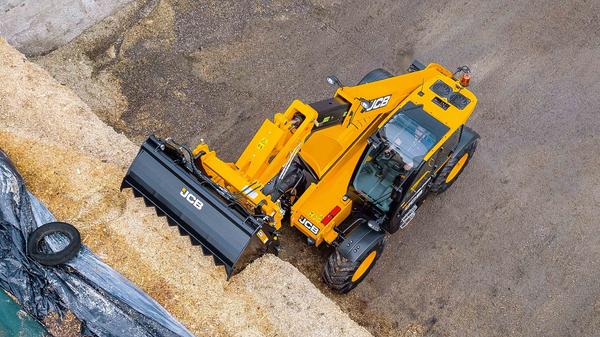 The Auto Trader expert verdict:
As often the most-used machine on a farm, clocking up more hours in a year than most tractors, operator comfort and convenience is a much-valued commodity on a telescopic handler. That is why JCB chose to focus on the operator when developing its third-generation Loadall, designing a new cab that is roomier than before, has more storage space, improved ventilation, better controls and a view out – especially upwards – that is streets ahead of the former design.
Reasons to buy:
More spacious cab has first-rate all-round visibility, especially ahead and upwards
Uprated ventilation clears misted windows faster, keeps face fresh, feet warm
Control style and layout familiar from other JCB agricultural machines
The range
Mechanically, there are few changes – there are 4.4-litre and 4.8-litre JCB EcoMAX engines with 109hp, 125hp and 145hp outputs as before, the same choice of Agri, Plus, Super and Pro spec levels, and an unchanged selection of four- and six-speed powershift transmissions, and the unique DualTech VT hybrid unit that combines low-speed hydro with higher speed mechanical powershift drive. But four models get up to 200kg more lift capacity – the 6.0 metre 538-60, 7.0 metre 532-70 and 542-70, and the 9.5 metre high-lift 536-95 – with the bulk handling 560-80 retaining its 6 tonne lift capacity and 8 metre lift height.
Operator's cab
So the focus of this new generation really is on the Command Plus cab, which together with the overall design, manages to retain the familiar look of a Loadall while delivering a whole host of improvements. Among the most impressive statistics that JCB has come up with to emphasise the extent of the changes is the 50% lower noise level, a best-in-class 69dBA rating. Anyone who understands noise measurement will appreciate that 50% is a huge reduction, which apparently has been achieved by cladding the entire interior – there's no 'cheap' exposed metal here – making judicious use of sound-deadening material in the structure, and fitting a car-like rubber door seal. We didn't get out our tape measure to check but JCB also says the cab is 12% larger inside, has 60% more dedicated storage space – there's a lift-out bin behind the seat, for example – and a 10% increase in ventilation airflow, which together with carefully studied air distribution is said to give operators greater control over their environment as well as two-thirds faster window demisting or defrosting. Visually, the most obvious difference is the change from a flat to a curved windscreen that starts low down in front of the operator to give a good view ahead to the wheels before sweeping up and over the operator, who no longer has to lean forward to peer around the roof cross-member of the old design to see the attachment when the boom is raised. Only the protective grille imposes on the otherwise uninterrupted view to a bucket or fork on the boom and angling the bars minimises its impact; mounting this structure inside the cab leaves the three washer/wipers to clear as much as 90% of this large area of glass.
Instruments and controls
We suspect that anyone familiar with a JCB Fastrac or wheeled loader cab will appreciate the chunky selector buttons and switches that are now placed more logically than before, and also the driving position, which aims to suit operators of all shapes and sizes following extensive consultation with telehandler operators. Looking ahead from the seat, there's a glossy 7in screen off to the right providing the instrument display in a 'floating' position where it doesn't interrupt the view but is easily in the driver's line of sight. Above it is another thoughtful touch – a dedicated holder that positions a mobile phone where it can be used for satellite navigation guidance and for hands-free calls using the Bluetooth connection, a microphone integrated in the right hand cab pillar cladding and two speakers behind the operator.
Overall verdict
• JCB has progressively improved the Loadall product over the years with better engines, emissions control hardware tucked away under the hood to preserve all-round visibility, and smart hydraulics like the fast-drop set-up for the boom that speeds up loading cycles. • The top-spec Pro model has unique capabilities thanks to the DualTech VT hydro/mechanical transmission. • With the new Command Plus cab, JCB engineers have gone the extra mile in applying attention to detail that we think will genuinely make the operator's life easier, more comfortable, more satisfying and more productive.