Expert Review
Amazone Catros 3003 review
An efficient yet effective shallow cultivator capable of handling tough conditions with many options to increase its flexibility. Low maintenance means it's always ready to go when you are.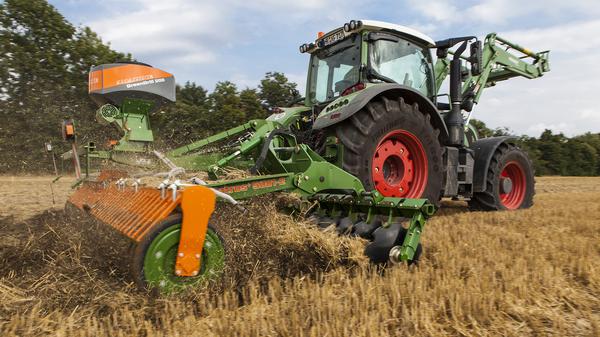 The Auto Trader expert verdict:
Small disc cultivators represent a large segment of the cultivator market and in the 2.5 - 4m segment, Amazone offer the mounted Catros range. The Catros range offers many features making it easy to set, easy to use and easy to maintain the Catros is flexible and operator friendly option. For more aggressive and deeper work the Catros+ has serrated discs have an extra 50mm in diameter helping them work better in tougher conditions compared to the standard smooth Catros discs. With up to 10 rear consolidation options there is an option for all soil types and the possibility to swap by simply loosening a pair of brackets offering great flexibility.
Reasons to buy:
Low power requirement makes this an effective tool for many cultivation strategies
Great soil and trash mixing capabilities makes creating a seedbed for weeds or seeds simple and easy
Optional extras available if you need more aggressive cultivating or easier adjustment
Overall verdict
A well made and efficient disc cultivator with all the options you require for a variety of conditions. The low maintenance and lifetime sealed discs means the Catros will stand up to years of work. Having two models, the Catros and Catros+ makes it easy to decide if you require smaller smooth discs suitable for lighter soils and shallow cultivation or the larger serrated discs capable of handling more trash, manure or working deeper.
The detail...
Needling just 30hp per meter the Catros+ 3003 is flexible and adjustable for a range of conditions. Following harvest farmers require a fast, consistent shallow cultivation to stimulate weed seed germination. The Catros+ achieves this with individual rubber mounted discs that follow contours and also offer protection when passing over stones. Working depth can be as shallow as 3cm with the 460mm smooth discs ensuring all soil is moved or down to 12cm to create a seedbed. It's easy to change the depth thanks to the simple design of manual swivel in and out spacers or optionally hydraulically from the cab. For incorporating more trash or manure the serrated 510mm discs offer a more intensive mixing and a working depth of between 5 - 14cm. By using bearings which are usually found in tracked construction equipment Amazone ensure these are up to the job by sealing them for life meaning less maintenance and the machine is always ready to go. With operating speeds of around 12 - 18km/h low fuel consumption was recorded during trials across a variety of soil types. By offering a variation in disc angle and design the soil and trash is mixed very well and deposited well ahead of the consolidating roller. An additional disc on the edge ensures that there is a perfect match up with the previous pass and a level finish is achieved. Depending on the soil type the Catros can be fitted with up to ten different consolidation rollers ranging from metal to rubber segments. These offer different levels of performance in a variety of conditions such as sandy soils, stoney ground and it is possible to swap between set ups by simply removing the brackets and changing the roller. This flexibility means it is well suited to a multitude of farming locations or fields or even crop types with options for deeper consolidation or simple crumbler roller for a lower cost machine. Options such as following harrow tines help produce a finer seedbed making the Catros a universal tool in any farming situation. As the focus moves to more cover crops and fewer machine passes the Catros can be fitted with the GreenDrill which can be used to distribute 200L of seed across the working width. We hope you find this review useful, good luck with finding your next item of farm machinery.