Guide
What's the best campsite for your caravan holiday?
Caravan and motorhome holidays are great, aren't they? We have our own home-from-home, so we know our holiday accommodation is going to suit us, and all we have to do is decide which campsite to take it to. That decision is important if we want to have the best experience; however it isn't always as straightforward as it sounds as there is such a diverse choice of campsites (or caravan/holiday parks, if that's what you want to call them) available.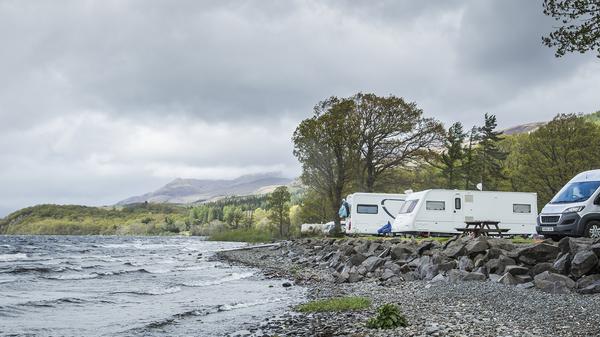 Spoilt for choice
Campsites and the type of leisure time people want can vary a lot, so it's a good job there are so many places to stay, here and abroad, with varying levels of amenities – and prices.
While some like to get away from it all with the bare minimum of facilities available, others like certain comforts, such as: a reception with helpful wardens, a shop and local information; laundry; good quality facilities and clean shower; children's play areas; and maybe even a fishing lake, bar or swimming pool. Some choose child-free 'adults only' sites, some stick rigidly to the predictable standards of a 'club' site (owned/run by the Caravan and Motorhome Club, or the Camping and Caravanning Club); and others choose purely on price, location, local attractions and distance from a local hostelry or home.
How to choose a campsite
Your choice of campsite might be different if you are booking it for your main holiday or a short weekend break. You might want more facilities if you're staying for an extended period, or be more flexible if you're only staying one or two nights.
What comes first – the type of campsite you want, or the destination you'd like to go to? Most of the time, it's probably the destination that's the first choice, and then the search for a suitable campsite in that area. Take time to consider what you want the campsite to be like or offer: do you want it to be big or smaller (and probably quieter)? What's the maximum you want to spend per night? What type of pitch do you want – grass, hard standing, full service? Is Wi-Fi essential, and is it free and available across the whole site? Does the site have any security, wardens/managers on-site or a shop? Do you want showers and toilets, or use your own? Is there a children's playground? Are dogs allowed? Are BBQs allowed? How far is it from the nearest town, pub or public transport? Motorhomes may need a service point. The simplest and cheapest choice of campsite is the option of a weekend or holiday rally organised by a local centre members of a club (either the Camping and Caravanning Club or the Caravan and Motorhome Club, or owners groups). And if you're a member of either of the two big clubs, they have a network of either Certified Locations or Certificated Sites, which are privately owned sites licenced for a maximum of five units at a time. They only have to provide a minimum of fresh water and a chemical toilet disposal point, although some do offer showers. You might also want to check what size the pitches are, as they do vary, and some are not suitable for long motorhomes or twin-axle caravans. These days, nearly all campsites offer electric hook-ups, but some might charge extra for this, so check what the price includes. Many charge extra if you want to put up an awning and bring a dog or extra people. Prices are obviously going to be the most expensive during the summer holidays when demand is highest. Caravan park websites vary in quality, but the better ones will have a gallery of images and regular posts on social media to give you a better idea of what it's like. Bear in mind that if you are booking a campsite at short notice, particularly in the peak periods when availability might be an issue, you're likely to have less choice, so if you can, try to plan ahead as far as possible.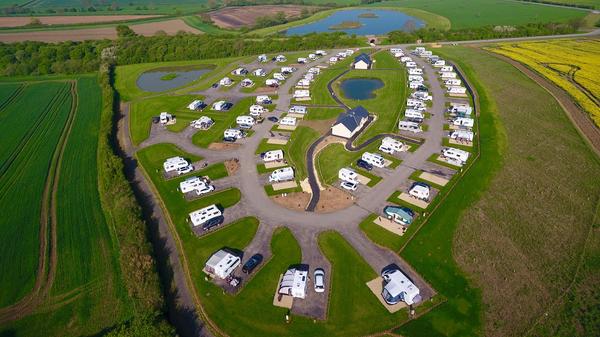 Recommendations
Getting campsite recommendations from others, forums or other social media groups, can be good, but not everyone's idea of a 'great campsite' is the same. For example, their experience might be different depending on the time of year they visited.
If you're searching online, then there's websites such as:
www.pitchup.com
www.freedomtogo.co.uk/campsite/uk
www.coolcamping.com
www.touringtenting.co.uk
www.caravanclub.co.uk
www.campingandcaravanningclub.co.uk
Many of these will also list overseas campsites, but if that's what you're looking for, also try:
www.eurocampings.co.uk
www.alanrogers.com
https://www.les-castels.com/
https://www.yellohvillage.co.uk/
https://europe.huttopia.com/en/destinations/
https://www.citykamp.com/en/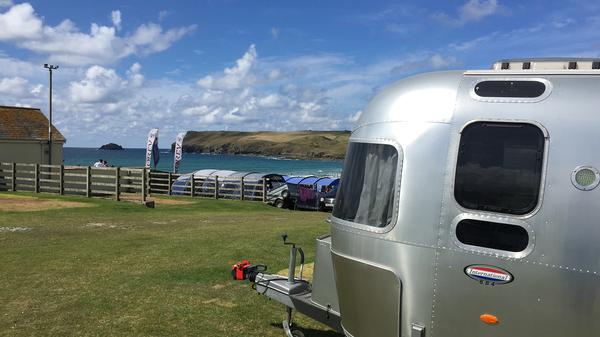 Location
Take a moment to consider where the campsite is located and how easy it's going to be to get to. The further you go in to the countryside, the smaller the approach roads might be, which could be an issue if you're a newbie, or have a large unit.
Google maps can also be a good way to check the location and access roads. If in doubt, call the site in advance to check. There are some 'site arrivals' videos online, such as the (Get Your) Legs Down Caravan Travel YouTube channel. If you choose a site that says it has great views, it means it is also likely to more open to the elements, so if it gets windy or stormy, you'll soon know about it. And check if it's flat or sloping, so you can make sure you have enough levelling aids with you, and if it's going to be easy to put up an awning. Pitches with lots of shade can be wonderful when it is really hot, but in the rain, you can be hearing drips on the caravan roof for a long time after it stops. Going abroad opens up some extra criteria to consider. Continental sites in popular areas are more likely to have a swimming pool, café, bar, children's entertainment and restaurant. The standards of the facilities and pitch sizes may not be the same as the UK, and likely to be better or worse. Permanently sited caravans, holiday homes (or statics) and glamping accommodation are much more common over there, too, and in popular areas, some have holiday companies with ready-erected tents and mobile homes. The good news is that, particularly in France, there seem to be more campsites than in the UK and they're usually well signposted. Take a good guide book or download an app to help you find them.
Spoiling your choice
If anything is going to spoil you choice of campsite, it will be the most common things people complain about, which are: noisy children, especially if playing ball games or riding bikes too fast; cars ignoring on-site speed limits; people walking across other people's pitches; dogs and, of course, noise late at night.
Rules
Campsites have rules to ensure everyone knows what is acceptable standards and behaviours. How, or if, these are enforced will vary, but remember that whenever a group of people are in the same place, not everyone does things the same way, so the rules will have been created based on the site owner's experience and feedback from customers.
Important rules include, no campfires (for obvious safety reasons), no noise between certain times (say, 11pm to 7am) and strict arrival and departure times. If you're going to arrive later than 6pm, call to check if there is anyone there after that time or if there's a late arrivals area. Everyone wants to enjoy their holiday, their way, which is what the freedom of having a caravan or motorhome is all about, but to achieve this, it may involve being considerate and tolerant of others.