Guide
How to choose a caravan awning
Owning a touring caravan can bring year after year of amazing holidays and the opportunity to make some special memories. With the freedom to roam and get closer to nature, tourers can provide you with the opportunity to take last-minute, sometimes cheaper holidays. With caravan sites around the world, you are not just tied to the UK either. In some circles, however, caravan holidays may have a less than great reputation if cramped conditions mean you are often falling over each other. This is where an awning comes in.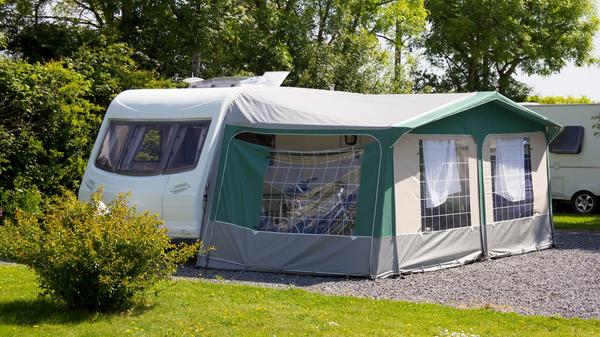 Why use an awning?
The short answer is space. With an awning, you can up to double the floor space that you have available. The use you have for this space will sway your decision as to what type of awning you are going to need. Whether you're looking for extra storage space, an area to sit and eat as a family, or you're in need of extra sleeping space, an awning is the answer.
Knowing how you are going to be using your awning is the first step towards knowing which awning will be best suited to you.
How often will the awning be in use?
Knowing how often your awning will actually be up and in use is a key consideration when it comes to choosing. It could be that you are touring and visiting different sites during the course of a holiday. In this case, you may find that something that is lightweight and easy to erect and take down is ideal. If, however, you have your caravan on a seasonal pitch, or even use it in the winter, you are going to need something heavier and more substantial.
Alongside weight and ease of use, you also need to be thinking about how many people will be available to put the awning up. Is it going to be a single-handed job, or do you have more people that can assist? Being alone with a heavyweight awning to assemble is hardly going to be fun!
The best material for my awning
The choices for an awning tend to be cotton, polyester, or acrylic, each coming with their own pros and cons.
With acrylic's resistance to shrinking, fading, or rotting, it is often seen as the superior choice. However, with this comes a heftier price tag along with issues of condensation. Cotton awnings overcome the issues of price and condensation with it being breathable but often lacks in durability. While polyester still isn't on par with acrylic's durability, it shares the breathability qualities of cotton. It is common to find awnings made of a combination of materials, with one material forming the roof and another making up the walls.
What's in a colour?
When choosing the colour of your awning, it's not just about making a fashion statement; the colour you choose should be closely linked to the use you have in mind.
If you are going to be using your awning as a place to sit together and eat, it is worth opting for lighter colours. With light colours reflecting more heat, they are more likely to remain at a cool and comfortable temperature. By contrast, if the awning is to be used as an extra space, dark colours will do more to retain the heat, preventing it from being overly cool through the night.
What size awning should I go for?
Remember that we considered what you would be using your awning for? Well, when it comes to considering what size awning you should opt for, you need to be very clear on its use.
With a porch canopy, you instantly have somewhere with added shelter and to perhaps use as storage. If you're looking for somewhere to sit and relax, or even add bedrooms to, you are going to need a full-sized awning. A full-sized awning fits along the whole side of a caravan and provides you with the most space. Usually, these will have a depth of 2.5m, but by increasing this slightly to 3m, you suddenly have more space, making it so much easier to negotiate around people sitting in chairs.
Spoilt for choice
With such an array of awnings being available, varying in size, weight, and material, it can never be as simple as just being told which type of awning is the best. Choosing the right awning for you is entirely a personal choice moulded around what you both want and need from one.