Advice
Going abroad? Top tips for safe touring
There is a lot to see on a caravan or motorhome holiday in the UK, but taking the plunge to go abroad opens a whole new world of continental sights and sounds. An, with a few tips and careful preparation, it's easy and extremely enjoyable.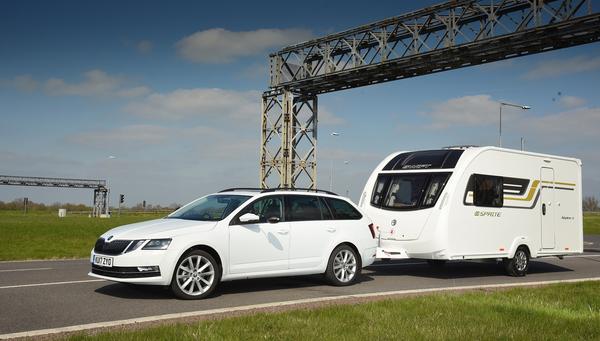 Where and why?
France is by far the most popular foreign destination for British caravan and motorhome holidays. That's not only because it is one of the closest to the UK, but also one of the biggest European countries, so there's plenty of variety and an abundance of excellent campsites. It's more common to find onsite restaurants, bars and swimming pools on continental campsites than in the UK, and some of the bigger sites will also offer other accommodation units to hire (handy if you're meeting friends), particularly in popular areas.
Many people hitch-up and head abroad for the warmer summer climate, and better chance of guaranteed sunshine, particularly if you head further south. Then there's the food and drink. Just think of all the French cheese and wine to try. A fresh croissant or baguette tastes better in France (like having Guinness in Dublin). Ditto pasta and pizza in Italy, or beer and frankfurters in Germany. And how about some history? You don't have to travel far across the channel to find references to the first and second world wars, and further afield there are plenty of palaces, castles and famous sights to see. Unless you're fluent in every European language, there could also be the benefit that you will be able to tune out of any overheard chatter from neighbouring pitches as you won't understand a word they're saying.
The planning stage
Unless you're very experienced at continental touring, or have booked on an escorted tour, most caravan holidays abroad will require a bit of planning and preparation.
How are you going to decide where to go? Don't be too ambitious if it's your first time abroad (see 'top tips' below), but you'll probably have some places in mind. You don't have to follow the masses to France. Places like Belgium, Holland, Germany or Denmark are all within easy reach as well. Italy, Austria, Spain and Croatia are that bit further, needing two or three days travel each way, so plan for at least two weeks to make it worthwhile travelling that far. Planning and researching where to go is something that many people enjoy. There are plenty of good guides and websites to study. For example, both the Caravan and Motorhome Club and the Camping and Caravanning Club have excellent, helpful foreign touring departments with a brochure of sites that their representatives have visited. Other organisations such as ASCI or the AA can also help – particularly with up to date lists of legal requirements for entering and driving in each country. You'll soon notice that there are some campsite chains in Europe that we don't have in the UK, such as Yelloh, Les Castels and Hutopia If you like what they offer, then they will be happy to book ahead at other sites in their network for you – if you haven't planned your itinerary already.
What to take
Apart from the obvious, like passports, there are a few extra things you will need to travel with. Most important, is the car's ownership documents. If you are driving a company car, you will need to get a letter of authority from whoever owns the car. It's wise to take the paperwork for your caravan as well.
Make sure you have a warning triangle, hi-viz vests (easily accessible) and 'beam benders' to stick on your headlights (although some car headlights may be adjustable for driving abroad) as they will be fitted to illuminate the left side of the road – which will be the oncoming traffic when you're on the opposite side of the road to the UK. Post-Brexit, it looks like everyone will need to obtain a 'green card' from their insurer to prove they are covered to travel abroad. 'GB' stickers will be required again too, although they're always a good idea anyway so foreign drivers hopefully realise you have a steering wheel on the opposite side to them (so may not have as good a view of the road ahead as them). Always inform you insurance company you are taking your vehicle abroad in case there are any special restrictions on your policy. You will also need to ensure you have breakdown assistance for the countries you are visiting, and travel insurance to repatriate you and your vehicle back to the UK, if required. It's a good idea to take some food with you for the first night or so, then enjoy shopping in the local markets or supermarkets. Beware though, that you have to turn your gas off on the ferry crossing, so on longer crossings (particularly the overnight ones), the fridge may not be cold enough to keep everything fresh.
Top tips
If you've not been over the channel with your caravan before, it's best to not travel too far, especially on your first day. Take some time to driving on the right hand side of the road. It might also be hotter than you, or your car, are used to, which can take its toll.
Like in the UK, campsites in popular areas will be busy in peak periods and get booked up long in advance. If you can't, or don't want to book your entire trip ahead, then be sure to stop travelling and start looking for a site as early in the afternoon as possible in case you have to try several before finding a suitable pitch. If you have a large, twin-axle caravan, you might want to check the campsite will accept it and have a big enough pitch. Staying overnight on motorway services is not recommended for security reasons as there have been too many cases of caravans being broken in to during the night. If you are nervous about travelling abroad, there are lots of escorted tour holidays available, where you will be with a group and have a tour leader on hand all the time. Another option is joining a rally. Many caravan clubs have local groups who organise rallies abroad, so you won't be alone, and there will be social opportunities and help on hand if you want it. Speed limits, when towing and solo, vary from country to country so make sure you've checked what it is for every country you're visiting. Likewise, alcohol limits for driving and the minimum ages for front seat passenger vary as well. Take some good maps and don't rely on sat nav. Better still, to avoid any panics as you approach a busy roundabout or motorway exit, plan your route in advance, write down the key road numbers and places you'll be passing on the way. These days Google maps and Michelin offer route planning online, plus you can even get satellite images or street view to help you get your bearings and a better idea of where you're going. Remember that in France, Spain, Austria, Switzerland and Italy (and others), motorways are not free and there will be tolls to pay – either at toll booths while you are travelling, or by buying a vignette to display on your car windscreen (and sometimes the caravan as well). These costs can add up, but do save a lot of time compared to travelling on non-motorway roads (if you're in a bit of a hurry). You can save time at toll booths in France and Spain by buying a tag in advance which you put in your windscreen, so that you can simply pass straight through the designated booths (often with shorter or no queues – but avoid those with height restrictions) and then your bank account or credit card will be charged automatically. Electric hook-ups: some sites on the continent have a two-pin socket for electric hook-ups (instead of the three-pin ones we have in the UK). You can buy two-pin adapters to take with you. Also beware that a small number of continental hook-ups have reversed polarity. Buy a tester to check before you hook-up, so you are aware. Know the dimensions of your caravan in metric, especially the height and width in case you encounter any width restrictions or low bridges, plus tyre pressures. Write it down and keep it handy – maybe stick a note on the dashboard. Gentlemen: many swimming pools, particularly in France, don't like men wearing swimming shorts and insist on trunks instead. You have been warned!