Guide
Everything you need to know about trailer tents
If sleeping in a tent is too basic for you, a trailer tent could be the answer to your touring problems. Read on for all the information you will need if you're looking for a trailer tent.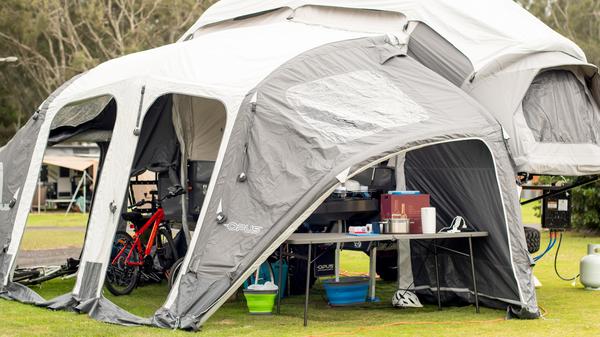 Words by: Auto Trader
Published on 26 August 2021 | 0 min read
What is a trailer tent?
A trailer tent is a unit where the roof and all of the walls are made out of heavy-duty fabric. The fabric folds out from a trailer and is pegged out like a standard tent.
A trailer tent looks very similar to a standard tent when it is erected. Trailer tents can be towed. When they are set up, trailer tents can offer you a lot of interior space.
Are trailer tents any good?
Trailer tents can be a fairly affordable way to get more space. Some people think they are better as the bedrooms are often suspended, so you don't have to sleep on the ground. As we mentioned before they can offer you a lot of interior space.
What are the advantages of trailer tents?
They are lightweight
Easy to store on their side
Don't take up too much space
You can extend them easily
They often have large living and sleeping areas
What are the disadvantages of trailer tents?
They are not well insulated
They don't always have a kitchen unit
They don't often have toilets
You have to peg them down, which takes time
They are not very secure
Do trailer tents have toilets?
It is quite uncommon for trailer tents to have toilets. If you are looking for a toilet while you are touring, here are some options:
Most campsites have toilets on site
You could buy a portable camping toilet for your trailer tent
If you want something similar to a trailer tent but with a toilet, some high end folding campers have toilets
Alternatively, most caravans and motorhomes have toilets in the vehicle, so you could look at buying one of those instead.
Are trailers tents warmer than tents?
Not particularly, you may find a trailer tent is warmer when you're sleeping (as the beds are raised).
How much are trailer tents?
The prices of trailer tents vary greatly.
At the time of searching, we found trailer tents from £500 to over £20,000.
What are the best trailer tents?
1. Isabella Camp-Let Passion
The Isabella Camp-Let Passion provides space for the whole family
It is compact when towing, spacious when set up, simple to erect and has a really comfortable interior.
2. Opus Camper All-Road/Off-Road Air
The Opus Camper All-Road/Off-Road Air has won tonnes of awards, it is very innovative and has air tent tech which inflates the canvas in around 90 seconds - saving you a lot of set-up time.
3. Combi-Camp Country Xclusive
The Combi-Camp Country Xclusive is stormproof, which is great if you live in the UK. This is a great all-year-round camper.
We hope this provided you with everything you need to know about trailer tents and helped you to weigh up options.