Advice
Can you live in a caravan in the UK?
Is this simply a cost-effective and exciting vacation and short break option? Can you actually move into a caravan year-round in the UK? It's a tempting idea, not least as it is far cheaper than having a mortgage! Plus, you can go to live anywhere, on a whim. Or can you?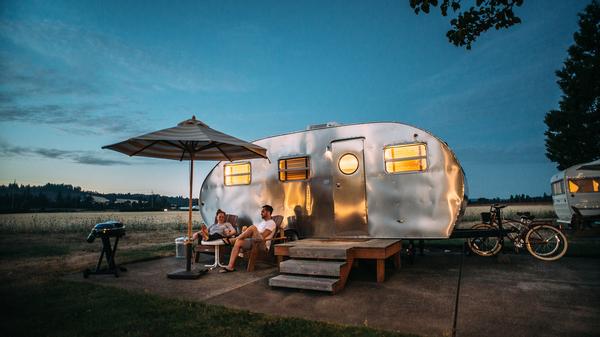 Buying a home on wheels and stamping your own tastes and personality on is increasingly popular in the UK. It's a fabulous way to benefit from 'staycations' in England, Scotland and Wales. Or, you can hitch your holiday home onto your car and travel further afield when your wanderlust kicks in.
Finding a place to stay
Much of the answer to this revolves around your expectations and ambitions on pitching your caravan. Particularly over the UK winter.
Leisure parks that offer facilities and services for caravan owners are not open all year. The amount of time they close varies from holiday park to holiday park, but many shut over the winter months when demand for caravan pitches drops at the same pace as the thermometer. In fact, it's against the law for leisure parks to allow people to live on site all year, so that's definitely not an option! However, there are increasing numbers of residential parks in the UK. Many of these feature park homes – fixed 'mobile homes' – that owners use as a second home or in many cases their only residence. Some of these residential parks are willing to let people put touring caravans on part of the site, for year-round occupation. Beyond that, to live in a caravan as your only home, you will need to find private land where you have the necessary services available. Alternatively, you could keep on moving and take your caravan abroad over winter.
Comfort factors for caravan life
Having dealt with the practicalities of pitching, the next thing to consider is what specifications you need for a caravan that keeps you safe, warm and happy year-round.
Just like a motorhome that's a permanent residence, you need to find a caravan that's well maintained and of reliably high quality to be sure of being comfortable. This includes having a good level of insulation, and the ability to connect gas and electricity provision quickly and without hassle. You will also need to be sure your water provision, toilet and shower systems are of a high calibre in your home on wheels. Or, be ready to be creative with your ablutions! The thing to keep in mind is that it's easier to 'make do and mend' on holiday. You can forgive a lot of limitations and the tasks involved in caravan life. However, when this is a year-round home, getting a good quality caravan with a well-fitted interior is the key to staying content. That extra spacious caravan you invest in may also help you and a partner to feel less 'crowded' as the months go by. Storage in caravans is not always massive, so be ready to be minimalistic.
The advantages of making a caravan a home
Really, the answer to whether you can live in a caravan year-round in the UK largely lies with YOU! After all, people have been doing this for hundreds of years.
The benefits of living in a good quality caravan as your main home include that wonderful sense of freedom. As soon as the view outside your window gets boring, simply hitch your home to the back of a car and find a new perspective! (By the way, living in a caravan all year also demands you keep on top of regularly updating your car, or maintaining it well, so you can tow with peace of mind.) With a caravan as your residence, you can travel to visit friends and family throughout the year, and even hop on ferries to explore the continent. If you have a business that relies on technology, you can still work when you live permanently in a caravan though for some people this is a dream retirement option. The cost savings can be considerable too of course. Find a fair priced caravan of the right standard, then factor in site costs, running costs for your car, and any accessories you need such as bicycles for getting around post-pitch. All this still adds up to a great deal less than buying or renting a property in the UK! There is one more potential way to live in a caravan year-round in the UK and simplify your life. You can put one on your own land and just stay there! Keep in mind though, that if this is a permanent residence you may need planning permission. Make sure your insurance cover is sufficient too, whether you pitch in one place, or treat life as one long holiday!