Feature
Brits turn to luxury caravan holidays ahead of COVID winter of discontent
A new trend for glampervanning is on the rise this winter as Brits look for inventive ways to staycation during the colder months of COVID-19 – and it is being driven by a surprising demographic. Read more about our findings here...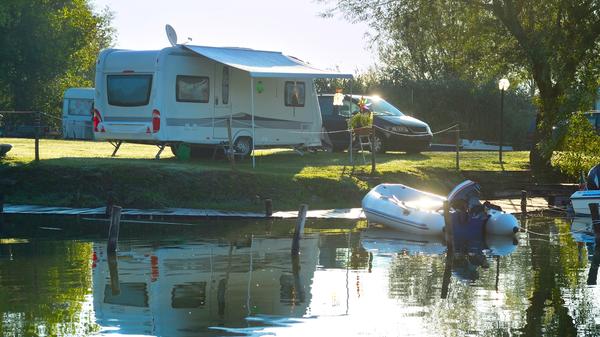 Words by: Fianna Hornby
Published on 5 November 2020 | 0 min read
We commissioned a survey of 2,000 UK adults, which revealed that 71% of Brits who are thinking about taking a holiday this winter would consider staying in a luxury caravan.
Our data also reveals a 156% year on year rise in advert views for top end models – caravans costing between £50,001-£100,000 – that have more advanced technology and features. Surprisingly, of those who are considering a holiday this winter, it is the younger generations – adults aged 18-44 – who are most likely to consider a caravan holiday (95%) with almost 1 in 3 of these (32%) saying they would be willing to spend more than £1,000 to rent a luxury caravan for a holiday this winter. Gone are the days of trying to keep warm in a beat up, poorly-insulated old caravan – the younger generation is all about 'glampervanning' this winter and has a list of requirements that need to be met before they will consider this kind of trip. Topping the list of must-haves is a Smart TV with integrated Netflix, followed by a full cooking suite and a spacious sofa for relaxing. High-speed in-built Wi-Fi was the fourth most important feature and completing the top five was a decent pressure shower. More than 1 in 10 (13%) even said they would love an onboard jacuzzi bath to allow them to truly relax. The trend for luxury caravan stays, which has already been taken up by an array of well-known celebs including Gwyneth Paltrow, Coleen Rooney, Jamie Oliver and Chris and Rosie Ramsay, is also thought to be driving demand for part-exchanging as owners look for cost-effective ways of upgrading their vehicles for more advanced models to see them through the pandemic this winter. Auto Trader's Editorial Director, Erin Baker comments: "Staycations are set to remain popular for some time as coronavirus shows little sign of slowing in the UK. "However, the rusty caravan from people's childhood trips isn't cutting it anymore. The new generation of caravanners we are seeing want all mod cons. They're following in the footsteps of popular celebrities such as Gwyneth Paltrow and Jamie Oliver and are looking for bigger vehicles with the latest tech, to provide all the entertainment and convenience that they have at home." We would advise any caravan owners who are looking to upgrade their existing models to part-exchange their old vehicles, to help cover the cost of a new model whilst avoiding higher demand and potentially steeper rates ahead of peak buying season in Spring.
Want advice on part-exchanging?