Advice
Are caravans a good investment?
It's fair to say that a caravan is an investment - they don't come cheap to purchase and there are other costs to consider as well before taking the plunge. We thought we'd have a look over some great reasons why buying a caravan is a good investment - and what you should consider before putting your money where your mouth is.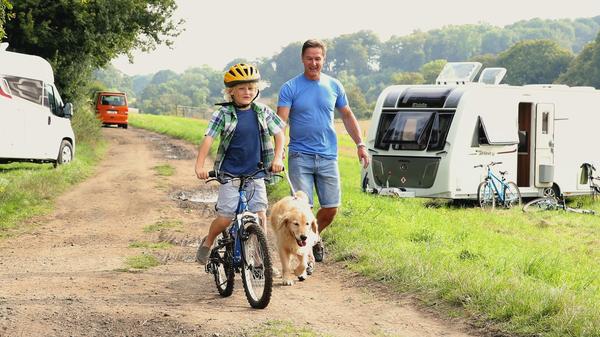 Saving your money can be a long and stressful experience, particularly if you know exactly what you want to buy with it. You've decided to buy yourself and your family a caravan - you can already imagine all of the holidays and trips you're going to take as a family and how much the purchase will help you all bond.
You can make that once in a lifetime trip you've been craving for years
The good thing about caravans and motorhomes is that they're mobile - it may seem like a pretty obvious thing to say, but owning a caravan gives you the freedom to move around as you wish. Not only does it give you space to sleep, but depending on the amenities included with your caravan, it could also allow you to live a relatively comfortable life on the road. Whether you have a UK tour on the horizon or you fancy driving across mainland Europe, a caravan gives you more freedom than if you did the trip using other methods of travel - fancy being spontaneous one day? That flight to your next destination and your hotel reservation definitely won't allow for that, but your caravan likely will.
You can take full advantage of your weekends together
If you and your family are lucky enough to have weekends off together and you also own a caravan, you've got a good thing going there. You can take advantage of those weekends, driving to a new location on the Friday night knowing that you only have to find somewhere to park up and pitch your caravan for the night. Get out your road trip playlist, pack up a picnic basket of food for the weekend and the job's a good 'un. No need to book a hotel, trains or worry about losing half the weekend to travelling time - you can drive later on in the evening and make the most of a full weekend getaway. No time wasted and you'll be back home for work and school on Monday morning, bright and early.
Do consider the extra costs
As you can probably imagine, the cost of a caravan doesn't stop as soon as you're handed the keys and are able to drive away. You need to ensure that you insure your caravan, both as a vehicle and for the belongings inside of it, and ensure that you keep up to date with the general maintenance of the caravan as well. If you're planning on taking multiple trips each week, month or year, you'll have to consider the extra money this will cost you in petrol for the car towing the caravan, as well as any docking fees you may have to pay if you're hosting your caravan in a specific location. Caravan site fees vary from site to site, with some offering certain amenities that others do not. You'll also have to consider where you're going to store the caravan when you're not using it to travel the world - do you have a drive where you can host it, or will you have to pay extra to rent a space? These costs can make the purchase less of a good investment.
Consider whether you'll actually use it regularly enough
Caravans aren't a cheap investment - for them to be a good investment, you have to be sure that you'll use it throughout the year. If not, it may be better value to hire a caravan when you're looking to take your trips. Whilst expensive if you're renting regularly, as a one-off you'll find it much more affordable than buying a caravan outright. Once you've tested the waters and got used to caravan lifestyle and upkeep, you might finally be ready to take the plunge.
Whether you're new to caravanning or else you've been doing it all your life, there are a number of things to consider before buying. Made up your mind? Why not check out the Autotrader website for a whole range of new and used caravans in the budget of your choice - you're sure to find the right caravan for you, one that ticks all the boxes and allows you to have the lifestyle you always dreamed of.