Feature
6 reasons to go on a UK caravan holiday this year
With international travel likely to be more problematic this summer, Brits are looking for new forms of accommodation as they plan UK-based holidays. There's so many benefits to owning your own caravan, including taking last-minute holidays whenever you feel like it. Here are just some of them…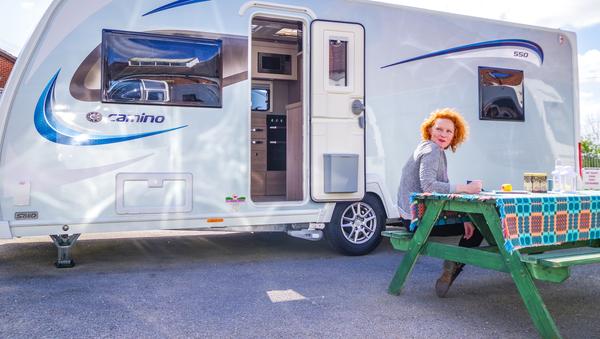 Words by: Auto Trader
Published on 27 May 2020 | 0 min read
In the past, caravan holidays had a bit of a bad rep – cramped sleeping arrangements, nosey neighbours on the next pitch and naff campsites with knobbly knees competitions. It seems attitudes towards them are changing though, with caravans increasingly becoming boutique hotels on wheels, private boltholes and mini manors – with a different view out of the window, every single day.
A survey we undertook of 2,000 UK adults, revealed almost half of the population is planning a 2020 staycation (provided Government guidelines allow), and that caravan holidays are set to almost match stays in hotels this year. Only 40% of those planning a staycation this summer say they would consider staying in a hotel, while 33% said they would consider staying in a caravan - making caravans second only to hotels in popularity amongst those planning breaks. Need some more convincing? Check out our six reasons to go on a UK caravan holiday this year...
1. Freedom to roam
When you have a caravan, organising a road trip becomes very easy.
Not only can you go and stay on any site you like, you get lots of comforts along the way. You can stop off on the way to make a cuppa in a layby of your choice - you'll bever get tired of this - it will save you a fortune in service station cafes! From a practical point of view, if you're needing the loo, you've got one on board which you will know is clean. You're never going to get stuck in one place. If you arrive at a site and just aren't feeling it, you can move on quickly. And on the flipside, if you find a campsite you love, you can just extend your stay.
2. Much easier to social distance
Our research has found that lots of people are interested in staying in a caravan, as it is much easier to manage social distancing, as they would be the only people staying in it.
When you have a caravan, you just need to pick your pitch, park up and you're ready to holiday! Lots of caravan sites are looking into ways they can adapt their sites to become more friendly for the public when social distancing, so rest assured they'll be ready when you are.
3. Stay safe
29% of the people we surveyed said they would feel more confident about going on holiday during a pandemic if they were staying in a caravan.
You will have your own on-board kitchen, bathroom and bedroom - making you much more in control of your surroundings than in a hotel or bed and breakfast.
4. Take whoever you want
With social distancing likely to be in place for the foreseeable, you will still have the opportunity to go together on a budget, and at a distance.
Holiday homes are often costly but at caravan sites, you can comandeer your own area and set up camp - meaning everyone will have their own dedicated section. Some campsites will offer individual fields for larger group bookings and welcome tents, caravans and motorhomes.
5. Save your £££
You'll be pleasantly surprised by just how cheap it is to go caravanning.
Our research has shown that caravans are also set to overtake the popularity of rented holiday apartments and houses, which have enjoyed a meteoric rise in popularity over the past few years thanks to a new wave of disruptive rental websites and B&Bs. Expedia reckon that Brits spend around £5K per year on family holidays - those people clearly are not going camping! With campsite prices starting at around £10 per night, you don't have to be great with numbers to see what good value it is. Yes, we know you have to buy your caravan first but if you shop around, you can find some great finance deals.
6. No post holiday quarantine
Coronavirus has changed the way we live our lives in so many ways, and there's no doubt this will extend to our holidays.
The prospect of having to quarantine yourself for 14 days after a holiday abroad doesn't make the idea of going outside the UK too hot. So, let's talk about Britain, and how great it is. There are literally thousands of campsites within the UK from all-singing, all-dancing seaside holiday parks to small independent campsites, once the restrictions are lifted, why not book into one?
Looking for a new caravan?