Guide
5 tips to make your caravan homely
A new trend is emerging amongst British workers, who need new ways to manage remote working and travel for work. According to our research 1 in 5 adults feel employers have a moral responsibility to provide caravans for their employees to work away in. With caravans set to become the working away 'new normal' we explore ways to make yours more homely.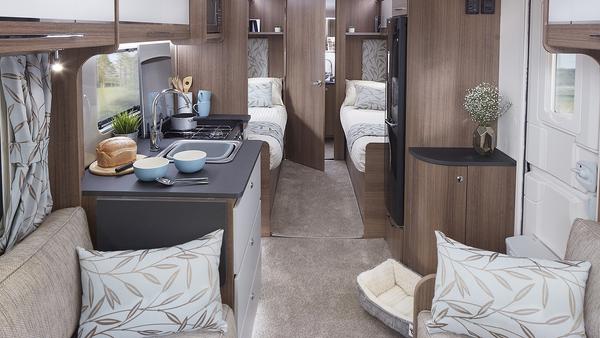 In our commissioned research, 48% of those surveyed told us they would not be comfortable travelling for work right now, unless they had the ability to travel in their own vehicle and stay in their own accommodation. As 15% of the UK workforce are regularly required to travel and stay overnight for work, this is a big chunk of the population.
Furthermore, the research suggests that almost 1 in 5 adults (18%) feel employers have a moral responsibility to provide caravans or similar motorhome options for their employees if staff are required to travel and stay overnight for work in the current climate. Lots of people seem like the idea of working from a caravan, as 27% believe having access to a caravan, would create an ideal quiet space to work in. With people set to spend more time in caravans, we explore 5 ways to make your stay more comfortable.
1. Internet access
Whilst you are in a caravan, you'll need internet access to keep in touch with friends and family and check your work emails while you are working away.
If you want to get online while you are in your caravan we would recommend looking into getting one of the following:
A 4G Mobile Wi-Fi devices (Mi-Fi)
A 4G Dongle
A USB Wi-Fi Antenna
A WiFi Repeater
A 4G Router and external antenna
2. Decent TV
Going away in a caravan shouldn't have to mean leaving all traces of your home life behind.
It's possible to get a decent TV signal on a campsite, and if you get a TV you won't need to use your data up. If you want to watch or record live TV in your caravan, you will need a second TV Licence, if the TV receiving equipment is in use at both your home address and the caravan address at the same time. If you never use your TV at home and in your caravan at the same time, one licence will be sufficient to cover both addresses.
3. Soft furnishings
Soft furnishings make the world of difference and will help you settle in while you are away. Here are some ideas for what to bring with you:
A rug
A doormat
A cosy blanket
A nice duvet cover
4. Family photos
You might not be able to take your family and friends with you while you're working away, bringing pictures of them along will give you the opportunity to see them and help make your caravan more homely.
5. Your favourite mug
Us Brits love a cuppa - approximately 100 million cups of tea are drunk every day! Coffee is catching up too, with a whopping 95 million cups enjoyed every day. Whether tea or coffee is your thing, pack your favourite mug while you're away in your caravan, it'll help you feel closer to home and save you time and money having to get takeaway drinks!
We hope these tips help you feel at home the next time you are away in your caravans.