Best Of
5 Best Caravan City Breaks
Five of the best caravanning destinations around the UK for families, couples or friends.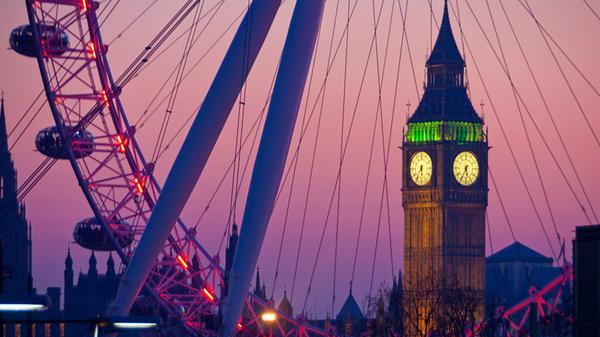 There are almost endless options for caravan city breaks around the country, but any of these five destinations will lead to exciting experiences and memories made that will last a lifetime, all from the comfort of your tourer at the end of a fun day.
1. London
Caravan to the capital.
Let's get the biggie out of the way and dispel a caravan misconception... London is easy to get to if you want to go camping. Half an hour's train ride from your pitch will see you in the heart of the city, for a sightseeing experience, theatre visit or just to visit your special-occasion restaurant of choice. You'll be in walking or tube distance from any London landmark. But from the site, arriving into London Bridge, you're perfectly situated to take a stroll along South Bank, passing marketplaces, the Globe Theatre, book stalls, eateries, and the Millennium Bridge with views of St Paul's. Stop in to Tate Modern and check out the Rothko room – it's my favourite.
Where to stay in your caravan in London?
Crystal Palace Caravan Club Site, Old Cople Lane, Crystal Palace Parade, London, SE19 1UF.

2. Birmingham
Chocolate, canals, cycling and caravans.
Chocoholics will want to stick to the outskirts of Birmingham to find Cadbury World, where you can get an insight into manufacturing the sweet stuff and even take a 4D chocolate adventure. If you want to get properly hands-on, you can book on a chocolatier experience, led by professionals, to teach you everything there is to know about chocolate making. My pick of the city has to be the inter-connectivity of Birmingham's canal network. The entire city is eminently bikeable, which is great for exploring. The canal paths play a huge part in helping you understand the past as well as enjoying the serenity of today. If you only go to one area, make it the stunning squares, waterside watering holes and excellent eateries of Brindleyplace. It's on Broad Street, too, which means there's even more opportunity for fun.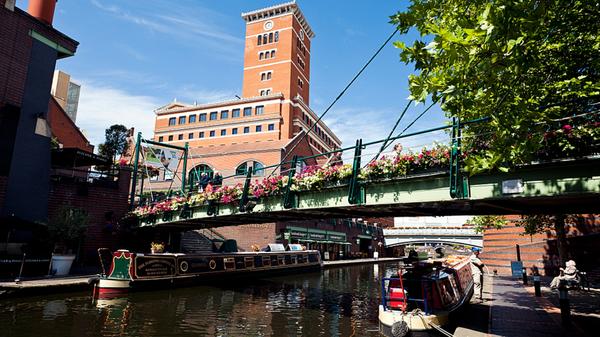 Where to stay in your caravan in Birmingham?
Clent Hills Camping and Caravanning Club Site, Fieldhouse Lane Romsley, Halesowen, B62 0NH.

3. Bath
Soak up the serenity in Somerset.
Beautiful Bath plays host to history and a holistic holiday experience in a setting billed as the original wellbeing destination. From the thermal hot spring baths themselves – the only ones ones in Britain that you can bathe in – to the world class street performers around the city centre, it's one of the most relaxing tourist destinations you'll find. That means it's perfect as a place to pitch up and visit. Take a Somerset stroll by the river Avon near and admire the 18th century Pulteney Bridge, with its wonderful weir that matches practical and picturesque. Wander around the shops or sample local produce, beautifully presented from Clayton's Kitchen courtesy of Michelin star chef, Robert Clayton. To the west of Bath and just south of Bristol, you'll find Chew Valley Caravan Park on the edge of Mendip Hills Area of Outstanding Natural Beauty. Not only is it surrounded by greenery and wildlife, but there are no cars allowed on-site, so the Chew Valley team will unhitch and site your van for you.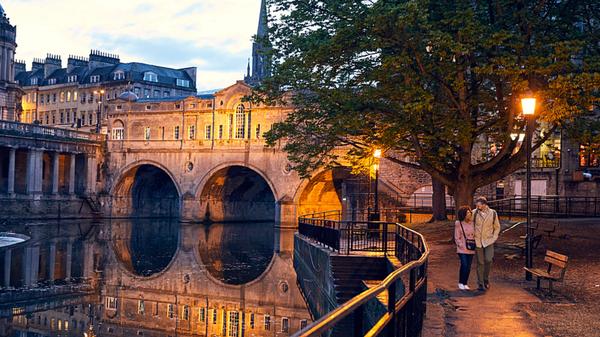 Where to stay in your caravan in Bath?
Bath Chew Valley Caravan Park, Ham Ln, Bishop Sutton, Bristol, BS39 5TZ.

4. Lincoln
Little Lincoln for a lovely long weekend.
Starting out with a little-known fact... This is a city that's home to the only English Heritage property with its own official vineyard, found at Lincoln Medieval Bishop's Palace. There are three varieties of white grape grown here, but if you're looking for a more traditional experience then you can also head to the family-run Steep Hill Wines for regular tastings. Steep Hill's not just a clever name, either, so watch out if it's a wet day. However, it's home to quintessential independent shops and cafes, with a market town feel in one of the country's smallest cities. Note: The campsite's open between 1st March and 31st October, but there's also the chance to book up over the festive period during a special opening for Lincoln's excellent Christmas market.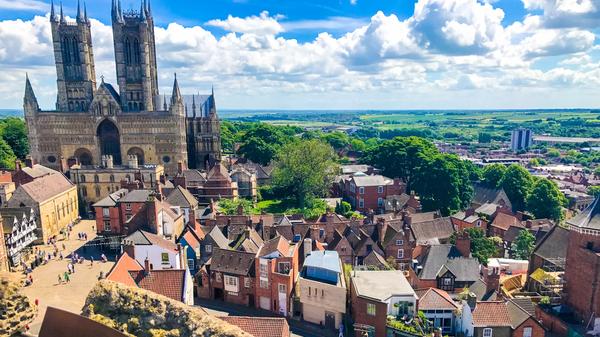 Where to stay in your caravan in Lincoln?
Hartsolme Country Park campsite, Skellingthorpe Road, Lincoln, LN6 0EY.

5. York
History and hiccoughs ahoy in York.
As the minster dominates its skyline and historic walls surround its centre, York is one of the most interesting and exciting cities in the country for history and places to explore. Right on the Foss, Brew York offers tours for £10 (adults) and £5 (ages 5-18), for you to understand a lifelong dream turned reality or, just, y'know, have a drink! Family-friendly or just fascinating for anyone, the National Railway Museum is a great way to spend a few hours. What's better? Admission is free! Do make a donation, though. Or stroll the Shambles for discovery of times past combined with traditional shops and modern twists.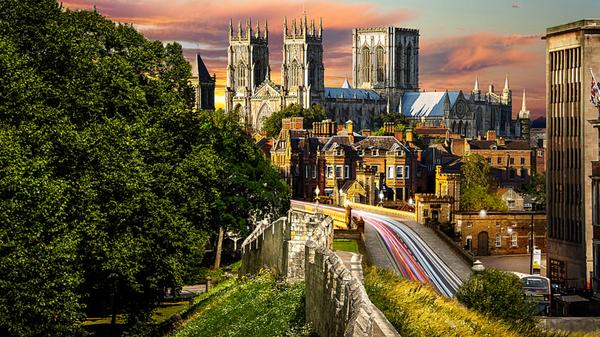 Where to stay in your caravan in York?
York Rowntree Park Caravan Club Site, Terry Avenue, York, North Yorkshire, YO23 1JQ.