Best Of
4 Best caravan sites for cyclists
If you're dreaming of going on a biking getaway, but are not sure where to go, look no further than Autotrader. Below, we have listed some of the UK's top-rated caravan sites that are perfect for cyclists. Whether you prefer cycling through lush pastures, adventuring up mountain ranges, or even taking a relaxing ride by the sea, rest assured that you will discover the perfect location to have a fantastic cycling holiday here.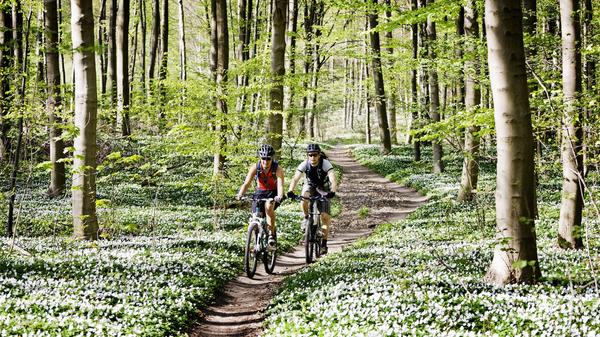 Words by: Auto Trader
Published on 28 May 2021 | 0 min read
1. Erwlon Caravan & Camping Park, Carmarthenshire
Erwlon, located in South West Wales, is a family-run caravan and camping park. It is open all year round, so is a good choice if you are looking to travel in the winter or autumn months. The park has recently been refurbished and now has more modern facilities for guests. These new amenities include fully serviced pitches, wifi on site, a children's playground, and a camp kitchen.
The location of this caravan site is more than ideal as Erwlon is less than an hour away from many tourist hotspots. Cyclists can relish in the beauty of the Irish Sea as they ride along the Pembrokeshire coast. Visitors can also venture on the many bike trails of the Brecon Beacons mountain range. You needn't worry about getting bored with cycling in Carmarthenshire, as there are limitless other things to do such as visiting the National Botanic Gardens of Wales or Dinefwr Castle. Address: Brecon Road, Llandovery, Carmarthenshire, SA20 0RD
2. Wheathill Touring Park, Shropshire
Operating from 15th March - 15th December each year, this caravan site in the heart of the Shropshire Hills is a suitable location for both experienced and beginner cyclists due to its wide variety of bike trails. You definitely won't want to miss out on experiencing this area of outstanding beauty. You can soak up the breathtaking views while you ride down pleasant and quiet country lanes and explore refreshing hilltops and valleys.
Wheathill is an adults-only caravan site that offers visitors numerous facilities. The site's so-called 'super pitches' are equipped with state-of-the-art lighting, water hook-ups, electric hook-ups, free internet access, grey and brown waste disposal bins, and much more. Address: Wheathill, nr Bridgnorth, Shropshire, WV16 6QT.
3. Ninham Country Holidays, Isle of Wight
The Isle of Wight is one of the top cycling destinations in the world. Ninham is a fitting caravan site to stay at whilst visiting the island. Although only open in the summer holidays, this caravan site provides first-rate facilities such as a swimming pool, outdoor sports equipment, a games room, and showers. The entire caravan site is surrounded by 120 acres of beautiful woodlands and farmlands, where you might spot some grazing cattle or flying woodpeckers - which is a bonus if you're a fan of wildlife.
You could bring your own bike with you on the ferry, but bikes are available to hire on the island too. Hiring a bike for 5 days will cost £60 per adult and £30 per child. Address: Ninham Farm, Shanklin, Isle of Wight PO36.
4. Silverbank Caravan Club Site, Aberdeen, Scotland
If you fancy a taste of Scotland then this site is absolutely worth adding to your travel bucket list. The Silverbank Caravan Club Site resides in an open location and is surrounded by exquisite views of the Scottish countryside. Cyclists can also catch sight of the River Dee, which runs through this area. Biking through Scotland's Cairngorm National Park is an unforgettable excursion to add to your itinerary. However, people who prefer city cycling can bike through Aberdeen, which is not far from the caravan park.
Not only is Silverbank good for cycling fanatics, but there are also plenty more things to do and see here. Nearby, there is a charming little holiday town called Banchory, where you can experience many attractions ranging from pony trekking to fishing. Silverbank provides the necessary amenities needed for a successful caravanning holiday and disabled facilities are also available. In addition, BBQs and dogs are welcome on site. Note that you must register as a member of the Caravan Club to stay at this fantastic site, which is open from mid-March to early November. Address: North Deeside Road, Banchory, Aberdeenshire, AB31 5PY, Scotland.